Wanolitto's Musings: Food Truck-In & Kids' Day at Saturday's Farmers Market!
Posted By Scott Schaefer On September 12, 2013 @ 11:01 pm In Arts,Business,Entertainment,Headlines,Life | No Comments
Last week we dodged a bullet with the record rains to enjoy a half decent day. The highlight of the day was the dancing Flash Mob from Judson Park Senior Living: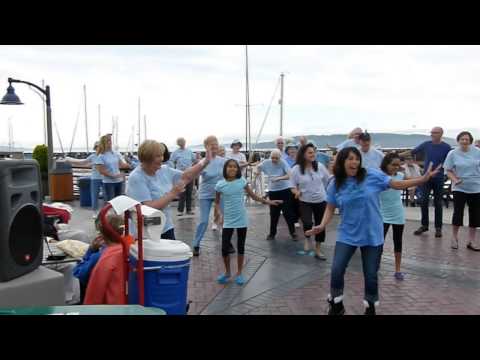 [1]
One of the biggest events of our season is this coming Saturday – Seattle Food Truck-In/Kids Back to School Safety Day/Kids Fishing Derby and something new this year, a Root Beer Garden hosted by South Highline National Little League [2].  Along with 10 food trucks there will be lots of things for the kids to do, including the Bouncy House. This is the last Special Event Day until the Chili Cook-Off on the final day of the market on October 26th.
[3]
This would be a good time to replenish your wine cellar for the winter as our wine sale of 20 to 25% off will also be going on. And, speaking of winter, soup days are coming. You can download this week's recipe "Tuscan Chicken Soup" using our Waterfront White by clicking here [4] (PDF file).
Market Sponsor Corner
Stop by the Edward Jones [5] booth and meet long time market sponsor, financial advisor Mike Wilcox. Mike says it's easy to forget that market declines are a normal part of investing. Learn from Mike how to prepare for market fluctuations and why you should stay invested.
Community Groups
Des Moines Friends of the Library will be collecting and selling used books and King County Master Recycler Composters [6] will demonstrate waste prevention and recycling information and tips you can use in your everyday life. The Des Moines Pool [7] will be at their booth to sign you up for swim lessons, give out information, and explain their mission to make sure your pool district stays safe and in sound financial condition.
Don't forget to bring easy to eat foods for the Food Bank's Weekend Backpack Program. This program is to help distribute backpacks of food to children at risk of hunger over weekends. Please bring your donations and drop them off at the collection table in the Market Information Booth. Individual serving items needed: Oatmeal, EZ Mac, 100% juice, Cup-o-Soup and Fruit Cups.
[8]Vendor Profile
This week we feature Hayton Farms [9].  The farm was established in 1876, on Fir Island, in the Skagit Valley. Many different crops have been grown there over the years. Originally great- great grandfather grew grain for work horses. In 1900 great grandfather turned the farm into a dairy. During grandfather's lifetime it became a crop farm. In 2001 they began selling berries at the Pike Place Market. After that, they started selling at farmers markets and are now in over 50. Their summer berries are Certified Organic. The fall varieties of raspberries and blackberries are grown conventionally.
Music
Two musical gigs this Saturday: First up is the group Sunday Speedtrap [10] from 10-12pm and Blues legend PK Dwyer [11] from 12 to 2pm.
Upcoming event
The 7th annual Chili Cook-Off is on the last day of the market, October 26th. It is not too late to get your application in, click here [12] for the app and cook-off rules.
---
Article printed from The Waterland Blog for Des Moines, WA: http://waterlandblog.com
URL to article: http://waterlandblog.com/2013/09/12/wanolittos-musings-its-food-truck-in-kids-day-at-the-farmers-market-saturday/
URLs in this post:
[1] Image: http://www.youtube.com/watch?v=dmEts2lHLho
[2] South Highline National Little League: http://www.eteamz.com/shnll/
[3] Image: http://waterlandblog.com/wp-content/uploads/2013/09/Food-Image.png
[4] clicking here: http://waterlandblog.com/wp-content/images/Tuscan%20Chicken%20Soup.pdf
[5] Edward Jones: https://www.edwardjones.com/en_US/fa/index.html&CIRN=521704
[6] King County Master Recycler Composters: https://www.facebook.com/pages/King-County-Master-Recycler-Composter/136195389777669
[7] Des Moines Pool: http://desmoinespool.com/
[8] Image: http://waterlandblog.com/wp-content/uploads/2013/09/Hayton-Farms.jpg
[9] Hayton Farms: http://www.haytonfarmsfarmersmarkets.com/index.html
[10] Speedtrap: http://www.sundayspeedtrap.com/
[11] PK Dwyer: http://www.pkdwyer.com/
[12] click here: http://dmfm.org/DMFM/Home_files/Chili%20Cook-Off%20App.Rules%202013.pdf
Click here to print.