Sound Transit's Link Light Rail is coming to Des Moines, and the City Council will be holding an Open House on Thursday, April 30, starting at 5:30 p.m.
The event, which is open and free to the public, will be held in City Council Chambers, located at 21630 11th Ave South.
Some ideas to consider to comment on:
How will light rail affect you?
How will you get to your station?
How far are you willing to walk to it?
What are the impacts and how will they be mitigated?
This is your chance to affect the route alignment and the location and type of station that is ultimately built. The comment period is April 10 – May 26, 2015.
To comment on the Draft EIS, please email FWLE@soundtransit.org, or plan to show up at the event.
UPDATE APRIL 15, 2015 3:45 p.m.: Des Moines Police report that the outstanding subject associated with the case – Vien Nguyen – has been located.
Nguyen is the grandmother to the located child, Ronnie Tran.
The Des Moines Police Department Detectives are with her now.
PREVIOUSLY:
UPDATE APRIL 15, 2015 9:46 a.m.: The missing 2-year old boy has been found safe in Renton, according to Sgt. Bob Bohl of the Des Moines Police Department.
"We are pleased to announce, just after 9:00 this morning April 15, 2015, Ronnie has been safely located in Renton," police said in a statement. "We want to express our thanks to the community, the media, and our neighboring Police agencies for their assistance. Our detectives are continuing to investigate this case."
PREVIOUSLY:
Des Moines Police are seeking the public's help in finding a missing 2-year old boy – Ronnie D. Tran (pictured above) – who was abducted along with his 40-year old mother on Monday, April 14.
Police say that around Noon on Monday, the woman was subdued with an electrical stun device and bound with plastic tie-straps by two known females.
Both the victim female and her two year old son were then taken to an address in Fife, where the female was tied to a cupboard in the garage. Her son was then taken into the main house. The female managed to escape, but was unable to get into the house to retrieve her child. The victim did not call police but called a family member to pick her up. They later called 911 around 9:30 last night. The location of the maternal father is unknown. He is Kang T. Tran (date of birth January 7, 1974) and has been uncooperative with police thus far.
The maternal grandmother, Vien Nguyen, 65 years of age, is also associated and has not been located.
Ronnie D. Tran is a 2-year old Asian male. He has brown hair, is two feet six inches tall and weighs forty pounds. He was last seen a red and white checkered shirt and brown pants.
The associated vehicle is a blue 2005 Hyndai Sonata WA License AMB9450.
UPDATE: This vehicle has since been recovered in Fife, WA:
UPDATE: Des Moines Police Detectives have made one arrest thus far, Alyssa M. Chang (date of birth July 12th 1968) was located and taking into custody without incident.
UPDATE: At 7:00 AM the maternal father, Kang Tran, has been located and is currently cooperating with the Des Moines Detectives.
If you see Ronnie, please call 911 immediately.
Real Estate Sponsor Berkshire Hathaway HomeServices Northwest is proud to introduce its newest Sales Professional:
John Lutz
To contact John:
Click here to view all of Berkshire Hathaway's Open Houses, and click here to "Like" them on Facebook.
Volunteers and Scuba Divers* are needed to help the MaST Center in making the Redondo Beach waterfront a cleaner space above and below the water's surface this Saturday, April 18.
*Advanced and OWD certifications required.
WHEN: Saturday, April 18, 10 a.m. – 1 p.m.
WHERE: MaST Center, located at 28203 Redondo Beach Dr S, Des Moines, 98198; (206) 592-4000.
RSVP: Please contact jwoodward@highline.edu to participate.
South King area businesses along with Des Moines resident and past columnist for the Waterland Blog, Joy Steele, are proud to sponsor and produce the Seattle performance of 'Listen To Your Mother. '
Joy, along with her Co-Director/Co-Producer Jennifer Scharf, have gathered local area writers, bloggers, and storytellers who will be sharing the stage on Saturday, May 9th for a one day event in celebration of mothers, mothering and motherhood.
Several rounds of auditions were held in the Greenlake and Des Moines communities to create a unique show that will provide its audience with so many "Me too" moments.
"A huge draw for this show," Steele said, "is that it examines and celebrates all the imperfections of motherhood; from wonderful to weird…written and read by a unique and locally selected cast."
Created in 2010 by national director Ann Imig, 'Listen To Your Mother' has grown from a single performance in Madison, WI, to a 39 city grassroots phenomenon. The project is half live-stage event and half social media project, with each city donating a portion of their ticket proceeds to a non-profit serving within its respective area. To date, 'Listen To Your Mother' has raised over $50,000 for family focused charities. The non-profit selected for the 2015 Seattle show is, Wellspring Family Services, which offers family support and assistance throughout greater King County.
'Listen To Your Mother' – Seattle is on Saturday, May 9th, 2015 at 2:00 p.m. in Bloedell Hall at St. Mark's Cathedral.
Tickets are on sale, now at Brown Paper Tickets. For more information and the names of the cast, please visit: http://listentoyourmothershow.com/seattle/
Joy and Jennifer would like to thank local sponsors:
Highline Public Schools announced on Monday (April 13) that it will be the first school district in King County to implement a school bus stop paddle camera enforcement program.
The cameras, which have already been installed on five buses, are designed to capture motorists who are putting children at risk by ignoring flashing school bus stop arms as buses load and unload school kids. The enforcement program will launch at the beginning of May, and motorists caught on camera ignoring the stop arms will face a $394 fine starting in early June – before then motorists who are caught on camera ignoring the stop arms will receive a warning.
Highline Chief Operations Officer Scott Logan was joined Monday morning by King County Councilmember Dave Upthegrove and Highline school bus driver Loren Young at a press conference at North Hill Elementary School in Des Moines to announce the new public safety program.
"At Highline Public Schools, we take our duty to ensure the safety of our schoolchildren very seriously. Every day in our district, careless or irresponsible motorists ignore school bus stop arms, putting children boarding or exiting our school buses at risk," Logan said. "That is why we are so happy to announce the start of our school bus stop arm camera enforcement program, the first of its kind in King County. By catching motorists who are ignoring the requirement to stop when the stop paddles are blinking, we believe we can reduce the number of these incidents and better protect the children in our care."
King County Councilmember Dave Upthegrove, the prime sponsor of legislation at the King County Council to enable Highline to move forward, also praised the effort.
"Every year, children getting on or off school buses are killed by careless and irresponsible drivers who ignore school bus stop signs," Upthegrove said. "That's why when I was in the legislature I supported the bill to allow enforcement cameras on school buses and it is why I sponsored legislation at the King County Council to establish this program. We need to stop these drivers who are putting our kids at risk."
Highline school bus drivers, who routinely see motorists ignoring their school bus stop arms and putting the kids in their care at risk, also expressed their support for the newly launched effort.
"I have been a school bus driver in the Highline School District for 30 years. Every week on my route, I see drivers who fail to stop as kids get on or off my bus. In those situations, my first priority is to keep my kids from being hurt, so I rarely am able to get the license plates of these irresponsible drivers. But with the stop paddles cameras in place on my bus, I know we will finally be able to catch the bad actors who are ignoring my school bus stop paddle," said Highline school bus driver Loren Young.
Photos courtesy Highline Public Schools
Councilmember Jeremy Nutting on Monday (April 13) announced his intention to seek a full term on the Des Moines City Council.
Appointed in May 2013 to the seat vacated by former Councilmember Dan Caldwell, Nutting won election to the remaining two years of the term in the November 2013 election.
"We're really beginning to see the results of the hard work the Council and City have put in to help bring some economic development to town," Nutting said. "We need to keep our focus on building an economic base to fund crucial city services, enhancing public safety, and in reaching out to our constituents to make sure their voices are heard."
A local contractor and business owner, Jeremy Nutting, has been supportive of a number of organizations and activities in Des Moines. He lives with his wife, Yvonne, and two children on North Hill.
King County Councilmember Dave Upthegrove said on Friday (April 10) that "the future of light rail in the City of Des Moines (should be) along Interstate 5."
Upthegrove, a member of the Sound Transit Board, submitted public comments to Sound Transit voicing his support for an alignment along I-5 from Angle Lake to the Kent/Des Moines Station as the best choice for extending light rail south of SeaTac.
"It's an option where everyone benefits," Upthegrove said. "The I-5 alignment is cheaper than running the tracks down Highway 99 and travel times would essentially be the same."
The Federal Way Link Extension project will extend light rail from the future Angle Lake Station at South 200th in SeaTac, which is under construction, to Kent/Des Moines by 2023.
In his comments, Upthegrove points out that an alignment along Interstate 5 through the city of Des Moines is cost effective and respects the City of Des Moines long-term economic development plans.
Upthegrove also states that using the I-5 alignment would maintain estimated ridership levels while still encouraging economic and transit oriented development along the light rail line.
Recently adding a teenage driver to my household, I have become increasingly aware of "distracted driving". It has been VERY clearly expressed to my son that ANY whiff of him texting, calling or fiddling with his phone while driving will result in very bad things for him. It was one of those conversations that left him feeling like he got in trouble before he even did anything wrong. I pray that it worked.
I hate seeing people on their phones while driving. Independent of the risk they possess to the rest of us, their driving just sucks. They don't pay attention and go too slow or too fast and don't signal well and have to stop too quickly or hesitate while traveling through a green light. With head down, minus the quick glance up, it is obvious and maddening that folks seem to care so much about usually unimportant messages. It's frustrating, as well as dangerous.
Well, as I am prone to do, I drew a connection between "distracted driving" and "distracted living". This is dangerous, too. When we take our eyes off our route of travel, we wind up in unplanned and sometimes unpleasant destinations. It is easy to fill our days with other people's lives. People ask us for many things and, if we choose, we can spend our life living someone else's.
The encouraging word here is "choose". We can choose; answering a text while driving is a CHOICE; saying "yes" to someone's ask is also a CHOICE. Both are ripe with implications and can ensure us a safe journey or they can send us into the ditch. It's our choice.
In a different column, I wrote about "subtraction by addition". This is a similar theme. By complicating our lives with other people's business, we take our eyes off of our road. By "adding" duties that aren't ours, we diminish the energy and time we have to spend working on things we value. It is easy to become slaves to the word "yes" and have nothing left for ourselves.
Now, I support and do my fair share of helping others out, but it's important to understand when it's important to do so and to recognize to cost of doing it. Only valuable "yes's" should be considered.
A friend recently recommended a book to me: Essentialism: The Disciplined Pursuit of Less by Greg McKeown. In perusing the book details on Amazon, a powerful idea left the page and entered my spirit: "Discern the vital few from the trivial many". "Yo!! Those are some great words!!" I thought.
Simple and true, these words reminded me that much of life is trivial and many things we spend time thinking, worrying about or occupying our lives with lack meaningful value. The other side of this idea is that a few things are vital. These are the good ones. These are things that we need to keep our eyes on. These lead us where we want to go.
Our families and friends are worth keeping our eyes on. The things that make us feel good in our health and personal development are worth paying attention to. Trivial distractions are not. The key is knowing the difference…and we all know the difference when we have our heads up and eyes on our road…
[EDITOR'S NOTE:"Feel Good Friday" is a regular column written by Des Moines resident Dave Markwell, whose first book is called "A Feel Good Life" (buy it on Amazon here). Dave also extols to all neighbors: "Enjoy where we live. Put your feet on the pavement and truly feel how great it is to live here!" Also, you can "friend" Dave on Facebook here. Or work out with him at his exercise company Waterland CrossFit!]
The Highline School Board is scheduled to appoint a new member – Chung (Joe) Van of SeaTac – on Wednesday, April 15, during a special meeting.
Van is a finalist for the vacant Director District 3 position.
The School Board will hold a special meeting on Monday, April 13, from 5:30 – 6 p.m. to interview Van, followed by a meet-and-greet event open to the public beginning at 6 p.m. Both will be held in the Highline High School library (225 South 152nd Street, Burien).
On Wednesday, April 15, from 6 – 6:15 p.m., the School Board will hold a special meeting on whether to appoint Van to serve in the Director District 3 position until the end of 2015. The position will be up for election on the November 2015 ballot.
If an appointment is made, the special meeting will also include the oath of office. The meeting will be held at the Educational Resource and Administrative Center (15675 Ambaum Blvd. SW, Burien).
A regular School Board meeting will follow, starting at 6:15 p.m.
Joe Van is a 1995 graduate of Tyee High School and holds an AA in Administration of Justice from Highline Community College. He is employed as a supervisor at Owens & Minor medical supply distribution center in Sumner. Joe serves on the City of SeaTac Human Services Advisory Committee and is active in a number of civic activities. He speaks fluent Vietnamese. Joe and his wife Leslee, also a Tyee graduate, have three children attending McMicken Heights Elementary.
A total of four individuals applied for the position left open when Board Member Susan Goding retired last month.
The Easter Bunny may have left town, but there is one last egg hunt on the horizon!
Kids and parents will be treated to a Duck Egg Hunt on Saturday, April 18 as the Mount Rainier Pool celebrates its annual water safety event April Pools Day.
The pool is teaming up with the Poverty Bay Power Squadron to teach kids about water safety and how to choose and wear a proper lifejacket. The instruction will be followed by an open swim that will include demonstrations of kayaks, stand-up paddleboards and rafts by the Olympic Outdoor Center, which is returning to the waterfront this summer. OOC will offer rentals at both Redondo and the Des Moines Marina.
Topping off the whole event will be a Duck Egg Hunt during which kids can retrieve ducks and eggs to exchange for goodie bags as they leave. Cup cakes, juice and assorted treats will also be available. A free lifejacket will also be raffled off.
"This is our second year doing this and the kids really get a charge out of it," said Gene Achziger, the pool's outreach and marketing coordinator.
"We're really grateful for the commitment of the Power Squadron to promote water safety and for the opportunity to introduce more of the community to Olympic Outdoor Center," Achziger said. "They're promoting water activities and we give swimming lessons – it's a great combination. The ability to swim is Water Safety 101."
The April Pools Day/Duck Egg Hunt runs from 1 to 3 p.m. Admission is $4 and pre-registration at the pool is heavily recommended for this popular event. Children younger than 6 must be accompanied in the water by a parent or guardian.
Mount Rainier Pool is at 22722 19th Ave. S., just south of the high school.
Call 206-824-4722 for further information, or visit www.mountrainierpool.com.
WLB Real Estate Sponsor Berkshire Hathaway Home Services Northwest's Open House – set for this Saturday, April 11, from 1 – 4 p.m. – is a great 3 (or 4) bedroom home with a nice yard on a quiet street in Des Moines.
Updated kitchen, inviting family room/flex space, three bedrooms, one bath up.
Newer deck is large and perfect for summer entertaining.
Spacious lower level has separate entrance, good sized family room with fireplace, and a fourth bedroom.
Two garages, room for extra cars, possibly RV parking.
Beautiful back yard is almost entirely fenced and ready for outdoor fun.
Home has port package and newer roof, second garage/storage.
Here are some pics (click images to see larger versions/slideshow):
Here are the details:
WHAT: Berkshire Hathaway HomeServices Northwest Open House
WHEN: Saturday, April 11, from 1 p.m. – 4 p.m.
WHERE: 2641 S. 227th Place, Des Moines, WA 98198
INFO:
List Price: $339,000
MLS Number: 767271
Bedrooms: 4
Bathrooms: 2
Year Built: 1961
Approximate House SqFt: 2,578
Lot Square Footage: 10,350
Site Features:
Dble Pane/Strm Windw
Dining Room
French Doors
Deck
Fenced-Partially
Gas Available
High Speed Internet
Patio
Marketing remarks:
Great home with nice yard on quiet street, large windows let in lots of light.

Updated kitchen, inviting family room/flex space, three bedrooms, one bath up.

Newer deck is large and perfect for summer entertaining.

Spacious lower level has separate entrance, good sized family room with fireplace, fourth bedroom. Two garages, room for extra cars, possibly RV parking.

Beautiful back yard is almost entirely fenced and ready for outdoor fun.

Home has port package and newer roof, second garage/storage.
Click here to see the full, detailed listing.
Click here to view all of Berkshire Hathaway's Open Houses.
Story by Ralph Nichols
Photos by Scott Schaefer
Highline Public School officials anticipate placing a new construction bond issue on the ballot next year, superintendent Dr. Susan Enfield recently told a group of parents and other community residents.
District voters have twice rejected a bond issue – in last fall's general election and in a special election earlier this year – to build a new Highline High School and other school buildings.
Enfield said during her first 'Conversation with the Superintendent' at Mount Rainier High School that waiting until 2016 will "give us time to do it right" …stating that "over the next several months we will have lots of opportunities to look at the data with the community" and that they would "determine what the best solutions are."
"I don't know what will be on the next bond," she said, "because we need to take the information that we have out to folks and let folks take a look at it and see, and come up with ideas."
While there are needed improvements at both Evergreen and Tyee, she noted that Highline High School "is at the front of the list" because of the "critical need" to replace the aging structure.
Regarding overcrowding, Enfield stated, "We will be overcrowded. For the coming year, we have identified enough classroom space to meet our needs." But if annual student growth continues at its current pace the district will run out of space soon. "Our challenge is how to create that space."
Responding to concerns about inequities among Highline schools, Enfield said while "smaller high schools don't have everything that larger ones do," next year all campuses will offer "a certain level" of advanced placement courses and other programs.
"Giving certain high-level courses and support" to students at all high schools in the district will be "a big change."
Currently, "what we are trying to do is ensure that regardless of where your child goes to school, they're guaranteed a certain level of access to higher level courses and support," she continued.
Classroom teacher turnover is a problem with departures increasing from 11 percent to 16 percent last year. But Highline is also "a challenging district," Enfield said. "It's not the same as some other districts."
Another challenge is student discipline and suspensions. Until recently, the district was "hemorrhaging" students with some 3,000 of them being placed on suspension each year. Many, the Superintendent noted, were for inappropriate reasons, such as defiance.
What school officials learned, she noted, is that even one suspension can have a dramatic effect on the likelihood that a student will graduate. She stated that the graduation rate was 71% among students who had never had an out-of-school suspension. Yet among students with just one out-of-school suspension the graduation rate dropped to just 46%.
Suspensions are now down by 55 percent and limited to certain situations, particularly where the safety of students and staff is a concern.
"If they are a danger, we are going to move them out," said Enfield. By contrast, "defiance is not a suspendable offense."
But a lot of work remains to make student discipline work for all, especially at the high school level, she said. Enfield also added that some of that work includes de-escalation training and working to ensure that staff are interacting with high school students in a respectful way, thus utilizing teachable moments in a positive way.  We contacted Communications Director Cathrine Carbone-Rogers  for comment and she confirmed  that security staff, bus drivers, and some teachers have had de-escalation training.
"We have provided the training to special education teachers at principals' request, and continue to provide training to staff as requested," said Carbone-Rogers.
"Over testing" was another concern voiced by several parents, who echoed claims from many school districts in Washington that "a lot of teachers are teaching to the test…even in elementary schools."
But, Enfield said, the district had already made changes to the amount of assessments, and is "making changes to our assessment system – what we're assessing and why we're assessing … we've always had state standards … but we never have endorsed and never will, teaching to the tests."
Raw audio of the complete 'Conversation with the Superintendent' is below:
Dr. Enfield will host three more community conversations this spring:
April 27 in the Evergreen campus library in North Highline.
May 21in the Tyee educational complex library in SeaTac.
June 2 in the Highline High School library.
All three hour-long meetings will begin at 6 p.m.
School board member Bernie Dorsey will also hold a community meeting at the Chinook Middle School Library on April 21 at 6 p.m.
In addition, public budget meetings for the 2015-16 fiscal year are scheduled for May 7 and 13, with times and locations to be announced.
[EDITOR'S NOTE: The following is a Letter to the Editor, written by a Reader. It does not necessarily reflect the opinion of The Waterland Blog nor its staff:]
I urge a yes vote on the April 28th election of the bond for South King Fire & Rescue. The district has earned the best rating in Washington for overall performance. Prop. 1 will maintain this rating, which keeps insurance rates low, for fast emergency medical and cardiac response & help keep South King safe. It also includes needed fire station upgrades, decontamination areas, earthquake safety improvements, up-to-date fire trucks and ambulances, and technology infrastructure upgrades.

South King Firefighters respond to more than 17,000 emergency calls for firefighting, basic life support, and cardiac arrests. Prop. 1 will upgrade Firefighter Safety Equipment to meet current safety standards including up-to-date equipment for dangerous firefighting and life-saving situations.

Everyone has to vote, every vote counts. When you get the ballot, fill it out and send it right back. This levy requires a 60% super-majority to pass. The cost for the average homeowner of a $250,000 home would be about $78 per year, or $6.50 per month for these improvements. Vote YES in SUPPORT of our community's safety!

– Wayne Corey
King County EMS/Medic One Advisory Committee
[Have an opinion or concern you'd like to share with our Readers? Please send us your Letter to the Editor via email. Include your full name, please remain civil and, pending our review, we'll most likely publish it.]
Two cases of active tuberculosis (TB) at Mt. Rainier High School in Des Moines are being investigated, Public Health – Seattle and King County reported on Saturday, April 4.
There is no evidence that the two cases were acquired at the school, officials said. However, out of an abundance of caution health officials are recommending TB tests for all members of the school community.
Over the past three months, two people at the school in Des Moines have been diagnosed with TB. The first person was found with infectious TB in early January, the second in late March. Both individuals are being treated to ensure a full recovery.
At this time, investigation by health officials has found no evidence that TB was acquired at school. Both people have other risk factors for TB that are unrelated to the school environment. However, out of an abundance of caution, public health officials are recommending that all 1700 students and staff at Mount Rainier High School get TB tests.
"We have not found a link that suggests the infection was passed at the school. But we are examining every possibility, and that's why we're recommending TB testing for all students and staff at this time," said Dr. Jeff Duchin, Interim Health Officer for Public Health – Seattle & King County.
"TB is not particularly infectious under typical circumstances. It is different from a cold or the flu, for example, which is easily spread from person to person," said Dr. Masa Narita, TB Control Officer for Public Health – Seattle & King County. "But tuberculosis is a very serious disease. It is also treatable with antibiotics, which is another good reason to get the free test."
TB testing
Students and staff will be offered free TB testing upon return from spring break, the week of April 13. The school community is receiving instructions on how to get their free TB test, as well as information on how to recognize the signs and symptoms of TB.
"The health and safety of our students and staff is a top priority, and we encourage everyone to take advantage of the opportunity to be tested," said Aimee Denver, Highline Public Schools Director of Health and Social Services.
The TB test shows whether a person has been infected with TB. Since it can take up to two months after TB exposure for an infected person's body to react to a TB test, re-testing is planned for mid-May.
About TB
Every week in King County, an average of two residents are diagnosed with active tuberculosis.
100 cases of active TB were reported in King County in 2014 (5.0 per 100,000 residents). In 2013 there were 114 cases.
Treatment requires a combination of antibiotics over the course of six to nine months and is usually effective.
TB disease (active TB) often leads to persistent cough, fever and weight loss. If the disease is in someone's lungs, they can give the disease to others through coughing.
Untreated active TB is often fatal, typically by causing lung failure.
Currently an estimated 100,000 King County residents are infected with the bacterium that causes TB; while the microbe lies dormant it may reactivate over time (which is known as "latent TB.")
About a third of the world's population is infected with latent TB, but most are unaware.
For more information
Learn more about TB at www.kingcounty.gov/health/tb
Get the inside story on Public Health's TB Control Program at http://bit.ly/1IyjtMI
It's Spring at Zenith Holland Gardens, now open 5 days a week, Wednesday – Saturday 9 a.m. – 6 p.m.,  and Sunday 10 a.m. – 5 p.m.
Proprietors Lyn and John have made many updates over the winter and invite everyone to come see the changes for the season:
Including an Expanded Plant Selection – see the website (http://www.zenithholland.com/) for the price list.
And Product Line – including Organic soil amendments and potting soils by Gardner and Bloome, beautiful pots for container gardening and Sluggo snail bait.
Classes and seminars are also offered throughout the season; just friend them on Facebook for notifications, updates and gardening tips.
The Nursery is located in Des Moines, a quarter mile south of Kent-Des Moines Road on the east side of Marine View Dr South.
Hours:
Wednesday through Saturday: 9 to 6
Sunday: 10 to 5
Zenith Holland Gardens
23260 Marine View Drive South
Des Moines, WA 98198

Phone 206-878-7002
Press "Play" button to view/hear the live, local weather stream.
by Chris Scragg
Puget Sound Weather Geek
For the last few days, thunderstorms have dotted western Washington; stunning photographers, weather enthusiasts, and commuters. Lightning, heavy rain, and a blanket of hail struck the I-5 corridor on Tuesday (3-31) and Wednesday (4-1).

These storms were fueled by an upper level system that contained very cold air in the upper atmosphere. The storms were then sparked by a convergence zone that developed on each day.
Most weather enthusiasts will recognize the tortuous dilemma: you're stuck in one place, while exciting weather occurs in another, then you go to where the weather is, and it switches place with where you just were! I've been in Phoenix, AZ while following the recent storms in Washington.
This morning (April 3rd), a strong frontal system brought heavy rain onshore. The air mass associated with this system will have the potential to produce a couple thunderstorms.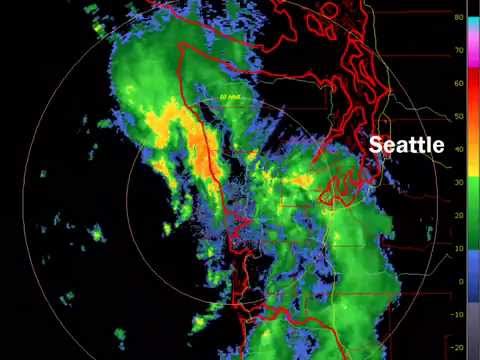 The unstable atmosphere this afternoon combined with the likely development of a convergence zone will spark storms around Seattle and Everett.
Strong showers with the possibility of thunder mixed with sun breaks will continue to dominate the forecast through the weekend. Showers will continue into Monday, but a break in the rain is expected by the middle of next week.
I'll be returning to Seattle on Saturday, and I'll be able to update on the weather more frequently for the weekend! Stay tuned!
For the latest local weather, be sure to follow the Puget Sound Weather Geek:
Thanks for visiting! If you have any comments, suggestions, or feedback please email me at info@pswxgeek.com
Highline CHOICE Academy and Highline Homeschool Center will be holding an All Year Reunion on Friday, May 8, from 5 p.m. – 7:30 p.m.
Light refreshments and beverages will be provided at this free and open event.
"All former and current students, families, and staff of Highline CHOICE Academy and Highline Homeschool Center invited!"
RSVP here: Highline C H O I C E Academy Reunion
or
Lorraine Williams: jdwlkw@comcast.net, 206-718-6079
Highline CHOICE Academy is located at 18367 8th Avenue South in Burien.