by Jack Mayne
Two South King County residents have filed for election to the Port of Seattle Commission Position 5 to replace incumbent Commissioner Bill Bryant, who is said to not be seeking re-election.
Former Normandy Park City Councilmember Marion Yoshino and Delta Airlines pilot and board member Ken Rogers of Des Moines filed on Monday.
Yoshino is also a former economics development official for Des Moines, and is also a partner with her husband in an import/export business for European auto parts, according to her election website.
She says supporting her "is an opportunity to choose leadership that is experienced, but free of political obligations."
Rogers has been a resident of the area since his days as an Air Force pilot at McChord Air Force Base, and is a Delta pilot who has for eight years been a member of the Delta Board of Directors. He lives in Des Moines and is married to Catherine Carbone Rogers, Chief Communications Officer for Highline Public Schools.
Rogers says he is running because it has been "too long since the Port has had a commissioner with significant airport and airline experience" and the Port Commission "needs a fresh perspective" to policy making and that "South King County should have representation on the commission," something it has not had "for many years."
The only other port contest this year is Courtney Gregoire's position 2, and no candidates had filed for that race as of Tuesday (May 12) at Noon.
All schools in Highline Public Schools will be closed on Thursday, May 21 due to a teacher walkout.
The Highline Education Association (HEA) – the teachers' union – voted by an 88% majority Tuesday night (May 12) to participate in a one-day walkout on May 21.
According to the union's website, "teachers and support staff have gone six years without a state cost-of-living adjustment (COLA), the Republican Senate budget only includes a small 3 percent COLA over two years and no increase in health care funding, which means teachers will take home less money next year as health care costs rise. Legislators are in line to get 11 percent raises. Several budget proposals would also unjustifiably restrict school districts' flexibility to make local decisions about teacher compensation and staffing for student programs."
The district said that it does not have enough substitute teachers to cover all classes that day, so school will be cancelled on May 21.
Highline will make up the school day on May 26, the district's scheduled snow make-up day.
HEA wrote in communication with its members:
"The target of HEA's May 21 Day of Action Walkout is the WA State Legislature, not the Highline School District."
Advertiser Matt Griffin YMCA wants you to know that their Summer Camp Registration is Open – your child can play, explore, develop skills and make new friends at the Y this summer!

SUMMER REGISTRATION IS OPEN!
Summer is a time of endless fun for kids. Most of us treasure the memories from times spent near the water, catching bugs, or playing with friends. At the Matt Griffin Y, we make it our job to provide unforgettable experiences to youth. You may trust that, while in our care, children will be safe, productive, and that the experiences they have will be remembered for a lifetime! There is still time for your children to enjoy all that the Y has to offer this summer. See our lineup below and go to http://www.ykids.org/mgn to reserve your space today!
MINI CAMP
(Ages 4-10)
Mini Camp is a part-time summer experience for the youngest members of the family. Based at the Matt Griffin YMCA facility on Tuesdays, Wednesdays, and Thursdays, this program offers awesome activities, including arts, swimming, literacy, and active play. Participants are sure to learn new skills and make friends. Daily lunch and some snacks included in the fee. Additional questions, please contact Jessica Rojas at jrojas@seattleymca.org or 206.787.1186. Weekly Fees: $105 FM / $140 CM Financial Assistance is available.
DISCOVERY CAMP
(Ages 5-12)
Come discover a summer filled with fun, exploration and creative activities. Discovery campers can look forward to hands-on activities incorporating science, art and literature. Campers will also enjoy outdoor adventures, swimming, climbing and field trips to enhance their camp experience. Discovery Camp is hosted at Seahurst Elementary and includes two visits to the Matt Griffin Y for swimming and climbing. Join us and discover a world of fun, excitement, activities and friendship! Additional Questions, please contact Justine Viloria at jviloria@seattleymca.org or 253.876.7561. Weekly Fees: $195 FM / $230 CM Financial Assistance is available.
KIDS ON THEIR WAY
(Ages 4-5)
Is your child entering kindergarten in the fall? This small camp setting is designed to help ease the transition. Trained Y staff lead classes and activities that focus on reading, writing, and social skills with plenty of fun incorporated. Camp location will be at Gregory Heights Elementary School. Weekly field trips to the Matt Griffin YMCA for swimming and climbing. Additional Questions, please contact Nancy Vu at nancyvu@seattleymca.org. Weekly Fees: $195 FM / $230 CMFinancial assistance is available.
SPORTS CAMPS
(Ages 4-10)
Sports Camp's teach children the basic fundamentals of soccer, dance and basketball through fun, age appropriate drills, games, and small scrimmages. Children will have the opportunity to focus on their skill development, learn the rules of the game and how to work together as a team. Additional questions, please contact Dee Jackson at deandrajackson@seattleymca.org or 206.787.1184. Weekly Fees: $195 FM / $230 CM Financial assistance is available.
June 22nd- 26th Basketball
June 29th – July 3rd Advanced Basketball
July 6th – 10th Soccer
July 13th – July 17th Dance
MATT GRIFFIN YMCA
3595 S. 188th St, Seatac, WA 98008 P 206 244.5880 www.seattleymca.org
Students at Highline College will be hosting a bake sale on Monday, May 18 to raise money for the Genesis Project, a local non-profit organization that helps female sex trafficking victims out of the life.
All proceeds will go to the organization.
Change for Change will be held Monday, May 18 from 8 a.m. to 1 p.m. in the Student Union, Building 8, on the second floor.
Victims' advocates say that roughly 90 percent of victims are forced to sell their bodies by a pimp. Almost no victims enter the trade willingly.
Young women enter the sex trade at 12 to 14 years old. With the average life expectancy for a prostitute at just seven years, many don't live to be 20.
The Genesis Project is dedicated to rescuing prostitutes, and provides food, clothing, laundry services, hygiene services, and numerous legal services for free.
It functions as a drop-off center for any victims of trafficking in need of help.
Founded in 2011 by a law enforcement officer who was frustrated at the lack of help for prostitutes, the Genesis Project was the first sex traffic-specific comprehensive care and recovery center in the Seattle area.
Further information on the Genesis Project can be found at http://genesisnow.org/. They may be contacted at 206-592-2362 or emailing info@gpseattle.net. To donate to the project, visit http://genesisnow.org/how-you-can-help/.
"If you want to build a ship, don't herd people together to collect wood and don't assign them tasks and work, but rather teach them to long for the endless immensity of the sea." –Antoine de Saint-Exupery
I read this quote the other day and began to think about it. I'm still thinking about it. I read a lot of words and many slip in and out of my mind with only a brief glance. I have a lot of short-term love affairs with words. These words remain with me. I may love them. It's still early, but we might have a future together.
These words inspired me because they tell the truth. In looking around my life for places that this idea might fit, I find that it fits everywhere. The truth does this.
While attempting to navigate a path through the wheel barrow load of shoes lying in all corners and non-corners of my living room, I began to ponder an application of this idea. How can I inspire my little piglets to put their crap away? How can I connect them to a larger vision of possibility that will make their small efforts a joy? How can I shape a message that will resonate and create a tidy and yell-free household?
Well, I have no idea how to do this. But…I still think it's worthwhile exploring it.
Like many good ideas, it exists as both clear and nebulous at the same time. I "get" it, but am not sure how to apply it.
It's an idea about constructing a culture of "creation", instead of simply "work". This is a powerful culture that relies on a strong "why?", instead of "what?" "Why?" we do something is always the more important question than the "what?".
Having some clarity on our mission goals, intentions and vision is vital to establishing a potent sense of purpose. This is our "why?" Being clear on this first makes everything easier and more authentic, thus more effective that follows it.
It's a beautiful idea that I have experienced at different times in my life. Several years ago, I worked for my local city park department. We built and maintained parks. It remains the best job I've ever had. Our crew was inspired by our work. We took pride in what we created. We had a sense of purpose and understood our role in making it so. We also had a great leader. Our boss, Rick, led well. He made us feel important. He helped us recognize the larger value of our efforts. It was a powerful lesson and one that I carry with me today.
This experience illustrates that, fortunately, it's possible. Inspiring cultures can exist…anyplace. And we can all be great leaders. We can shape cultures through our spirits and words. We matter and it matters and all oceans are ours to explore. It's a big, beautiful world filled with the magic we create. Why create this magic?…because it's what we're here to do…
[EDITOR'S NOTE:"Feel Good Friday" is a regular column written by Des Moines resident Dave Markwell, whose first book is called "A Feel Good Life" (buy it on Amazon here). Dave also extols to all neighbors: "Enjoy where we live. Put your feet on the pavement and truly feel how great it is to live here!" Also, you can "friend" Dave on Facebook here. Or work out with him at his exercise company Waterland CrossFit!]
The premiere episode of SoKing News' first-ever Newscast on May 8, 2015:
WLB Real Estate Sponsor Berkshire Hathaway Home Services Northwest's Open House – set for this SATURDAY, May 9 at a NEW price – is a gorgeous new 4-bedroom home in the desirable Seahurst neighborhood!
This home's dream kitchen has off-white cabinetry with soft close, heated floors, Franke faucet, quartz, under mount sinks, stainless appliances (refrigerator included).
The front room has built-ins, fireplace and "Smurf tube" for hiding TV/computer/server cables.
Main floor utility with slab quartz (second W/D hook-up upstairs).
The Master suite has double door entry, safe, 5-piece bath with soaking tub and shower.
Large 4th bed or bonus room awaits your magic touch!
Finished and insulated garage, hot/cold hose bib on exterior, and a covered outdoor area w/BBQ hook-up too!
Here are some pics (click images to see larger versions/slideshow):
Here are the details:
WHAT: Berkshire Hathaway HomeServices Northwest Open House
WHEN: Saturday, May 9, from Noon – 3 p.m.
WHERE: 15115 12th Ave SW, Burien, WA 98166
INFO:
List Price: $449,900
MLS Number: 762247
Bedrooms: 4
Bathrooms: 2.5
Year Built: 2015
Approximate House SqFt: 2,100
Lot Square Footage: 3,556
Site Features:
Bath Off Master
Dble Pane/Strm Windw
Dining Room
High Tech Cabling
Skylights
Vaulted Ceilings
Pantry
Walk-in Closet
Deck
Fenced-Partially
High Speed Internet
Propane
RV Parking
Marketing remarks:
Finished new construction in desirable Seahurst!

Dream kitchen has off white cabinetry w/soft close, heated floors, Franke faucet, quartz, under mount sinks, stainless appliances (refrig included).

Front room has built-ins, fireplace & 'smurf tube' to hide TV/computer/server cables.

Main floor utility with slab quartz (second w/d hook-up upstairs).

Master has double door entry, safe, 5-piece bath w/soaking tub & shower.

Large 4th bed or bonus.

Finished & insulated garage.

Hot/cold hose bib on exterior.

Covered outdoor area w/BBQ hook-up!
Click here to see the full, detailed listing.
Click here to view all of Berkshire Hathaway's Open Houses, and click here to "Like" them on Facebook.
The Normandy Park Police Department is searching for a man who exposed himself to a family in the north end of Normandy Park – near 1st Ave South – Thursday afternoon, May 7.
Police say that the suspect is a white male in his late 40s, approximately 5'10" tall, and well over 300 lbs., wearing a Royal Blue crew neck t-shirt, khaki cargo shorts and a khaki hat.
The suspect was wearing sunglasses and had light colored hair on his arms.
He is associated with a new Grey Metallic Toyota 4Runner SUV.
If anyone has information about this incident, please dial 911 or 206-248-7600; reference NPPD Case #15-0949.
Mt. Rainier High School will be hosting a one-day basketball camp on Monday, June 15 for kids entering grades 7, 8 and 9.
The camp is FREE if you bring at least one item of non-perishable food to donate at the door.
Items on the agenda include:
Ball handling, shooting, drills and skills
Camp Coaches will include those from Mt. Rainier as well as Players
9th graders – get a head start on your high school career!
Risk Forms must be filled out (download a PDF here).
Mt. Rainier High is located at 22450 19th Ave South in Des Moines.
For more information, contact Coach Ken Bush at 253-373-4781 or jbush34@gmail.com.

The City of Des Moines, Recology CleanScapes, and the Midway Les Schwab Tire Center are sponsoring a Community Clean-up Event on Saturday, May 9 from 9 a.m. – 11:30 a.m., and volunteers are needed!

Teams of volunteers, ages 15 and older, will be provided safety vests, gloves, trash pickers, and bags and dispatched to areas of the City to clean up and bag litter.
Here are the details:
CHECK-IN: Public Works Service Center 2255 South 223rd Street

RSVP: By April 28: 206-870-6525 or pvolin@desmoineswa.gov

WHEN: Saturday, May 9, 2015, 9:00 am-11:30 am
"Show your pride in the Waterland City!"
A new reef is reaping rewards off Saltwater State Park, and here's video proof: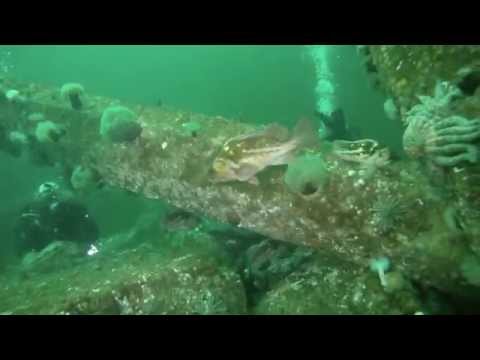 But…
"Over the past few days we've witnessed illegal crab pots being dropped on to the reef," Diver Randy Williams said. "Please pass the word about this illegal fishing. The Rangers have been notified as have the WDFG officers. This reef is where the young fish and invertebrates start out in life. Their descendants add to the healthy fish that spread out over the sound. PLEASE! pass this along to any of your friends and family who fish. Legal fishers are highly regarded and respected. It's all about conservation and the health of the fish stocks."
Here's more info from Williams:
Recently we did a presentation to the head of the WA Parks Board at the park. All the buoys have been placed through the efforts of the WSA and the diving community. I've personally rebuilt and overhauled the past four units that are out there. I can't say enough good things about the Rangers at Saltwater and Dash Point State Parks.

Ranger Johnny Johnson is a very good partner in our efforts to protect this area of the Puget Sound.

There is a very productive artificial reef at Saltwater State Park.Please note that there is NO FISHING and NO TAKING OF CRAB on the reef. The area is within the bounds of the state park. This is a MARINE PROTECTED AREA.

Thank you!
Des Moines United Methodist Church will be holding a HUGE RUMMAGE SALE this Friday May 8, from 10 a.m. – 6 p.m. and Saturday May 9, from 9 a.m. – 5 p.m.
Something for everyone! Furniture, Clothing, Toys, Electronics, Tools, Collectables, etc.
Also still time to donate items, call 206-878-8301.
All proceeds benefit Youth Ministry.
Des Moines United Methodist Church is located at 22225 9th Ave. S., Des Moines 98198.
Contact the church at 206-878-8301 to RSVP, or for more information.
Press "Play" button to view/hear the live, local weather stream.
by Chris Scragg
Puget Sound Weather Geek
Return of the Thunderstorms on Cinco de Mayo!
What to Expect May 5, 2015:

It's a sweater wearing day. Cooler temperatures in the mid 50s.
Hold on to your hat! Gusty winds (15-25mph) continue through the day.
Time your dog walks. Showers will intermittently interrupt the sunshine through the morning into early afternoon.
Keep your eye on the sky. Showers will liven up with lightning, thunder, or small hail this afternoon.
When thunder roars, head indoors. Beware of dangerous lightning, watch the weather from the safety of your home, or on my live stream!
Any fellow weather geeks should be excited by today's forecast! Scattered thunderstorms are in the forecast for Puget Sound this afternoon and evening.
The cause is (unsurprisingly) an upper level low pressure system that has meandered it's way onshore. As is typical with these systems, this one is carrying a large blob of really cold and fast moving air in the upper parts of the atmosphere at about 25,000 ft (near airline cruising altitude).
Upper Level Low Pressure Systems: 
An upper level low pressure system can be described as rotating pocket of cold rising air in the upper atmosphere. These systems are responsible for most of our thunderstorm activity. They are typically harder to forecast because of the lack of frequent observations at those altitudes.
If you follow this blog with any regularity, you'll find that a great deal of our lightning or hail excitement comes from upper level low pressure systems.
I spent some time to look at some of the most notable thunderstorm events in Washington that I remember during the last few years, and I found that nearly every one was associated with an upper level low pressure system.
March 31st 2015:
A multi-day thunderstorm outbreak took place as a deep upper level low pressure system traversed the Northwest. Some amazing images were captured around the Puget Sound.
August 9th-10th 2013 Extreme Lightning Producer: 
On August 9th, an upper level low pressure system was spinning along the Oregon coast, causing numerous thunderstorms across central OR, that eventually moved north into western Washington, bringing with it the best lightning I've ever seen.
July 19th 2012: 
A very similar situation was in place on July 19th, 2012 when a closed upper level low was situated over the northern CA coast and OR border.
For the latest local weather, be sure to follow the Puget Sound Weather Geek:
Thanks for visiting! If you have any comments, suggestions, or feedback please email me at info@pswxgeek.com
Nutrition program volunteers are HAPPY with a new 2015 Vulcan Stove purchased with Bayside Brunch Funds by the Des Moines Legacy Foundation.
Installed on Sunday, May 3, at Des Moines/Normandy Park Senior Activity Center, the new stove replaces a 1964 stove that was way past its prime to cook daily nutritious meals for seniors sixty and older.
"THANK YOU DES MOINES LEGACY FOUNDATION AND TO ALL OF OUR BAYSIDE BRUNCH SUPPORTERS…..especially Anthony's HomePort!!"
From our sister site The SeaTac Blog:
When SeaTac Councilmember Pam Fernald wanted to clean up North SeaTac Park of old trash and dumped drug paraphernalia – even offering her year's salary to pay for the work – it resulted in a banged gavel, a sudden Council recess, and a defense of park squatters; then, finally, a city manager's agreement to come up with a solution.
Read Jack Mayne's full story – complete with numerous photos of trash, drug paraphernalia and homeless encampments found in the park – here.
Des Moines United Methodist Church will be holding three free events this weekend:
Friday (May 1) 7:00pm: Movie "Big Hero 6″ (room 110 lower entrance)
Sunday 1:15pm, Crop Walk (both main entrance).
Sunday 7:00pm: "Go to college for less than you think," researched by Charlie Hoff
Des Moines United Methodist Church is located at 22225 9th Ave So, Des Moines 98198; 206-878-8301
More info at www.desmoinesumc.org
Bad news: You're going to die.
Good news: (at least if you're reading this…) You're NOT DEAD YET!!
I write this as a simple statement of fact. If you're not dead yet, it means that you're alive, and this should provide some sense of hope…I hope. When we're alive, we have another chance. We can change things we want to change. We can create and grow and learn and live better. This is hope.
We have little to no control over our birth or our death. We have tremendous control over what happens in between them. Life happens in between these bookends. This is where we write our stories. We paint our lives through our daily thoughts and actions. Over these things, we have control. This is liberating to me. We decide. We choose. We often think we don't have control, but we do. And, at any point in time, we can change our story.
A friend of mine died last week. Gratefully, the middle of his story was rich. He explored and worked and played with all of the time his story allowed. Though his story was shorter than it should have been, it was wide. It was full of joy and fun and people he cared about and who cared about him. He was an inspiration to me in that he demonstrated the power of a day and the vast potential living in a moment. He chose well and he lived well and he left behind a legacy of how to do both. He will be missed, but like a few of the special people, he will live through the power of his example and the fond remembrance of his wit and kindness and his courage to live the life he chose.
Listening to my daughter practicing piano as the sun rises over the waters of my life, I contemplate my story and I am reminded of my inevitable end. It is not with sadness that I ponder these things. It is with hope and urgency that I chose to claim this day. It will not fall into the well of wasted days. I will work and play and grow and learn and craft and shape my story well. Today. It's the only one I have. It's the only day any of us have. So, I hope that YOU play and grow and live a day that advances your dreams. Though, we may not have much sanction over the beginning or the end of our stories, an exciting and inspiring middle is ours to manifest. Today's a good day to paint a beautiful story…
[EDITOR'S NOTE:"Feel Good Friday" is a regular column written by Des Moines resident Dave Markwell, whose first book is called "A Feel Good Life" (buy it on Amazon here). Dave also extols to all neighbors: "Enjoy where we live. Put your feet on the pavement and truly feel how great it is to live here!" Also, you can "friend" Dave on Facebook here. Or work out with him at his exercise company Waterland CrossFit!]
The Des Moines City Council is accepting applications for potential candidates for appointment to fill an unexpired term – vacated by Jeanette Burrage, who resigned April 22 – on the City Council, the city announced Friday (May 1).
Applicants must be a resident of the City for a minimum of one year, be a registered voter within the City at the time of filing, and be at least 18 years of age.
Applicants will be required to submit a resume regarding work and community service experience, respond to the questions on the application and complete a personal financial affairs statement from the Public Disclosure Commission*.
Applications will be accepted until 2:00 p.m., Friday, May 22, 2015.
Contact the City Clerk's office for a complete application packet at 21630 11th Avenue South, Des Moines, WA 98198 or call 206-870-6519.
*Public Disclosure Commission
www.pdc.gov
Toll Free 1-877-601-2828