Yeah, the 'Hawks are big news. Expectations are high, and everyone's paying attention… including the national media. But every week it seems like there's some key issue that's getting glossed over–some topic that, for one reason or another, is being avoided. It's the elephant in the locker room, if you will, and gosh darn if I'll let that ride. Join us on Saturday mornings for a little closer look at our World Champions.
By Greg Wright
U scared, bro?
Let's just start with highlights from last season, shall we? Not only did the Seahawks win the Super Bowl, they did it in brash, trash-talking style… all season long. And front and center in that three-ring circus was Richard Sherman, providing highlight reels and headline fodder week in and week out.
Yeah. Richard Sherman. Finger-wagging, lip-shushing, crazy-people ear-circling, flamboyant, yawn-mocking, choke-signing, interception machine Richard Sherman.
This guy.
He and the Legion of Boom were rewarded not just with diamond-studded championship rings, but the cover of Madden NFL 15. Sweet.
Where, oh where, has that Richard Sherman gone?
Aside from an occasional comment about how Pierre Garcon doesn't matter, Sherman has gone awfully quiet… on and off the field. Even his response to being "exposed" by the Chargers' receivers was tame, and aside from his lone 2014 interception against Oakland (yes, Oakland… talk about yawn-inducing) I'm not really sure what you'd put in a Sherman highlight reel for this season.
Where's the finger-wagging now, Richard?
Instead, this is what we get after a loss in Kansas City:
Isn't that sweet? A mutual admiration society.
Conventional wisdom has it that this is what happens after a player "makes it." The chip falls off the shoulder, a big contract gets signed, endorsement deals roll in the door… and said star gets, well, downright nice and pleasant.
I don't think that's it. I don't think that's it at all. I don't think that success has spoiled Richard Sherman.
Here's another way to read it, in light of what Earl Thomas had to say about Jason Witten on Twitter after the loss to the Cowboys:
"He waited til the last kneel-down to open his mouth. … that just showed me who he is as a front-runner."
What Thomas was getting at is this: if you're going to talk, talk before the game and then back it up. Talking big after you've won a game you didn't expect to win is the same as being a fair-weather fan. It's far braver to talk big and then have to back it up.
And wasn't that exactly what the LOB did last season? They didn't just talk a good game, before the game, they played a good game as well. All 16 of them, plus a fantastic run in the post-season.
So why isn't Sherman talking this season?
Because he knows something. Something we don't really want to talk about.
He knows the LOB can't back up the chatter.
Coming into week 12 of the season and what is probably a make-or-break game for this year's campaign, Richard Sherman's quietness is probably the most concerning factor. The team's success hinges on the D, and Sherman has his doubts.
U scared, bro?
I am.
Act of Valor reviewed by Greg Wright
Have you ever been caught completely off guard by a movie and thought, "Wow! I don't think I've ever seen anything quite like that before!"?
Well, that was Act of Valor for me. And I felt compelled to write about it this week after having rather unwisely and insensitively talked trash about Saving Private Ryan on Veteran's Day!
The twist in this action picture about Navy SEALs tracking down globe-trotting badguys to prevent a terrorist bombing on U.S. soil is that the SEALs are played by… actual Navy SEALs. On active duty. Uncredited (at the time of release). Only a handful of professional actors appear in the film, and in supporting roles.
But this twist is not what makes the film unique. Instead, as the action unfolds, you never get the sense that something absolutely ridiculous (Mission: Impossible), leaden (The Expendables), or overly-kinetic (Bourne or anything Statham) is going to happen. If bad guys are gonna get taken out, it's going to happen quick, and the SEALs are going to move on, fast. If something blows up, it's going to happen… once, and the SEALs are going to move on, fast. If something technologically sophisticated is required, we're going to see bits of it—it won't be belabored and shown off—and the SEALs are going to move right along, fast. The amount of ground covered in Central America, the Ukraine, the South Pacific, and Mexico (among other places) is truly astonishing.
Yes, this film originated as a recruitment film sponsored by the Navy—and yes, it still has that flavor. (How could anybody NOT be impressed by what's demanded of these men, the stoicism and courage with which they carry out their missions, and the tools put at their disposal?) But collateral damage is not exactly glossed over here. Defenders and critics of military tactics alike can trot out this film as Proof Positive of whatever tenet-of-the-day is being touted. The film is simultaneously inspiring and disturbing, and greatly so.
Do we really understand the violent waves that crash upon our shores each day, but almost never wash over us thanks to the breakwaters built on the blood of our soldiers? Do we have any appreciation for the level of violence perpetrated on our behalf, and against us? Do we know what safety really means? How many SEALs do you think have died to protect this country over the last ten years?
What we see in Act of Valor is entirely credible, and gut-wrenching. Two major thoughts struck me as I was watching: First, if I don't express gratitude for the sacrifices that our service members make, there's something wrong with me. Second, if other countries did on our soil what we do on theirs, we'd consider it an act of war—and there'd be hell to pay.
And, well, any way you slice it, there is hell to pay. To a certain extent we have our own selfishness and safety-lust to blame for the situation. It's great to be an American—I don't think the vast majority of us really understand quite how good we've got it—but if you've spent much time abroad, it's also easy to see how many of the world's economic and political woes are collateral damage of American and Western policy. So the piper must be paid. And at the same time, hatred and retribution can never be blamed on someone else; they are always a choice for which every one of us is personally accountable.
The narrative and emotional tension in the film, however, arises from a narrative device in which one member of a particular squad of SEALs—we aren't quite sure initially which member—writes a letter to the son of one of his fallen comrades… and again, we aren't sure which of the squad is going to die. Is the device strained? Yes, but no much that I minded it. I think, in light of everything, the emotions and ideas expressed in those words are earned.
This isn't entertainment, per se. Consider it an education, and an eye opener. It should make you think, maybe cry a little, and maybe get a little sick to your stomach.
Act of Valor is available to stream online at Amazon, among many of other places. If you find someplace to rent the DVD or Blu-ray, the special features and commentary are well worth your time as well!
Check it out tonight, and don't forget to dine local first!
Yeah, the 'Hawks are big news. Expectations are high, and everyone's paying attention… including the national media. But every week it seems like there's some key issue that's getting glossed over–some topic that, for one reason or another, is being avoided. It's the elephant in the locker room, if you will, and gosh darn if I'll let that ride. Join us on Saturday mornings for a little closer look at our World Champions.
By Greg Wright
Marshawn Lynch broke into the national football psyche with the legendary Beastquake run in the fourth quarter of Pete Carroll's playoff debut against the New Orleans Saints at the Clink. I think we all remember that play, don't we?
And the climax of this iconic moment was Lynch diving backward into the endzone with an "in yo' face" hand-grab to the crotch. If it hadn't happened so quick, and been so astonishing, Lynch might have been flagged for taunting.
Well, the events of the last weekend in football have caused me to reflect on how things have changed since January 2011.
First, there was Utah's unbelievable, showboating, premature TD celebration against Oregon… which ended up being a celebration for Oregon: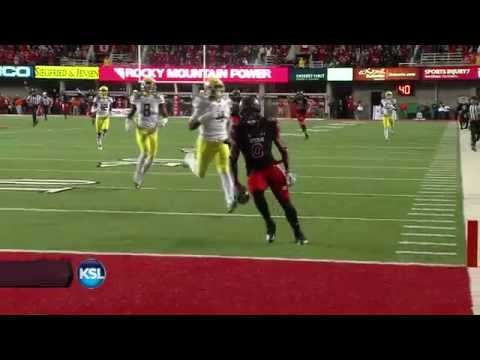 Kaelin Clay ironically provided his own color commentary with two thumbs down on his own nameplate.
Then on Sunday there was this:
Wow. Sometimes you just have to wonder what these guys are thinking.
Back in the day when a Seahawk named Steve Largent was setting records catching TD passes, he was famous for co-opting Vince Lombardi's words to counsel his teammates: "You know, you just did your job by making that catch. You did absolutely nothing special. When you do something special, then you can celebrate. Act like you've been there before." Largent's routine was to simply flip the ball to the ref.
Of course, it's hard to act like you've been there before when you haven't. So perhaps the Cardinals' John Brown can be forgiven his brash exuberance. He's still a rookie.
We can probably also be thankful that Lynch has been in the endzone often enough that he's not grabbing his crotch 20+ times each season. (Yes, act like you've been there before, too.)
What we may not have noticed is the very gentlemanly and old-fashioned routine into which Lynch has now settled when he scores. While we're doing the Icky Shuffle in our bathrobes 'round the coffee table or high-fivin' our white-and-otherwise-guys, Lynch goes about his business… shaking hands.
Yep. Have you noticed?
Shaking hands. No dances, no spikes, no chest-to-chest jumps, no Lambeau Leaps or close encounters with a Sharpie… even the fist-bumps generally wait until he's back on the sideline.
It kind of stood out on Sunday, when Lynch powered his way into the endzone four times as the Hawks racked up record chunks of yardage on the ground against the hapless Giants.
Early in the week, though, I became pretty convinced that this fact has been pretty much escaping the press. It's so much more fun to write about the John Browns of the NFL world.
Sure enough, as of Tuesday the only press outlet to have written about Lynch's handshakes this entire season was a regional newspaper down around Camas. On Sunday night, the Columbian's Micah Rice wrote, "There was no boastful celebration. There was no mugging for the camera or self-glorification. Right after scoring his fourth touchdown Sunday to clinch a game he almost single-handedly won, Marshawn Lynch made the rounds. To each teammate in the end zone, the Seattle Seahawks running back offered a simple, sincere handshake.
"No words were necessary; just a simple action, boss. He won't court his own attention, but there should be no limit to the praise given to what Lynch did Sunday. Cherish it. Play it again on the DVR. Toast it even if you're not a Seahawks fan but simply dig hard-nosed football."
Kudos, Mr. Rice. You scooped your big-city counterparts.
But when Mr. Rice went back to play it again on his TiVo he might have noticed that it wasn't just the 4th TD that generated this outpouring of glad-handing. He might in fact have seen this:

I can deal with more of that.
Oh, yes, Mr. Lynch. Please, more of that.
Especially this Sunday in K.C.
Saints and Soldiers reviewed by Greg Wright
So… I'm not a fan of Saving Private Ryan. One of its core messages was about the same as Peter Jackson's The Two Towers: "Show your enemies no mercy, for you will be shown none." And Spielberg really drives that mega-budget message home, you may recall, by having that dirty ex-prisoner kraut blast Tom Hanks to kingdom come in the final act… and by making sure the Good Guys are surrounded by nubile babes with perky breasts, even if those babes are the Good Guys' daughters.
Okay. That's just me.
Have you heard about the LDS film Saints and Soldiers? I stumbled across this 2003 flick on Netflix, and it is just about as polar opposite a war film as you can get from Ryan and Spielberg. It's micro-budget, the cast is filled with whoozits… and it has a decidedly different take on the whole mercy thing. But it tells a similar story, of a small unit of soldiers carrying out a dangerous Allied mission behind German lines during World War II in the wake of a POW massacre.
In his feature film debut, Canadian native Ryan Little pulls a cinematic rabbit out of his hat, taking advantage of every ounce of "re-enactor" muscle that Utah could muster, and tells a compelling story in fine, professional fashion. The film this most reminded my of is Rachid Bouchareb's Oscar-nominated Days of Glory. It's no surprise that this film won scads of awards on the festival circuit.
What's especially nice is that Little's Latter Day Saints background lends this production a moral dimension (amidst all the squibs and flashpots) that Spielberg has never come close to mustering. The central character of "Deacon" is highly convincing, given the LDS mission-field experiences of the director and several cast/crew members.
At the crux of the plot is that same dilemma as in Ryan: Do you show mercy to your enemies? Little's film doesn't treat that question in a perfunctory manner, on either end of the spectrum… though, naturally, it just isn't possible to read this as a "shoot the bastards" tract.
If Little represents the future of LDS filmmaking (two sequels to this film have already been shot), I'm all for it. (And just to be clear, I'm not LDS!) But this is real cinema with a clear spiritual dimension… and I'm all in favor of that.
I imagine that Saints and Soldiers is still available on Netflix. I've jumped to Amazon Instant, though, and you can find it there… free, for Prime members.
Check it out tonight, and don't forget to dine local first!
Yeah, the 'Hawks are big news. Expectations are high, and everyone's paying attention… including the national media. But every week it seems like there's some key issue that's getting glossed over–some topic that, for one reason or another, is being avoided. It's the elephant in the locker room, if you will, and gosh darn if I'll let that ride. Join us on Saturday mornings for a little closer look at our World Champions.
By Greg Wright
At the conclusion of the 2012 season, I remarked to my wife, "This offseason, the Hawks really need to find a decent nickelback and get better production at tight end. They do those two things, and they've got a real shot at a championship." The Seahawks did exactly those two things, and for the most part the ball bounced favorably. Say hello to a Super Bowl victory.
But when you fix your weakest areas, it's inevitable that another area becomes your greatest vulnerability.
After the Seahawks' loss in St. Louis, ESPN's Terry Blount wrote, "The offensive line was the weak link on a Super Bowl team last year. It still is, but it's worse now."
Let's take a look at why that is… as I don't see any point in debating whether Blount's statement is true. So without further ado, meet your Super Bowl offensive line and their pedigrees (courtesy ESPN):
Bear in mind that Giacomini and McQuistan were castoffs from other teams. And a year prior to the Super Bowl, Sweezy was playing on the other side of the ball in college. And remember that McQuistan didn't even get the start the previous week in the NFC Championship.
So McQuistan and Giacomini are gone. Our nominal starters are now Okung, Unger, Sweezy, and these guys:
Britt's a rookie, and for all intents and purposes Carpenter might as well be given his lack of production in previous seasons.
Yet this "starting unit" has only played one full game together. Here are other role players that have been plugged into the line this season in the absence, at times, of Unger, Okung, and Carpenter:
Notice anything in common in that group? All but one went undrafted. And let's throw into the mix the guy who was supposed to be Unger's backup at center this year, another undrafted free agent:
But Lem got injured before the season even started. This means that, with Unger out, the line has been featuring a third-string center with Schilling… and in the most recent week, a fourth-stringer in Lewis. (Remember how we thought the Hawks would eat Green Bay and San Diego alive this year because they were starting second-stringers at center? Turn that around, and Russell Wilson should be dead right now!)
Finally, throw in the pedigree of another key contributor last season on the O line:
So let's be perfectly clear. Since Pete Carroll arrived with the Seahawks, the team has spent exactly two high draft picks on the O line: Okung and Carpenter. Okung has been pro-bowl caliber, but is still generally perceived as underperforming (particular as a pass blocker, and because of his frequent false start penalties). Until this year, Carpenter has almost universally perceived as a bust.
This has left Assistant Head Coach and run-blocking genius Tom Cable to cobble things together with castoffs, no-names, and mini-projects. And frankly, Cable has done exceedingly well in that regard. While pass blocking continues to be a major problem at almost every position along the line, there's no question that Seattle's run game does better than it deserves given the players we've got.
But here's the thing: If a Pete Carroll team is successfully put together according to the Carroll design, the offensive line WILL be the weakest link.
Think about it. Where does Seattle expend most of its capital? On the defense first, then on the offensive skill positions, in order: running back, QB, tight end, and receiver. Heck, the O line even takes back seat to the kicking game.
Why is that? Why doesn't Carroll put more juice into the offensive line?
Because budgets are limited and you have to prioritize. And with a top-flight D and a strong emphasis on the running game, Carroll and Cable have simply concluded that "we can make this work" is a good enough formula for a championship.
So the next time you hear color commentators carping about poor offensive line play from the Seahawks, don't jump on the bandwagon and start badmouthing the players. Aside from Carpenter and possibly Okung (but he's a pro-bowler, remember?), these guys are really over-performing considering their pedigree.
Could the offensive line be better? Yes.
Is the O line the weak link? Yes.
But if you've got a problem with that, point the finger at Carroll, not the guys who wear the jerseys.
Sources tell the Waterland Blog that Landmark on the Sound has indeed been purchased, conditional on a City Council-authorized rezoning of the property for commercial uses.
Contrary to rumors circulating, however, the commercial uses in question do not relate to gambling activities. A proposed resort hotel is the focus of the rezoning on the table, with timeshare condos being built on the east side of the property, an area for events on the west edge of the property, a spa, and a small card room.
The Blog has been assured that the Council is not inclined to grant rezoning for a casino as that would be totally incompatible with the neighborhood.
What's unclear is the fate of the existing building–or the potential impact of the property being listed on the National Register of Historic Places or as a National Historic Landmark.
We'll post updates to this story as they come in.
UPDATE, 11/6/14 5:00 PM — The City has confirmed that the basic facts as we have them are correct. Additionally, the proposed architectural plans call for retaining the existing historical buildings on the grounds and refurbishing them. We'll attempt to get more details from the architect tomorrow.
Miss Representation reviewed by Greg Wright
Once I put on my "critic" hat for screening a film, I'm pretty hard to provoke. At the moment a movie starts, it's my job to evaluate it, not react to it. Even Michael Moore—at both his best and worst—provokes little emotional response in me.
The documentary Miss Representation royally pissed me off, and in the best possible way.
Bear in mind that I'm the lone audience member who walked out on a packed commercial screening of Risky Business because I was so incensed at that film's portrayal of women. From the first time I saw Joe Francis' ridiculous Girls Gone Wild commercials on cable, I've lamented how the misguided women who buy into Francis' fetish are traitors to their own gender. And no, Halle Berry's sex scene in Monster's Ball was not empowering; she merely sold her integrity for the sake of artistic "respect."
I'm also the guy who was addicted to porn for twenty years, so I'm definitely no holier-than-thou prig. I've rolled in the dirt with the best of them.
Miss Representation riled me because it lays out, it spectacular and infuriating form, the ways in which our entire culture—men and women alike—tends to unthinkingly consume whatever advertisers fork over… or blithely assume "it doesn't affect me." Well, it does.
As reported in the film, young people today spend 31 hours a week watching TV, 17 hours listening to music, three hours watching movies, four hours reading magazines, and 10 hours online—and the vast majority of all that media is being coordinated and produced by a monolithic industry with a fairly coherent message. As the film's director, Jennifer Siebel Newsom, reports, five—count 'em, five—media conglomerates have almost exclusive control over the messages packaged for our consumption. And the general tone of it all? "We are a nation of teenaged boys."
Now, I've got nothing against teenaged boys. Seriously. I used to be one. But I also understand how they think.
Let's consider Risky Business once again. The film's teenaged hero is hounded by his self-absorbed shrewish mother. He's of near-genius intellect. He believes his libido is repressed (and, in the context of what may be the movie's most shrewdly deceptive appeal to the audience's sympathies, he is awfully, um, pure for his age group). And he's got, indirectly, money to burn. So it's only natural that the apex of his romantic aspirations would be… a high-priced call girl (of the, naturally, sexpot-with-a-heart-of-gold variety).
At the risk of sounding like a moralist (which I am not), there is not a positive male or female role model in the film—which would be fine if the film were countercultural, or even possible to take seriously as a black comedy… which it never was, and can't be, respectively. When the film was released, any cultural prognosticator could have predicted that the public's embrace of Risky Business was only affirming what our culture wanted to believe about itself—that good intentions and a bagful of cash do a mighty fine job of paving the road to heaven, or hell, or wherever you want to go—and that something like Girls Gone Wild would certainly materialize. It was only just a matter of time.
Well, dammit, why is that the case? In part because our educators themselves buy into this Superbowl Halftime way of life, and because most of us just don't have an interest in educating ourselves.
Personally, I'm intensely grateful for the 8th-grade English teacher (whose name I can no longer recall) who, in 1975, led my class through the U.S. code of advertising to show us how our government was letting advertisers lie to us… legally. It's an industry built on deception, and the way laws are written (no doubt with the aid of lobbyists) only the most egregious of deceptions can possibly be prosecuted. So, to a degree, my eyes have been relatively open all of my adult life.
I sincerely hope that plenty of people—and women in particular, as this game is largely in their hands—get out to see this movie, and get riled up about it… and conclude, to steal a line from Serenity, "I aim to misbehave."
It's about time that women, as a whole, check out of this system. While this may seem an unfair assessment, particularly given that the boards of the media conglomerates are really just glorified boys clubs, I don't hold out any great hope that men have it within themselves to change any of this. Boys, after all, will be boys. Why must women play the game like boys, too?
Take the $10,000 or so that you would normally spend on clothes, makeup, and hair care products in the next year and use that money instead to back female candidates for congress, the Senate, and President. Now, that would shake things up a bit.
If there's a downside to the film, it's that Newsom (who also narrates) is not the most magnetic of personalities. However, she wisely puts most of the film's words in the mouths of powerhouses like Katie Couric, Condoleeza Rice, Margaret Cho, Geena Davis, Rosario Dawson, and Rachel Maddow.
But in the end, Newsom's voice is the right one for the material. What, after all, was I expecting? A kickboxing sex kitten?
Miss Representation is available to stream on Amazon Instant Video as well as Google Play.
Check it out tonight, and don't forget to dine local first!
Yeah, the 'Hawks are big news. Expectations are high, and everyone's paying attention… including the national media. But every week it seems like there's some key issue that's getting glossed over–some topic that, for one reason or another, is being avoided. It's the elephant in the locker room, if you will, and gosh darn if I'll let that ride. Join us on Saturday mornings for a little closer look at our World Champions.
By Greg Wright
In the wake of last week's come-from-behind victory over Carolina, countless journalists declared that the foreseeable future of the Seahawks–and not just this season, mind you–now rides squarely on the shoulders of third-year QB Russell Wilson.
The logic goes this way: The Seahawks offense never begins to click until the Hawks are behind by a touchdown or two (or three) and the clock is winding down. The ball gets in Wilson's hands, and lickety-split! the team marches down the field and scores almost at will.
Like the 80-yard drive to end Sunday's game. Like the 80-yard drive to beat Denver in overtime. Like the drives of 82, 91, and 80 yards on the last three possessions of the losing effort against St. Louis.
And the logic goes further: Wilson could be doing this all the time; he just hasn't had to during most of his 2.5 seasons because the defense has made such heroics unnecessary.
But that's not all. The diagnosers are almost declaring the defense defunct, as if the Legion of Boom is on the verge of becoming a Lesion of Gloom. Further, it's apparent that such is the lot of a team with a superstar QB like Wilson. Get used to it. This is Wilson's team, and he's gonna have to carry it. He will, in fact, and everything else will become irrelevant.
Buried in Danny O'Neil's "Hawk Talk" column this week was a comment from listener Tom Page: "Tom Brady began his career in a run-first offense before eventually throwing more over time," a suggestion that this is what we can expect from Wilson and Seattle's offense.
This isn't a new comparison. Back in April, ESPN's Jeffri Chadiha wrote extensively about the Brady-Wilson comparison. One of his better notes (and he made a lot of good points) was the following:
In the first two years of [Wilson's] career, the Seahawks ranked 27th (2012) and 26th (2013) in the NFL in passing yards per game.

Don't be surprised if those numbers change in the coming years. Brady averaged only 189.5 passing yards per game in his first full season as a starter. But he also displayed more potential with each year that went by. He grew because he knew the offense better, trusted his talent more and found the coaching staff more willing to put him in positions to take chances. The chief luxury Belichick always had with Brady back then was the ability to fall back on the same conservative formula that had aided the Patriots in the first place.

Carroll has the same advantage with Wilson. The Seahawks still know that Pro Bowl running back Marshawn Lynch is the key cog in their offensive success and the face of the team's smashmouth personality.
At the same time, Chadiha asserts that "it's becoming more apparent that Seattle coach Pete Carroll would be wise to allow Wilson to follow the same road Brady traveled to success."
Uh, I don't think so.
Skill sets and capabilities aside, Pete Carroll won't "fall back" on a conservative formula. The formula is the engine that drives his machine. If anything, Carroll will jettison the parts that don't fit. We've seen that plenty in Carroll's tenure, with highly-talented players sent packing and having productive careers elsewhere.
Heck, Carroll doesn't even like acquiring fancy parts that don't fit in the first place, eschewing common wisdom about drafting the best available athlete. Carroll likes finding the best parts for the strategy, not designing a strategy around the best available parts. After all, you wouldn't build a performance vehicle that way, would you?
So, yes–Chadiha is right that the Seahawks will be confronting the Brady Problem next year when payday comes due. And Wilson will get a big contract. This will put a strain on budgets and strategies that emphasize defense first.
But here's the elephant in the locker room, folks. Don't expect Carroll to sacrifice the future of the team in order to build around a superstar QB. If Carroll continues to guide the team over the next decade, we've probably only got another five years or so of watching Wilson play for the home team.
After that… expect a blockbuster trade that keeps the Seahawks defense stacked for years to come.
As the Hawks proved in February, who needs a Peyton Manning (or the Next Tom Brady) when you've got The Legion of Boom: The Next Generation?
And do you really want the Next Tom Brady when the Original Tom Brady hasn't won a Superbowl since 2004?
Those QB salaries are a killer. When the time comes to invest in rebuilding the defense, Carroll won't flinch. Wilson is not the long-term future of the franchise. It's still the D.
by Greg Wright
Better late than never, right?
Tami LaFreniere's last day as the proprietor of The Des Moines DogHouse is today. After nine years of fun-loving and excellent service to the community, the DogHouse will close November 1 and reopen Saturday November 8 under new owner Delsy Victoria Fessenden. The menu will be the same, with some new additions.
The Shy Pilot and I stopped by for our final LaFreniere dogs last night. We ordered our usual, the Portuguese linguica, a pork sausage seasoned with red pepper and wine. The Shy Pilot prefers his dogs butterflied, and that works well on the DogHouse grill, which runs at the perfect temperature. It takes about four minutes to prep a cooked-to-order sausage at the DogHouse… as it should be.
Tami raised an eyebrow or two when we both order a basket of fries as well. But why not? When Tami is on the deep-fryer, the fries are crisp but not overdone–the best traditional fries you'll find in the area. When you make a special trip to the DogHouse for a linguica, why not do it right all the way?
When your dog is ready, there's a full array of choices at the condiment bar. I load mine up in a fairly traditional way: mustard , ketchup, sweet relish, and chopped onion. And for your fries, you can get any of the standards (like BBQ) or mix something spicier.
As usual, Tami had The Shy Pilot declaring, "That's a good dog!" As if he didn't know it was coming.
The DogHouse is open today from 11 AM to 6 PM for Tami's final hurrah.
It was a fun four-letter-word family atmosphere when The Shy Pilot and I went by near closing hour last night. I expect more of the same today (sans expletives), especially as The DogHouse is one of the stops on today's Trick-or-Treat Path.
Drop on in and say thanks, and goodbye!
Don't fret, though. Tami isn't sure what her next gig will be, but she's staying local.
The Shy Pilot and I are sure grateful for the years she's put into establishing this fine go-to destination for a quick, reliable old-fashioned meal.
by Greg Wright
Wesley Terrace recently played host to a screening of the 2012 film Rape for Profit, about the human-trafficking problem right on International Boulevard.
The Whistleblower dramatizes a true story about one woman who stepped out of line in a major way and took down another despicable boys-will-be-a-holes network of sex traffickers, this one masquerading as a U.N. peacekeeping unit in Bosnia.  I was thrilled to see listed in the closing credits:
Larysa Kondracki — Director
Eilis Kirwan — Screenwriter
Amy Kaufman — Executive Producer
Christina Piovesan — Producer
Celine Rattray — Producer
The film also, of course, stars Oscar-winner Rachel Weisz as Kathryn Bolkovac, a Nebraska cop who signs up for high-paying contract policework in Bosnia.
And the film isn't some anti-male screed put together by a bunch of activist misanthropes.  Instead, it's a proactively positive (if infuriatingly heartbreaking) story about the evils of sex-trafficking which enlists the help of other A-list stars like David Strathairn and Benedict Cumberbatch, while getting co-production help from a bunch of German men.
But still, the lead story is: this is story about a strong woman, starring a strong woman, made by strong women.  And it's a strong film.
First-time director Kondracki—herself a first-generation Canadian of Ukrainian descent—puts together a taut, gritty award-winning police drama that centers more on the human toll of the crimes in question than it does on procedural tactics or forensics.  And that's a wise choice, as the heart of the story here is the very real human price paid by the girls abducted to feed the trade… and by Bolkovac, who has been effectively blacklisted by her actions.
Released in theaters during the dog days of summer a couple years ago, Whistleblower ended up expanding to only 70 screens nationwide and earned a paltry $1.1 million over 12 weeks.  To a degree, that's understandable.  When the competition is Conan, Contagion, and The Lion King 3D, how many people are going to opt for a dark and ugly look at corruption and moral outrage?
Still, this is a film that deserves to be seen by a lot more eyes—and celebrated.
Bear in mind also that, while I'm definitely on board with an anti-trafficking agenda, I don't endorse every film on the topic that happens along.  I also don't promote every film made by women, either, simply because I want to celebrate female filmmakers.
So please take my recommendation seriously.  It's available to stream on Amazon Instant Video.
Check it out.
Yeah, the 'Hawks are big news. Expectations are high, and everyone's paying attention… including the national media. But every week it seems like there's some key issue that's getting glossed over–some topic that, for one reason or another, is being avoided. It's the elephant in the locker room, if you will, and gosh darn if I'll let that ride. Join us on Saturday mornings for a little closer look at our World Champions.
By Greg Wright
Yes, the Seahawks are a .500 ballclub. They've played like it, and they have the record to prove it.
The general reaction to the team's failure to set the league on fire thus far in the 2014 campaign has, gratefully, not been panicky. The stands aren't chanting for T-Jack (perhaps because we've seen that show before), Pete Carroll's tires aren't being slashed, and the press isn't waxing nostalgic for the days of Chuck Knox or Mike Holmgren. That's good.
But I also think the situation is being overanalyzed.
Yes, we can talk about sack numbers being way down on one side of the ball, and way up on the other.
Yes, we can talk about the downfield passing game being off. (I even did that last week.)
We can talk about injuries (where would you like to start?), a lack of turnovers, rules changes, and even conspiracies (if you're Earl Thomas I, II, or III).
Or we can just remember a couple of basics.
First, football is a game of inches.
Second, Pete Carroll's Seahawks aren't designed to blow teams out (though they do that from time to time). They're built on a solid ground game, a defense that wears you out, and the ability to take care of the ball. Carroll-Ball wants to keep a game low-scoring and close, and take it over in the fourth quarter. And, more often than not, the difference will turn on one or two big plays at the end of the game.
It's a strategy that was good enough to win the division at 7-9 in Carroll's first year–and a home playoff Beast Mode win against New Orleans. (And tell me Lynch's legendary run wasn't a question of eleven or so Saints being just an inch or two out of position.)
The strategy produced another 7-9 season the following year… and a whole ton of frustration watching Tarvaris Jackson and the offense repeatedly fail to capitalize on close games in the fourth quarter. Carroll's second season made it plain that the strategy only yields winning seasons when you can actually make those fourth-quarter plays… and keep the other team from making them.
Carroll's third season proved the point precisely. Finishing 11-5, the Hawks had 10 of their games decided by 7 points or less–winning exactly half of them. They didn't lose a single game by more than 7 points, and their total losing margin was a mere 24 points. You might remember stirring come-from-behind victories like the "Fail Mary" against Green Bay, the "U Mad Bro" win over the Patriots, or the OT thriller in Chicago. The Carroll Way yielded perhaps the most memorable regular season in Seahawks history, a season in which literally every single game was winnable at the end–a season that featured huge come-from-behind playoff games at Washington and Atlanta, ending just seconds shy of an NFC Championship berth.
The close-game trend continued in the Superbowl Season. At 13-3, the Hawks again never lost by more than 7. But to get that record, they had to pull out OT squeakers against the Texans and the Buccaneers. Take away one or two Golden Tate receptions and a goal-line stand, and they'd have also lost two games to St. Louis. They also needed fourth-quarter heroics to open the season at Carolina, and later at home against the Titans. And they needed the "Tip Heard Round the World" to get to the Superbowl.
It's a game of inches, and wee finger-tip differences have typically favored the Seahawks.
And from that standpoint, the Hawks were just a handful of big plays away from going undefeated in both 2012 and 2013.
Realistically speaking, the Hawks were also just a half-step away from 8-8 both seasons.
Just as realistically, our 3-3 2014 Seahawks have also been just a half-step away from 5-1. If Terrance Williams was just half a step late getting across the field on 3rd and 20, or half a step further toward the sideline. If even one official was half a step to the left or right with a better view of the anonymously-recovered fumble last Sunday.
Yes, it's very easy to say, "Well, the game was lost much earlier because off shoddy line play, yadda, yadda, yadda…" But the fact is, Earl Thomas has it right, even though he's wrong. No, the officials aren't out to get Seattle. But last year, don't you think a Seattle defensive back would've swatted away Romo's pass, or don't you think Irvin's finger would have snagged Romo's jersey? Last year, don't you think Seattle would have been awarded the ball at the end of the Rams game? Don't the Seahawks thrive on "getting a shot at it" at the end, as Thomas put it?
But this year isn't last year. Earl Thomas, Kam Chancellor, Richard Sherman, K.J. Wright, and Michael Bennett have been half a step out of position on numerous notable plays. Jerome Kearse has been half a step late to jump balls several times. Wilson and Lynch have been half a step out of position on handoffs more than once.
So we really don't need a lot of sophisticated positional or strategic analysis at this point in the season. A lot can be explained by simple psychology. When teammates know that they can depend on each other, they can react more instinctively. That gets you into position a tenth of a second sooner, a half-step ahead of the other guy, an inch higher in the air or closer to the opposing QB when it counts.
And psychologically, the Seahawks are just a little off. You can feel it, as well as see it. Off the field, they're making silly commercials and dealing with privacy issues. Russell's single this year, instead of in a stable, grounding relationship. On the field, they're having to deal with being defending champions. Many of them are now highly-paid stars having to earn their fat paychecks instead of hungry young up-and-comers out to prove something. They are playing alongside unfamiliar teammates. The Legion of Boom has become a weekly rotation of The Legion of Whom?
On top of all that, the Seahawks are still not considered an elite team. They're good enough and notorious enough to have rule changes named after them; but they're not legendary enough to warrant the benefit of the doubt, as the Patriots, the Steelers, the Packers, and Peyton Manning often seem to be. And I think you know what I'm saying.
Players are affected by psychology. Coaches are affected. Officials on the field are affected. Officials in the replay booths at NFL Central are affected. And fans in the stands are affected. And all you 12s know that what happens with the fans affects what happens on the field.
So the Seahawks aren't broken. The Carroll system doesn't need to be fixed. Everyone's heads just aren't quite in the right place.
This is just what things look like when the ball bounces the wrong way, and you're a half-step late getting there.
So yes, the Seahawks are a .500 ballclub. They've played like it. And that's really the way Carroll likes it: keep every game close, and win 'em at the end.
Stay the course, fans. You can bet Carroll will. The Seahawks are still just a half-step away from a Superbowl trip. "We just have to get back to make sure we're making those plays we used to make," said Bennett this week. "There's no excuse. We've just got to get there."
Make that handful of plays, and you're a genius–or a champion. The Game of Inches becomes a Game of Lynches.
Don't make those, though, and… well, you're average.
Welcome to the NFL.
by Greg Wright
This machine surrounds hate and forces it to surrender.
This is the slogan emblazoned on the "head" of Pete Seeger's banjo. It's a presumptuous slogan, one inspired by that of Woody Guthrie's guitar: "This machine kills fascists."
It's a slogan that seems incredibly pompous, too, if you don't know much about Seeger. In the opening sequence of Pete Seeger: The Power of Song, in fact, Seeger comes off as little more than the forebear of today's cheer-leading sing-along worship leaders, as he coaxes a stadium crowd through a solo-acoustic rendition of "Climbing Jacob's Ladder."
So there the skeptic in me sat. Sure, I'd heard of Pete Seeger, and I knew (and grew up singing) a lot of his songs. I'd even driven my newlywed wife crazy, at one time, with endless variations on "If I Had a Hammer." Still, I had come as close as I have ever come to ditching this screening, figuring that it would be just another paean to a self-indulgent musician.
Naturally, then, that opening sequence didn't sell me. It was patently designed for fans to ooh and aah, to reminisce over fawningly. Not me. Nope.
And then the rest of the documentary unfolded, and I think (or have I just been duped?) I discovered who Pete Seeger really is. I suggest that you discover Seeger, too—or at least discover this inspiring gem of a film, and its version of Seeger.
In a nutshell, Seeger was the son of idealistic professional musicians who wanted to bring music to "common folk"—and discovered that common folk know about as much about real music as the professionals. Raised in this environment of discovery, Seeger became devoted to being a "planter of seeds"—an evangelist (in the best, purest sense of the word) demonstrating the good news that "some music can help you do something about your troubles."
His devotion to the cause was single-minded. His success was profound, and his influence almost unbounded. His vision helped end a war and clean up a waterway. His joy shines through in one of the purest, loving souls you will ever encounter.
You'll also be fascinated by the way that Seeger's family has not only put up with him, but also by the extent to which they appear to revere him. As a young father, Seeger moved sixty miles from the city into the woods—and cleared the land, built a cabin (without running water) by hand, and moved the family in. They shared one room, ate meals on the porch, and often slept out on another. They entertained guests while putting them to work digging foundations. His wife Toshi kept things in "order" and raised the kids while Pete went off and sang, raising political hell—and got blacklisted by the HUAC hearings. He was gone, literally, for months at a time. "If only Peter would chase women instead of causes," Toshi once lamented, "I'd have a reason to leave him."
Instead, Seeger only gave her and the kids every reason to stay.
In this documentary, Seeger appears the modern equivalent of a prophet. He carries a sense of purity, devotion, and cold blinderedness that is simultaneously endearing and infuriating. What shines through thoroughly, though, is that this is a man who loves people of all sorts dearly (children, particularly, because they represent "hope"), and is willing to sacrifice himself for them unequivocally.
By the time the film concludes with a stirring concert featuring Seeger, at age 84, with his grandson and Arlo Guthrie, the slogan on his banjo appears earned, indeed. At the very least, he surrounded the coldness and cynicism of my own heart and forced it to surrender.
Along the way, I also got a valuable lesson about the history of folk music. I learned about The Almanac Singers, Lee Hays, The Weavers, John Lomax, and Hudy Ledbetter ("Leadbelly"). I found out how Seeger came to carry on the legacy of Woody Guthrie. I heard testimonials about Seeger's influence from Joan Baez; Bob Dylan; Peter, Paul, and Mary; and Bruce Springsteen. I saw that "there is a season," indeed, to just about everything.
I spent nearly two hours with a richly spiritual man with whom I'd no doubt have extensive doctrinal debates, if he ever cared to have such conversations (which I doubt).
But who cares about that? Not me. In short, I'm a richer human being for having experienced this movie, and I think you will be, too.
Pete Seeger: The Power of Song is available to stream through Amazon Instant Video. (It's cheaper at YouTube, but I can't vouch for the video quality there. Their player doesn't seem to be able to render the film at the proper aspect ratio.)
Yeah, the 'Hawks are big news. Expectations are high, and everyone's paying attention… including the national media. But every week it seems like there's some key issue that's getting glossed over–some topic that, for one reason or another, is being avoided. It's the elephant in the locker room, if you will, and gosh darn if I'll let that ride. Join us on Saturday mornings for a little closer look at our World Champions.
By Greg Wright
Why did the Seahawks trade Harvin?
Well, let's talk about that… and just as a word of warning, when you get too close to "Angry Doug" Baldwin you're in for a mouthful. So prep your ears for some bleeping good bleeps.
Reporters didn't even have to wait for post-game interviews for Baldwin to go off about the Seahawks' utter failure on Sunday to mount more than a single scoring drive over 15 yards. The Fox Sports cameramen captured Baldwin gesticulating wildly in QB Russell Wilson's face in a prime opportunity for some Mad Lip Reading. But you know Angry Doug wasn't chatting about Girl Scout cookie sales.
Complex Media Sports has all the source footage and post-game quotes you need to know what Baldwin bleeping did, and what Baldwin bleeping said after the bleeping game:
Some NFL commentators, particularly those who are former players, have opined that Baldwin's comments belong in the locker room, behind closed doors, and are not fit for public consumption. And it's not because of the f-bombs. It's because Baldwin's words are too inflammatory and critical.
Well, heck. He's only saying what people who pay close attention to the games are saying out loud, or at least thinking.
Here's ESPN's chart of the game for offensive drives resulting in scores:
Now, tell me where the Hawks' offense would have been without a blocked punt and Tony Romo's shin.
So, yeah. Doug's right. The offense had its hands on the ball plenty of times; and the Cowboys' defense looked championship caliber.
But here's the part no one has been talking about… and why Doug is particularly angry.
The Seahawks receiving corps this year is less than pedestrian.
Remember Doug's salty talk before the Superbowl last year?
Well, it's a new season–and not to blow Golden Toot's horn, cuz he does a plenty good job of that himself, but he's off with the Lions as their Number Two receiver (I'm not touching that one)… and merely racking up the sixth most receiving yards in the league, already at 495. And Sidney Rice has retired.
So have the Seahawks receivers become pedestrian without Tate and Rice? Or, to ask the question another way, how do they compare to other receivers a third of the way into the season?
Well, Doug Baldwin leads the team ranked… wait for it… 95th in the league. 95th! Averaging 37.4 yards per game.
Kearse clocks in next for the Hawks at #103.
These are guys who caught touchdown passes in a Superbowl.
Last year, Tate finished the season ranked #31 while Baldwin ranked #44.
Yeah, Baldwin has a right to be bleeping. He ought to be bleeping. And the 12th Man ought to be glad that someone's mouthing off about it. Happy-talk platitudes don't get the job done.
Further, all Tate, Baldwin, and Kearse did last year was catch balls. All three ranked in the top fifteen in targets-to-catches ratios. Well, guess what? This year, only Baldwin is keeping up a 65-70% pace. For the rest of corps, downfield completions are hovering at around just 50%. And it's not just catching the ball that's the problem. One-on-one battles are just not being won, across the board. That's how, last Sunday, dink-and-dunk just tanked and stunk.
It was fine and dandy that Percy Harvin was catching 85% of the passes thrown his way. It's not fine and dandy that he was averaging just 6 yards on those catches–the lowest YPC average on the team, and, yes, 144th in the league!
Clearly, the offense needs a lot of work. A lot. "We really played like crap," Baldwin offered in a follow-up interview on Wednesday.
This is what things look like when your team graduates from underdog status to figuring out how to win with a roster stacked with highly-paid superstars. "All our guys are very talented. We want to have all of them involved," admits Offensive Coordinator Darrell Bevell. "It's a tough orchestration of the whole thing."
So look at it this way. Doug Baldwin is arguably the worst-performing #1 wideout in the league, just after getting the big contract extension he sought… and deserved. I imagine Doug is more than just a little angry about not earning that payday so far this season.
Get used to living with a target on your team's back… now, just without Harvin.
by Greg Wright
It seems that a new Carol Burnett Show collection gets released to home video every other year.
In this case—The 22-disc Ultimate Collection from Time/Life—it's the same DVD boxed set they released in 2012, apparently in a limited edition. In any event, it's back… and it's big.
Right off the bat, you should know that I am not one for nostalgia. I do not sit around at night yearning for the days of I Love Lucy, Leave It To Beaver, or Happy Days. Or F-Troop, Get Smart, or Gilligan's Island, which I actually watched nearly religiously. I'm not sure "the good old days" is a phrase that has ever passed my lips.
Yet it is true that I often reflect on my past, and always have. I remember sights, sounds, locations, and events with clarity (though often incorrectly, as I'm told). I do not live entirely in the present, and find certain aspects of my past inescapable.
So: here are my basic reflections on having screened several hours of content from the 22-disc set that is The Carol Burnett Show Ultimate Collection. I was not predisposed to gush over it because of "fond memories" of sitting around the tube with the family, laughing our guts out. Though, of course, that's what we did… and though, of course, we've talked about that many times over the years. Nonetheless, as I watched a handful of episodes and sat enthralled with hour after hour of interviews with Burnett, her castmates, guest stars, and other associates, I found myself reflecting on the fact that Burnett, her brand of humor, and her show were all indeed formative influences on me from the time I was in kindergarten through the time I graduated from high school.
And then I moved on to Saturday Night Live.
Carol Burnett was a kinder, gentler influence. And it is indeed a distinct pleasure to re-welcome The Carol Burnett Show into my home 47 years after its premiere.
And, I have to say, the welcome is tinged with a certain qualified (here's that word) nostalgia. While the schtick of "The Family" and Tim Conway's "The Oldest Man" cannot fail to make me guffaw for minutes at a time, I am almost certain that the show is not what would be conventionally called "timeless." As I was popping the first of 22 discs into my DVD player, I was thinking, "Gee… it's too bad Time/Life didn't just remaster these on Blu-ray. DVD is almost a dead format these days." But as the almost apologetic "Well, we did the best we could" disclaimer faded from my screen and the blurry/grainy show logo came up prior to the main DVD menu, I was reminded that a great many of the shows from the "Golden Age of TV" can't possibly look good any more… because the shows were not filmed, but recorded and edited on 2-inch Quadruplex videotape. And there's only so much you can do to make the effective 625p dubbed originals look good on today's hi-res displays. I don't think the obviously 1970s style presentation of this package is going to wow folks who've never before seen the show.
So this is, I think, a set for the nostalgia crowd.
And what a set it is! (You just knew I'd get around to the enthusiasm part, didn't you?)
Now, here's the first thing you need to know if you are going to plunk down your 200 smackeroos for this bad boy (and you know you will).
AFTER YOU REMOVE THE SHRINK WRAP, DO NOT TRY TO OPEN THIS CASE LIKE A BOX. If you do, you will (as I did) do various sorts of damage to your very expensive and decorative product packaging. This set does not open in any of the conventional ways; instead, "the curtain rises" from behind Carol… so take that as your cue. I wish I'd had one!
Inside the box, you're going to find five different DVD cases, three of which are six-disc collections that primarily feature selected episodes of the show; the other two are packaged as 2-disc "bonus feature" sets… but really, there's not a lot of difference in the content between these collections and discs. All contain various episodes and sketches, and all are packed with bonus interviews and other featurettes. The vast majority of this content also appears to be relatively recent, recorded and edited together specifically for this 45th-anniversary collection.
The other good news (as Burnett herself points out many, many times during various interviews) is that the episodes presented are original and uncut versions… not the reduced half-hour shows many of us saw in syndicated re-runs. I'm not sure what the history has been with the availability of this material in the home video market… but this is a treasure trove of enjoyable, fascinating entertainment. Get yourself (or someone you love, and live with) an early Christmas present, and you can spend a whole winter of evenings hunkered down with Burnett, et al.
The bonus here is that the vast majority of humor in Burnett's show avoided crass or overly suggestive themes, a far cry from today's televised comedies. In one of the cast interviews included with this set, Tim Conway tries to laud the show's writers for avoiding cuss words and sex gags… but Burnett shoots down that wishful thinking, crediting not the writers but network censors, who tried to keep a tight rein even on episodes such as the one which featured a nudist colony. Still, necessity is the mother of invention, and the Burnett show knew that shuffling feet could be milked for more laughs than a bushel of f-bombs.
I can't honestly say it's worth shelling out the dough for the DVDs, though. Once through will probably be enough for you for a good long time… so you might consider streaming a couple highlight discs from Amazon instead.
by Greg Wright
What happens when a headstrong rumrunner crash-lands in the Arctic Barrens?
In 2003's The Snow Walker, this question has to be answered in the context of post-World War II technology, not with the luxury of GPS beacons and satellite phones. So when Charlie Halliday drops the last spare radio tube in his crashed single-prop, and it breaks, the answer is… a whole lot of survival training.
Fortunately for Charlie, part of his cargo includes an Inuit girl suffering from tuberculosis. So while Charlie goes postal over the frustration of a carefree bush-pilot life gone dangerously awry, Kanaalaq goes quietly about her business catching fish, snaring small mammals, curing furs, and gathering firewood.
After Charlie's "you stay here while I walk 200 miles to get help" heroics go predictably sour, the pair settle down to a late summer of domesticity (of a sort) preparing for the eventual long winter walk back to civilization.
The story is quite simple. (Remember when movies felt more like short stories rather than bloated Peter Jackson / Michael Bay / J. J. Abrams collaborations?) Director Charles Martin Smith quietly captures the desolate beauty of the Barrens as well as the delicate transformation of souls on the brink of life and death. The camera swoops nowhere, and there are no explosions or CGI-inspired chase scenes. A sequence in which Charlie and Kanaalaq corner some caribou features real animals. Imagine that.
About the only missteps in the movie involve the rather contrived conflicts amongst a cadre of fellow bush pilots, helmed by veteran actor James Cromwell (see inset), which attempts a rescue for their lost buddy. But given the strength of the film's story, setting, pacing, and performances from Barry Pepper and first-time actor Annabella Piugattuk, that story shortcoming is barely noticeable. In some ways, it even makes the film more accessible no a non-Yukon audience. The critical concensus at Rotten Tomatoes for this award-winning Canadian film is a pretty amazing 86% fresh.
Charles Martin Smith, of course, was well-equipped to make this film, having worked with such great directors as George Lucas in American Graffiti, Brian DePalma in The Untouchables, and Carroll Ballard in Never Cry Wolf (among many other films).
In Wolf, in fact, Smith played a character autobiographically inspired by author Farley Mowat–and from the friendship spawned between Smith and Mowat came Mowat's offer for Smith to adapt the work of his choice. Smith chose a Mowat short story about a downed bush pilot, and The Snow Walker was born.
Smith is a gifted filmmaker. If you've seen Dolphin Tale, you're familiar with his work as a director–and Dolphin Tale 2 comes out this Friday.
Take a chance on a small gem of a film tonight. The Snow Walker is available for free at XFinity On Demand… but this is such a beautiful film I recommend streaming it from Amazon instead. The added video quality (still only SD) is well worth the extra $2.99.
by Greg Wright
Draft Day releases to home video today, and is available for streaming at Google Play and Amazon Instant Video. Waterland PtP reviewer Jeff Walls says "it succeeds more than it maybe should.  Football fans should enjoy the behind-the-scenes look at how teams operate on draft day, even if it always feels a little made up."
But what you really want to be watching is the Seahawks… right?
Well, you can. And legally, too.
The official NFL Films Super Bowl season recap for the Seahawks was released on DVD and Blu-ray back in March. In addition to various bonus features (which include segments on Richard Sherman, Ken Norton, Pete Carroll, and Derrick Coleman), the main event on this release was the standard NFL Films highlight reel featuring each of the Seahawks' regular season games as well as the playoff victories over the Saints, the 49ers, and–ahem!–those busted Broncos.
As a lifelong Seahawks fan (and season ticket-holder in the Chuck Knox era) I couldn't wait to get my hands on the Blu-ray–and was not in the least bit disappointed.
The bonus features are all well worth watching, but really–isn't it "all about the action, boss"? What we want to see is Lynch pausing before stepping over the goal line untouched, Wilson drilling a free-play pass to Kearse at the goal line, Sherman, Smith, Chancellor, Thomas, and even Browner picking off passes, Avril and Bennett collecting sacks… and, of course, Peyton Manning's WTF-just-happened look on the sidelines about 12 seconds into the Super Bowl. Oh, yeah.
Nothing whets the appetite for the upcoming season (starting Thursday night against Green Bay!) like NFL films highlights.
You can still grab a copy of the DVD or Blu-ray at the local Bartell or Walgreen's, I imagine… or, if you're wanting to just hang out for a Tuesday evening, you can stream the main feature from this set at iTunes! This segment on its own runs a bit more than an hour.
I wish watching this on iTunes were just as easy as pointing you to Amazon Instant or Google Play with a URL, but sadly it's not. So here's a step-by-step for what you'll need to do to stream this at home tonight for $4.99:
If you don't have iTunes on your mobile device, laptop, or desktop yet, that's the first thing: install iTunes, and fire it up.
Search iTunes for Seahawks.
The title you're looking for is "NFL Super Bowl XLVIII Champions: Seattle Seahawks." It's filed under Movies > Sports > NFL Films.
While you're there, you may notice in the search results that you can also stream the entire Super Bowl and the other playoff victories as well.
You may also not have heard yet about NFL Game Rewind. If you really want to go on a binge, you can subscribe to one of the their 2014 season packages and with that get access to every regular season game from 2009-20013… and the Superbowl (but not the preliminary playoffs).
In any event, grab something to eat from your favorite local joint… and get your Seahawks on!
by Greg Wright
Can it be possibly be three years since Arturo's opened on Marine View Drive?
Can it be possible that I have not until now darkened Arturo's door?
Well, yes–on both scores.
So the Marine View Driver and I opened Arturo's for lunch the other day. Councilman Matt Pina and others were also on hand, supporting local businesses!
In case you missed the headline, Arturo's menu primarily offers Mexican food… which is a good thing, since that's what the Marine View Driver and I went there for.
For those desiring to eat lighter at lunch, Arturo's offers a lunch special menu. If you like, you can also order off the full menu. (If you visit the website and give them your email address, you can get a free deep-fried ice cream dessert on your birthday.)
Since I'm not a working restaurant critic with a lunch stipend, I didn't have the luxury of sampling all the various things on the menu that sounded good–so I settled for the pulled chicken chimichanga off the lunch menu… and for stealing a couple bites of the Marine View Driver's fajitas.
Before the entrees arrived, naturally, we enjoyed the standard chips and salsa that you'll (still) find complimentary in Mexican restaurants. (Don't be surprised, though, if they soon start mimicking the "What? You want free bread?" policy of their Anglo counterparts!) I'd bet Arturo's table salsa doesn't come from some bulk-foods bin, though. I'm no expert on my spices, but the salsa carried a very pleasant and unexpected flavor.
It turns out that special flavor was a harbinger of things to come. I know cooks are getting a bit testy about social media freaks taking time to shoot flattering pictures of their soon-to-be-tepid entrees–but with fajitas on a sizzling skillet, that's not so much of a concern.
The chimichanga was pretty photogenic, too. Note the care with which Arturo's staff garnishes the plate and leverages the colors of the ingredients.
But again–this isn't just pretty food. It's tasty, too. I've eaten a lot of Mexican food in my five-plus decades, and I'm pretty sure I haven't had an entire meal (since my first) during which the flavor of everything from re-fried beans to rice to salsa to entree took me pleasantly aback. Arturo's website claims that his "mother's love of cooking established Arturo and his brother's passion for making family meals. Many of Arturo's recipes come from his mother."
I believe it. My lunch (and the Driver's fajitas) did not at all strike me as run-of-the-mill Mexican fare. In fact, not to be trendy, but the feel of the meal was more like a hip food truck delicacy than a neighborhood cantina.
The lunch portion was agreeably light, and the full dinner fajitas order would easily serve two ordinary people. The Driver ate his Ordinary Person share, and took the remainder home for an encore.
Given that I'm a skinflint, I'll admit that I would liked to have paid less for lunch–but given the quality of food, service, and presentation… I'll just let it go that I'm a skinflint. Arturo's prices are more than fair.
Check Arturo's out if you haven't yet. The Driver and I agree: we'll be back.
Arturo's gets a 4.5 out of 5.0 rating at Trip Advisor. I'm good with that.
The last I checked, Arturo's Groupon offer ($13 for $20 in food) is still running. It's a good way to check them out on the cheap. Take it from a skinflint.
by Greg Wright
Amazing Spider-Man 2 was released to home video last week.
Because I am, without a doubt, not in the target demographic for the Spider-Man franchise, I can't tell you a thing about it.
The wild appeal of its relatively young stars eludes me (though Andrew Garfield and Emma Stone are without a doubt an upgrade from Tobey Maguire and Kirsten Dunst). In-jokey star cameos evoke no response from me whatsoever. Unexplained plot devices bother me immensely. Further, I don't care to have the disbelief which I have willingly suspended "hanged, drawn, and quartered," as J. R. R. Tolkien put it. I couldn't even have been bothered to see the first two entries in the cinematic series, and as a kid, I rarely shelled out my own money on a Spidey comic.
I know that puts me in the overwhelming minority—and that doesn't make me feel smug or superior in the least. I know some kind of flaw in my character is causing me to miss out on a unique experience, one obviously similar to that which I manage to enjoy with other popcorn fare such as The Lord of the Rings and Pirates of the Caribbean. Even mediocre movies don't reap the kind of boxoffice that Spider-Man and its sequels and reboot have.
So try to take all that under advisement as I attempt an objective review of Spider-Man 3, the lone title in the series that I have seen. Show my review as much mercy as I expect to show to the movie.
Following a credit sequence that recaps the series thus far (bringing clods like me up to speed), the third installment of the series finds Peter Parker, the alter ego of the eponymous superhero, still employed as a freelance photographer at The Daily Bugle. His girlfriend, Mary Jane, is on the verge of stardom, featured in a major role in a just-opening Broadway production.
The campy tone of the movie is set as Parker self-absorbedly makes his way to the front row seat MJ has reserved for him; his glee is so childish we expect his delight to turn to disappointment any number of times during the evening. But it is not to be. Parker is indeed a minor celebrity in his own right, for one night at least—and is enjoying it. MJ is dazzling on stage in the musical's opening number.
Parker's old rival, Harry, is also on hand and can afford a much more lavish bouquet—but MJ still has eyes only for Peter. After the show, the couple shares a magical evening in Central Park, lounging in a great web, watching shooting stars and dreaming of the future.
And then all hell breaks loose.
Just before MJ and Peter leave the park, a diabolus-ex-machina appears in the form of strange black goo which hitchhikes to Earth on the back of one of those falling stars. It picks up a ride home on the back of Parker's scooter, and we soon come to the crux of the film's central conflict: as MJ's fantasy crumbles around her, as Parker's job is in danger of being usurped by an unprincipled paparazzo, and as not one, but three, villains rise to challenge the Spider-Man, this strange black goo latches onto, and amplifies, Spider-Man's dark side.
The All-American hero, it turns out, is corruptible—and fully capable of being a far worse danger to himself than any external enemy. Spidey's bright red and blue are exchanged for a much more stylish, if sinister, shade of very dark gray.
As our hero comes to grips with his own evil nature, he battles a jealous and vengeful New Goblin, the son and heir of his former nemesis, the Green Goblin. In the process, he also becomes jealous and vengeful.
Spidey also comes to blows with the Sandman, a well-meaning but misguided escaped felon who strays into an open-air particle physics experiment. In the process, Spidey's intentions also go somewhat astray, and his own behavior becomes increasingly, well, stinky, if not felonious. Fans of the series will especially enjoy the sequences in which Parker's personality disintegrates; will he permanently alienate MJ?
But the real climax comes as Parker's efforts at self-reform contribute to the rise of the film's third villain, Venom—who conspires with Sandman to bring about Spidey's ultimate demise.
Besides excellent CGI, creatively-staged action sequences (the armored-car heist in Manhattan is particularly effective), and (I'm assuming) the usual effectively nerdy performances from Kirsten Dunst and Tobey Maguire as MJ and Peter, Spider-Man 3 offers a boatload of mercy, redemption, and even forgiveness—qualities we seem to have forgotten these days in our global quest to become superheroes. When Spider-Man frees himself from his diabolus and dashingly returns with Old Glory waving behind him, the film even becomes a national call to shed our morally murky skin.
Spider-Man 3 not only delivers more of what the series has brought in the past, it appears to have done so in a manner that should please both audiences and bean-counters.
As a film, it reaches too far—four villains (including Spidey himself) are about two too many, and Topher Grace, among others, is wildly miscast. The diabolus plot-device never rises above that lame and paltry level. And I'm sorry, but Dunst and Maguire—while competent enough—are being wildly overpaid, regardless of the odd chemistry that they obviously produce.
But as high-priced entertainment, Spider-Man 3 might serve to close off your summer video-viewing with a solid bang.
You can stream all the entries in the Spider-Man franchise tonight without even leaving home! They're all available for download from Amazon and Google Play. Grab something to eat from your favorite local joint… and enjoy yourself.