In which the author gifts the reader an easier drive through life.
by Mike Smith
Cars have influenced our lives in many ways. One of the ways, of course, is in our language.
The language of the average American male used to consist of many phrases and colloquia connected to working on, driving in, or watching cars. We went for drives. We stopped by for a visit. We drove on over to visit relatives. We even defined our mood by "putting the top down." Everyone knew what the phrase "you are down a quart" meant. My friends and I even performed what we called bench racing. We would be working on our cars together and bragging lying about our automotive exploits.
All of these phrases find their origins in the vicinity of an automobile.
Alas, the car does not seem to loom so large in our vocabulary anymore. Even car ads have taken on a more or less philosophical or sensual tone that doesn't translate well to the work shop or diner.
Many of our standard usages now have completely different connotations, taking on new meanings and implications. I decided for Christmas to update everyone on the new lingo, from A through Z.  Observe my new glossary of American terms.
By the way, the first listing is what I grew up with, while the second is what is now the norm. I'll fully label the first two to get you started.
A: Back in the day: Apple n, a fruit you take in your lunch, which is on the seat next to you.
A: In 2014: Apple n, the Entertainment system in your new Honda.
B: Olden Brain: n, that thing inside your head. You should use it when you drive.
B: New Brain: n, the computer that leans out*(see leans out below) your fuel when you've neglected to do proper maintenance.
C: Connect: v, what you do when you hang out with friends at the drive-in.
C: Connect: n, the entertainment system in your Ford
D: Drag: n, a straight-line race, usually a quarter mile, where the fastest car wins and the prettiest girl signals go.
D: Drag: v, a mode of dress opposite to your gender. Often accompanied by… queen.
E: Exit: n, the roadway that enabled you to leave the freeway to travel on regular roads.
E: Exit: v, what you are instructed to do to when your entertainment system in your Honda or Ford malfunctions.
F: Friend: n, those you went places with in your car and those whom you let borrow your car "anytime."
F: Friend: n, one of, oh about a hundred thousand who have "liked" your cat pictures on Facebook.
G: Gas, n, fuel for your car. Almost always gasoline
G: Gas, n, fuel for your car. Usually gasoline, but now including diesel and electricity.
H: Hippie: syn, another name for the person driving a VW bus.
H: Hippy:, n, Nikki Minaj.
I: Intersection: n, a place where two or more roads meet.
I:  Intersection: sym,  Hmm. via text.
J: Jake: n, a special brake used on trucks which uses engine compression to slow it down instead of the brakes.
J: Jake: personal pronoun, a famous actor. See Gyllenhaal.
K: Killed it!: exclamation, What is said when someone "dumps" the clutch and the engine conks out.
K: Killed it!: exclamation, when you say something really funny.
L: Leans out: v, what you did when you saw a friend on the corner and you wanted their attention.
L: Leans out: v, your car's brain will try to get your car to run even if you've neglected it.
M: Mag.: n, as in Mag wheels, originally magnesium and other alloys. Much cooler after-market wheels than those pop offs they gave you at the dealership. Usually spoked.
M: Mag.: n, a magazine. In some cases still an after-market wheel, but usually stock now so what is there to talk about? Buy a magazine with the savings.
N: Nice!: a complete sentence in itself, a car. A really nice car, one that you wish your friend did not have       but you did. Then people could look at your car and say, "Nice!"
N: Nice!: no longer a complete sentence, not a car. Current usage is an incident of the word regressing to its more original meaning.
O: Over-drive: n, sometimes a fourth or even fifth gear where the engine turns at a slower speed than the axles due to mechanical reduction. You told your Dad that you needed over-drive to save fuel, but you really needed it to go faster than the engine could actually go.
O: Over-drive: n, an app for reading library books on your smart phone or tablet.
P: Peel out: v, to go like heck, synonymous with "pedal to the metal."
P: Peel out: v, leave, obviously an overstatement.
Q: Quart: n, the size of a bottle of engine oil. "You are down a quart."
Q: Quart: n, the size of a large beer, or a Slurpee.
R: Rag top: n, a convertible car. The roof is removed thereby allowing free-flowing air, sun-catching joy, the smells of summer; and the top was made of canvas, hence rag top.
R: Rag top: n, the remnants of the whole rag which are found in your engine compartment when you have a discount shop work on your car.
S: Summer: n, a season when driving your car was fun. Gas was plentiful and you could drive to the coast and back in one day. The roads are clear and the sun is shining, it's, it's the best, especially with a rag top and a girl on a bender. See T.
S: Summer: n, Gas, Electric, and Diesel prices go up and so you stay close to home. Also, see Summer Glau.
T: Topless: n, the convertible in its primary use. As in driving when the top is actually down.
T: Topless: adj, a person, usually a woman, who asserts her protestations publically and unequivocally. Also, same woman when not agitated, but a passenger in a rag top while on a bender at the coast.
U: U-joint: n, the funny looking coupling thing that holds your drive shaft to the back of the transmission.
U: U-joint; n, what's a drive shaft… dude?
W: Waterland: n, where everyone goes the end of July to watch a parade and fireworks and connect.
W: Waterland: n, still valid, thank God!
X: X body car: n, an early abortive attempt by US automakers to come up with a fuel efficient front-wheel drive car.
X: X body car: -n, Extinct, too ugly and mechanically problematic. Try to find a non-front wheel drive car now, though.
Y: Yahoo: coloq, what all say when driving in a convertible at a high rate of speed. Also see "ragtop."
Y: Yahoo: n, a search engine.
Z: "Z": n, Camaro Z-28
Z: "Z": n, Nissan 380Z
You're welcome. Happy Christmas!
Expectations are high, and everyone's paying attention… But every week it seems like there's some key issue that's getting glossed over. It's the elephant in the locker room, if you will, and gosh darn if I'll let that ride. Join us on Saturday mornings for a little closer look at our World Champions.
By Greg Wright
It started on a brisk December evening almost exactly two years ago.
A couple of days before Christmas in 2012, the Seahawks hosted San Francisco in a nationally televised game. Playoff berths were on the line for both teams. With the Seahawks already leading 14-0, the Niners were driving… and this happened: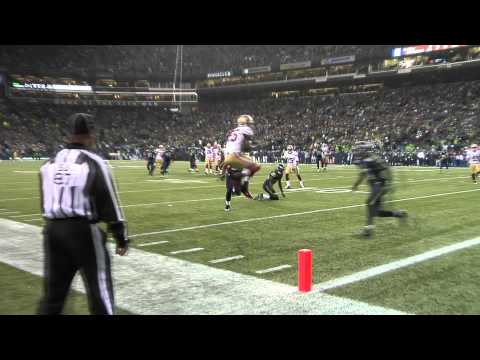 Kam Chancellor was flagged for a personal foul on the play, and Vernon Davis left the game with a concussion. The league declined to fine Chancellor for the hit since, as you can see in slow-motion replays, Chancellor led with his shoulder. Davis just happened to be on the receiving end of devastating technique in a violent game.
Vernon Davis has all but disappeared in subsequent matchups with the Seahawks.
You may have also noticed since that day that, generally speaking, all-pro tight ends regularly disappear when playing the Hawks.
You may have also noticed since then that (Philip Rivers aside) all-world QBs look more like Joe Blow than Joe Namath against the Seahawks. At least until garbage time in the fourth quarter, when "prevent defense" allows QBs to accumulate meaningless yardage with throws underneath the coverage.
Something changed that wonderful December evening.
Yes, the Seahawks won a lot of games against very good teams during Russell Wilson's rookie season in 2012. But a lot of those wins looked like the miracle come-from-behinds against Green Bay, New England, and Chicago. They weren't forged from purely punishing encounters. Losing teams walked away thinking, "We should have won that game. We handled the Seahawks, and somehow they won anyway."
That changed in 2013.
In 2013, the Legion of Boom grew up, matured into the brutal style of Kam Chancellor, and when opposing teams limped away–win or lose–they were done. Simply done. Mentally, and physically. Now teams crawl away thinking, "We just got our ass handed to us. Glad we don't have to do that next week!" Think of that Super Bowl.
Think also, for instance, of Seattle's early-season encounter with Houston last year. The Texans were hyped as a Super Bowl hopeful after their surprising and dominating season in 2012. They opened their season at 3-1… and then the Seahawks came to town.
Three lasting visions still resonate from that game: blood streaming down megastar J.J. Watt's face from a nose bloodied by an encounter with, yes, Russell Wilson; Richard Sherman moving so fast he left a shoe behind on the way to the endzone with a pick six; Houston QB Matt Schaub pounding on the turf with his fist in frustration.
The Texans did not win another game all season.
Matt Schaub was effectively done for the year after having thrown pick-sixes in four consecutive games.
It was a pattern that would repeat itself throughout the 2013 season as the Hawks went 13-3. 16 times the Seahawks outmuscled their opponents en route to a Super Bowl victory–and in the first fifteen encounters, an interesting thing happened. Not only did they win the vast majority of those matchups, they left opposing teams in shambles afterward.
In 2013, 10 out 15 teams who played the Seahawks also lost the following week.
Think about that.
Not only do you have to face the Seahawks and a very probable loss, you also have to face the fact that you're likely looking at two losses, not just one. And if you play in the NFC West, the odds are that means four potential losses each season.
Facing the Seahawks is just brutal.
Let's see what that means for the 49ers this week.
In last week's loss to the Hawks, the Niners lost Frank Gore on this play:
Early in the third quarter, Kaepernick completed a pass to fullback Miller. As Bruce Irvin chases Miller down from behind, Frank Gore comes in to lay a blindside block on Bobby Wagner.
Gore left the game after a concussion that left him flopping helplessly on the field while Wagner walked away looking like he was thinking, "What just bounced off of me? A gnat?"
Not long after, Wagner encountered Gore's backup, Carlos Hyde:
After this seemingly routine tackle, Hyde left the game with a leg injury.
Now, how do you suppose the 49ers are going to do this week, with the stuffing having been knocked out of them along with their playoff hopes, and their workhorses out to pasture for rest and rehab?
The trend has continued this season, to the point of predictability. After the first  13 matchups, 9 of the Seahawks opponents have gone on to lose the following week. It's now happened 8 weeks in row.
Brutal.
What's the implication?
If the Seahawks can pull out a win at Arizona this week, it probably means the Cardinals will not only lose their shot at the NFC West title; it probably also means they'll end the season with two losses to finish at 11-5.
Meaningless?
Perhaps.
But just talk to Vernon Davis or Colin Kaepernick or Jim Harbaugh about the ongoing psychological toll of facing the Seahawks.
And reflect that Cliff Avril and K.J. Wright are now locked up long-term with Kam and Richard and Earl and Michael–and Bobby Wagner waiting in the wings.
The Seahawks do not just beat other teams. They effectively end careers, and change the destinies of entire franchises.
I like the Cardinals and Bruce Arians. I really do.
But I also feel sorry for them.
Merry Christmas, Seahawks fans!
The 12 Dates of Christmas reviewed by Greg Wright
I first saw Amy Smart in The Butterfly Effect and was blown away by her performance as a young woman traumatized by sexual abuse. With Effect's revisionist-history storyline (perversely reminiscent of Groundhog Day), Smart portrayed several different alternative futures for Kayleigh–all of them believable, most of them quite moving. I didn't think Smart got nearly enough attention for that supporting role.
So I've always been pleased to run across Smart in other offerings–and particularly so when Jenn and I stumbled across The 12 Dates of Christmas on Netflix several years ago. It's now one of our holiday staples.
The blurb for this made-for-TV movie runs as follows: "Kate (Amy Smart) ruins her Christmas Eve date with Miles (Mark-Paul Gosselaar). Each night at the stroke of midnight she begins to re-live the day and date."
Yes, once again Amy Smart plays a character in a Groundhog Day-themed movie.
What the blurb doesn't tell you is that Kate's rendezvous with Miles is a blind date–and the reason she keeps ruining the blind date is that she's so self-absorbed in the life crashing down around her ears that she can't see what's really sitting across the table from her.
Like Bill Murray's character in Groundhog Day, Kate requires a little divine intervention in order to appreciate the complexity and richness of the ordinary things she passes by each day. And it's particularly fitting, in this version of the now-common morality tale, that this divine intervention happens at Christmas. Because that's sort of the point of the Christmas story, isn't it?
Needless to say, this ABC Family movie is a feel-good romance with a holiday twist–and veteran award-winning TV director and producer James Hayman serves it all up with a style and pacing commensurate with the story's theme. He takes time with supporting characters like Jayne Eastwood's Margine Frumkin and Benjamin Ayres' Jack, the man with whom Kate believes she belongs, all while giving his lead actors room to breathe. It's really masterful work.
The 12 Dates of Christmas has developed something of a cult following over the last three years, and it's easy to see why. This is exactly what a Christmas movie should feel like.
The 12 Dates of Christmas is available to stream online at Netflix. (It also airs at 11 AM on Thursday, Dec. 18 on ABC Family.)
Check it out tonight, and don't forget to dine local first!
Expectations are high, and everyone's paying attention… But every week it seems like there's some key issue that's getting glossed over. It's the elephant in the locker room, if you will, and gosh darn if I'll let that ride. Join us on Saturday mornings for a little closer look at our World Champions.
By Greg Wright
In an email I received from a reader this week, I noted the following observation:
I was scared when I saw the Hawks first game, and even their wins when I saw that they are (apparently anyway) getting touchdowns primarily from a running game which is an iffy proposition given the fact that Lynch is (1) often injured (2) thinking of retiring (3) often used up by half-time, etc.
This concerned fan is not alone in speculating about Marshawn Lynch's durability. As the Tribune and other papers have noted, Lynch has missed at least one practice each week since the beginning of October. I also read the following from various columnists this week:
Rob Rang at SeahawkFootball.com: "Lynch has struggled with back issues. … He has fought through various injuries this season, including pain in his ankle, knee, ribs and back and famously remained on the sideline in frigid Kansas City during halftime to receive treatment on his back."

John Boyle, Everett Herald: "Phrases like 'wear and tear' and 'able to endure it' are pretty big red flags for an aging running back, especially one with Lynch's career workload and physical style. … What used to be 'back' or 'not injury related' on the injury report is now a combination of injuries — calf and rib last week — and shots of Lynch wincing in pain while being poked and prodded by trainers have become an increasingly regular part of the television broadcast."

Garrett Imeson, Oregon Sports News: "Even for the optimistic, there is a harsh reality coming on: Father Time. 2015 will be Lynch's last season before turning 30. There seems to be a pretty severe downturn when backs hit the mythical three-decade mark. As well as Marshawn has been running this season, the dropoff for backs seemingly comes out of nowhere. Even if Lynch plays for Seattle in 2015, his performance will have to begin dwindling shortly after. That leaves Seahawks fans forced to confront a harsh reality: the team's identity will have to change or at least find a new face."
But it's not all gloom and doom out there in Sports Journalism Land. It's pretty widely acknowledged that Seattle's favorite Beastquake-maker is among the most durable running backs in the league. Gregg Bell at the Tribune notes that Lynch has "missed just one game since Seattle acquired him in 2010. That was in October 2011 at Cleveland, when his back tightened during pregame warmups and never loosened."
And prior to the game with the Eagles last Sunday, Geoff Mosher of CNN Philly noted that since Lynch's first full season with the Seahawks, his "5,007 rushing yards and 44 rushing TDs are the most in the NFL. His 1,113 carries in that span are also the league's most, 84 ahead of second-ranked McCoy, and Lynch is tops among all running backs with 23 100-yard efforts." Opposing players regularly note that Lynch concludes plays not with a grunt or groan, but with a giggle and a grin. As much as Lynch might hurt during the week, on Sundays he's in the hunt for fun. "It's all about the action, boss."
And this is what that action has looked like over his career, courtesy of ESPN player stats:
So Lynch is on course for his second-best season ever… and is also having his best receiving year.
But where's the elephant in the locker room? you ask. It's nothing new, after all, to talk about Lynch's durability, nor about his physical woes.
Well, this is what's been missing in discussions of Lynch this week: not only are Lynch's stats not in decline, his numbers are by design.
In other words, Pete Carroll is not to Marshawn Lynch what Bum Phillips was to Earl Campbell. Carroll is not going to ride his work horse until it flops down dead. Lynch is not going to carry the ball 40 times a game… because Carroll wants Lynch fresh in December, and fresh in the second half of those divisional December matchups.
And why?
Because that's the best path to playing into February, that's why.
You may note that Lynch had his most carries and yards in 2012, the year that the 'Hawks were chasing San Francisco for the division title and a playoff berth… and came up short on the former while squeaking into the playoffs as a Wild Card. There was no clear vision for an extended season that year. It was now or never, every week.
So if you're concerned about the level of work that Lynch is getting, or why he's being treated with kids gloves, be not afraid: Carroll knows his Super Bowl hopes rest on Lynch's tender back, and he just wants to make sure he makes the best use of it… and for as long as possible.
What's up with Lynch is good news this year for Seahawks fans… and, if Lynch is interested in continuing after this season, probably good news for next year, too.
This Christmas reviewed by Greg Wright
I will confess that I am an opening-credits junkie. I was raised in an era when audiences knew that the actual content of a film started as soon as the overture was concluded—and the title sequence began. It wasn't like today, when audiences chatter and fiddle with their cell phones, missing (in admittedly now-rare cases) key aspects of a film because they're not yet ready for "what happens first."
This is significant, because a good opening sequence can really set the tone for a film. Think of Unforgiven, Silverado, DOA, Dances With Wolves, Raiders of the Lost Ark, Star Wars, and The Untouchables. Some effective openings use action; some use animation; some just use text and music. But they all grab you right from the film's first frame—at least, the first frame after all the co-producing corporate logos—and immerse you into the feel of what follows.
Add This Christmas to my list of favorite openings.
The titles are jazzy, languid, lush, and sensuous, overlaid by a complementary score. They take their time, savoring each note from the sax and each phrase from the singer. They let you know that you're not going to feel rushed over the next two hours—as you might in a Ferrell, Vaughn, or Allen holiday offering. Instead, you're going to be immersed in something more free-flowing, more improvisational—and yet controlled. Something with strong female voices.
The strongest female voice at the center of this story is Ma'Dere, the (secretly) divorced (if openly separated) matriarch of a clan of twenty- and thirty-something children. Some are married (some more happily—and some more secretly—than others), some have sparkling careers, some are struggling to make ends meet off the street. Some aspire to things of which Ma'Dere would not approve.
And Ma'Dere aspires to a marriage of which some of her children would not approve, for years pretending that she is not shacking up with her loving and loyal lover, Joe.
All of these familial dynamics collide when the clan convenes at the old family residence for Christmas. On top of it all, the story's central conflict revolves around Lisa and Malcom's plan to persuade Ma'Dere to sell the family business and home. Lisa's siblings are none too wild about Malcom's rather devious (and obvious) attempts to steer the family mini-mini-fortune into bigger real estate profits.
Also contributing a major plot complication is the arrival of Ma'Dere's eldest child, Quentin, who's been following in his daddy's wayward tracks for years, following his musical muse over Ma'Dere's very vocal objections. On the run from some bad debt in Chicago, he heads back to the family's California digs seeking refuge, but his pursuers track him down (and stay for Christmas!)—and Quentin butts heads with Joe.
What this jazz-inspired mélange is about is pretty simple: the idea that you don't get to choose family, and that blood is thicker than a lot of things.
What might make This Christmas enjoyable, if you're in the mood, is the time that director Preston A. Whitmore II takes in letting us visit with the Whitfield family. This movie is not so much concerned with what happens next as it is with what's happening onscreen at any given moment—and Whitmore's camera spends a lot more time in every scene than we are accustomed to.
Whitmore's aimless-feeling approach didn't work too well for me in another of his features, Crossover. But it works well here, given that the focus is on family—and holidays—and not sports. Besides, there are a lot of appealing actors and characters here, particularly Delroy Lindo as Joe, the always-compelling Idris Elba as Quentin, Loretta Devine as Ma'Dere, and Regina King as Lisa.
I particularly enjoyed spending time with this family, and being around their dinner table. And the fact that they all looked different from me was a bonus. (See the movie; you'll get the reference.)
This Christmas is available to stream online at Amazon.
Check it out tonight, and don't forget to dine local first!
Yeah, the 'Hawks are big news. Expectations are high, and everyone's paying attention… including the national media. But every week it seems like there's some key issue that's getting glossed over–some topic that, for one reason or another, is being avoided. It's the elephant in the locker room, if you will, and gosh darn if I'll let that ride. Join us on Saturday mornings for a little closer look at our World Champions.
By Greg Wright
On October 18 I observed that the Seahawks' passing game was struggling, with the wide receivers in particular looking worse than pedestrian (to use the word that Doug Baldwin hates). "Only Baldwin is keeping up a 65-70% pace" on completions, I wrote. "For the rest of corps, downfield completions are hovering at around just 50%. And it's not just catching the ball that's the problem. One-on-one battles are just not being won, across the board."
What's happened in the intervening weeks?
Well, the next day the Seahawks put up their best passing performance of the season in a loss to St. Louis, with Wilson tossing for 313 yards while running for another hundred.
Kearse's percentage of catches against targets has increased slightly (29 of 53), but overall, wide receivers have caught about 75% of passes thrown their way. Wilson's passing efficiency is now on a pace to outdo his Super Bowl season, and if he continues at the pace of the last few weeks he'll probably outdo his rookie season numbers.
On October 25, while cautioning that "the Seahawks aren't broken" and that "this is just what things look like when the ball bounces the wrong way," I wrote that "the Seahawks are a .500 ballclub. They've played like it." I was optimistic, of course, that the Hawks could easily be "just a half-step away from a Super Bowl trip," but I was equally prepared for them to be "average."
Since then? The Hawks have gone 5-1, the lone loss coming at Kansas City.
On November 8 I wrote extensively about the offensive line, singling out their play as the "weak link" on the team (despite praising them as mostly over-achievers).
The next day, Marshawn Lynch scored four TDs against the Giants, and Lynch was pumping the fist of every weak-linker. The O line has been pretty hot since then. All I could do on November 15 was pretty much eat crow, and beg for more.
So on November 22, I was indeed preparing some more crow for Thanksgiving, or at the very least coming up with prognostications that smelt like turkey. "Why isn't Sherman talking this season?" I asked.
Because he knows something. Something we don't really want to talk about.

He knows the LOB can't back up the chatter.

Coming into week 12 of the season and what is probably a make-or-break game for this year's campaign, Richard Sherman's quietness is probably the most concerning factor. The team's success hinges on the D, and Sherman has his doubts.

U scared, bro?

I am.
And, of course, over the span of five days the Seahawks D put the beat-down on the Cardinals and the 49ers–and the pundits are all in agreement that the Seahawks are back in Super Bowl form. Sherman is yakking it up again, intercepting passes, and twirling his fingers around his ears. (Of course, how was I to know that healthy Chancellors and Wagners make that much of a difference?)
So… I guess I love being wrong.
Shall I tell you, then, what I think will happen tomorrow in Philadelphia?
Naw… I don't want to be wrong this time.
by Greg Wright
Have you ever taken a road trip to someplace like the Grand Canyon, or Disneyland? I've done both, and have discovered that the journey there can be just as much fun as the destination itself. In fact, the best vacation is one where you not only know your destination is great, but you know you'll have a blast getting there, too.
Some movies are like that. You know exactly where the plot is going—either because you've seen the movie already, or one very much like it—but you don't mind at all because the getting there is pretty darned pleasant.
The Christmas Secret is that kind of movie, particularly when you're holding a bowl of fresh-popped popcorn. It's a Hallmark original production in which nothing very surprising happens; but heck, you've tuned in to Hallmark Movies and Mysteries, right? You're there for a reason!
Secret is the fourth filmed installment in the Christmas Shoes series, coming five years on the heels of The Christmas Hope. This story features Christine, a single mom whose world is crashing down around her in the weeks leading to Christmas, and Jason, a small-town sports hero who's down on his luck and back in town visiting his grandparents while he tries to score a new international banking gig.
So you can see where this is going, right? Isn't a Christmas romance a favorite destination, a lot like the Grand Canyon or Disneyland? Or at least like Wild Waves?
The question isn't whether you'll like where the story is headed. The question is: Will you like how The Christmas Secret gets you there?
For the most part, the answer is yes. Bethany Joy Lenz, who you will probably recognize from One Tree Hill, is an exceptionally appealing lead as Christine. She's not a particularly dynamic or demonstrative actor, but her restraint works well here as she seems to be pulling everything inward as her world implodes. And the writing gives her a good range of emotional settings to make Christine three-dimensional, a character that makes you feel like you've known her once or twice over the years under different names.
John Reardon is given less to do, but is nonetheless serviceable as Jason. The script offers his character less range than Lenz's Christine, and might have invoked more of a George-Bailey-come-home depth, but it's also easy to see how Reardon has worked steadily in TV.
Norma Bailey's direction is again solid, as in The Christmas Hope. Mostly all the right notes get hit as the story works its way to its magically predictable conclusion, and she has (for the most part) cast the supporting roles well. The film's little surprises come in the side-plots, and they are handled fairly deftly.
Why do these very stripped-down Christmas Shoes stories work? Without knowing a lick of background, and having only seen two of them, I'll go out on a limb: it's because the stories are essentially drawn from real life. The author (I am guessing) obviously has a background in small-town Canadian social work, working with plenty of struggling single moms to know how they and their kids think. And she's seen enough grace and love extended by complete strangers to know there's still good in the world… at least in burgs mostly untroubled by protests and political controversy.
And look! I just Googled the author and discovered I am pretty close to right. Donna Vanliere has a small-town Ohio background, has raised a family of adopted children with her husband, and serves on the board of directors for National House of Hope, a residency program for abused and at-risk teens. These movies reflect the reality of her world.
The one troubling aspect to Vanliere's cinematic world is that it is so completely white bread… but this is a Hallmark movie, and this is what you came for, right? And the truth is, there are still a lot of white-bread communities out there.
So enjoy the trip to Disneyland (or Wild Waves). It's where you want to go, right?
The Christmas Secret debuts on Hallmark Movies and Mysteries on Sunday, December 7 at 9 PM. Click here for more information and a complete list of airtimes.
The Christmas Hope reviewed by Greg Wright
Can holiday tearjerkers be formulaic? Yes, and The Christmas Hope is certainly that. Can formulaic tearjerkers also be effective, both as entertainment and as much-needed cathartic therapy? Yes, absolutely. And thanks in large part to a surprisingly subtle and moving performance from Madeleine Stowe, The Christmas Hope delivers just the kind of emotional package a lot of people probably need this time of year.
Christmas is not always a time of unadulterated goodness and light. For those who have lost loved ones—whether a parent, a child, a beloved partner, friend, or even a cherished pet—the holidays can also be a frightfully painful season, more a reminder of what's been taken away than what's been given.
In order that we might see more clearly what we have, we sometimes have to look closely at what we have lost—something that grief makes horrifically difficult. As one of the functions of film is to make us feel so deeply than we can't help but think, as writer Murray Watts has put it, it makes sense that even a TV movie about love and loss might help clear out some of the dust and cobwebs that shroud our hearts. In a way, such movies accomplish what J.R.R. Tolkien described as "recovery": the ability to see more clearly the real world around us. In that regard, such tearjerkers are a form of fantasy; and as Tolkien, among others, has shown us, effective fantasy needs no defense.
This Lifetime channel Christmas fantasy features Stowe and James Remar—who teamed up long ago in the snow-bound thriller Blink—as parents growing apart after the loss of their only child. Patty Addison is a social worker who, with her partner Roy, places orphaned and abandoned children in new homes. Her husband, Mark, is an airline pilot who now finds it convenient to be gone a week or more at a time. When a series of contrived accidents conspire to place a young girl in Patty's care just before Christmas, the stage is set for a series of implausible coincidences to bring together disparate storylines—leading to a hopeful future for all concerned. Thus the fantasy.
But again: when it is effective, fantasy needs no defense. Madeleine Stowe is utterly convincing as a mother paralyzed by loss even though she should know better, and James Remar—so memorable in the 1980s and 90s for a string of villainous roles, such as Ganz in 48 Hrs. and Dutch Schultz in The Cotton Club—is appropriately restrained and sensitive as a man slowly losing his wife after having already lost a son. If you're paying attention at all as you watch the program, you're not likely to be surprised by much—except, perhaps, by how many tears you'll shed while watching.
I suspect that a lot of viewers will simply find the film a downer. The depressed small-town setting, the myriad tragedies depicted, and the time spent in social work offices and emergency rooms can leave you thinking: "This is a Christmas movie?" But again, this particular fantasy is not about depicting a world that doesn't exist; it's about allowing us to re-enter the very real, imperfect world in which we actually live.
If you're already a fan of the Lifetime Christmas Shoes series, you're undoubtedly already sold on watching this installment—and you won't be disappointed. If the whole idea just makes your stomach turn on principle, however, consider dropping the Scrooge schtick for a season and give The Christmas Hope a shot. You might just be surprised at the job seasoned director Norma Bailey does with this material.
But best of all, if you're a clean slate—and if Christmas is a painful time of year for you—take Mark's advice. Sometimes it's just best to let the tears flow. Let The Christmas Hope help you do that.
The Christmas Hope is available to stream online at Amazon. It's also airing this week on Lifetime at 10 PM Friday, Dec. 5 and 2 AM Saturday, Dec. 6. (Convenient times, yes?)
Check it out tonight, and don't forget to dine local first!
KIRO News sent a truck to cover yesterday's devastating destruction of Redondo's beloved boardwalk. We've included their coverage below. It's an eye-full, amplifying the fine photos and story contributed by Gene Achziger yesterday.
Photo courtesy Susan White. See yesterday's coverage for more photos and the full story.
Yeah, the 'Hawks are big news. Expectations are high, and everyone's paying attention… including the national media. But every week it seems like there's some key issue that's getting glossed over–some topic that, for one reason or another, is being avoided. It's the elephant in the locker room, if you will, and gosh darn if I'll let that ride. Join us on Saturday mornings for a little closer look at our World Champions.
By Greg Wright
Never mind the Richard Sherman v. Michael Crabtree feud. Aside from a couple offsetting personal fouls in Thursday night's game, that didn't amount to much… particularly on Crabtree's end, as the 49er receiver finished the night with 10 yards on 3 catches.
Sherman, however, was back in Championship Season form with two picks off Colin Kaepernick.
In the 49er lockerroom after the game, Crabtree was asked about whether he was concerned about facing Sherman again in the November 27 rematch in Seattle. "I'm not worried about that dude," said Crabtree. "It's more scheme, it's not one-on-one. It's scheme. You've seen that. No one-on-one at all. Just scheme. They did a good job scheming."
In part, Crabtree is right. On the play in which Sherman nabbed his first interception, the Hawks D was employing a modified zone-coverage scheme. (You can watch the interception here.)
You will notice as the play develops that targeted wide receiver Brandon Lloyd is close to ten yards downfield before Earl Thomas, Kam Chancellor, and K.J. Wright even begin to respond to the developing play. They are simply monitoring activity within their assigned zones of coverage.
Richard Sherman, however, is most definitely in man-coverage on Brandon Lloyd. And as the play develops in real time, it's easy to watch and respond, "What was Kaepernick thinking?" and credit Sherman with an "easy" interception.
I know it's easy to respond that way because I heard my whole family react that way during the game. And I heard Dave Wyman, Mike Salk, and Michael Grey all talk about Sherman's "easy pick" on ESPN 710 yesterday. Richard Sherman himself said that on the play he was the "open receiver" to whom Kaepernick was throwing the ball.
Well, Sherman may have made it look easy, but that's why Sherman is one of the best.
Let's walk through this, shall we?  In the first screen grab below, note how Sherman is lined up opposite Lloyd, shaded to the outside. It's not press-man coverage (in which Sherman would be "pressing" Lloyd right at the line of scrimmage), but it's not soft zone, either (in which Sherman would be five or more yards off the ball). Sherman's responsibility on this play is the left third of the defensive backfield, with Earl Thomas up "in the box" and Kam Chancellor deep in the middle. K.J. Wright has the underneath coverage on the left.
As Lloyd releases from the line of scrimmage, though, Sherman plays him tight, and Lloyd's route is designed as a double-move in an attempt to get Sherman to "bite" on a short "in." Sherman does take one step upfield as Lloyd stutters to his own left, but as he releases again upfield you can see below that Sherman hasn't "bit" at all. In fact, in his response to Lloyd's first move he's thrown the entire play off already, forcing Lloyd more to the outside than he'd like to have been.
Lloyd is hoping to escape past and outside Sherman, but Sherman's speed, quickness, and film study has him cutting off Lloyd's progression toward the spot where Kaepernick is targeting the ball. Sherman has superior position, so Lloyd has got to adjust.
Note where Sherman's and Lloyd's heads are in the above screen grab. As they move downfield stride for stride, Sherman is looking back over his inside shoulder. Lloyd is looking back over his outside shoulder. Because of the actual "man" coverage Lloyd has received from Sherman rather than loose zone coverage, Lloyd is expecting Kaepernick to also read the coverage and throw an outside-shoulder "fade" pass. But the ball is already in the air, and Sherman can see it. It's heading right to the spot where Lloyd was supposed to go–but Lloyd is already cutting his route short because Sherman has the intended route completely covered.
As Lloyd gets his head around to look for the fade pass, he discovers, almost completely flat-footed and to his utter dismay, that the ball is behind him–right where Richard Sherman knew it would be. Checkmate. It's only a matter of one yard off from where Lloyd actually is, but it might as well be a mile.
Here's another view of that moment.
So Crabtree was right. The Seahawks had the right scheme in place. But Richard Sherman also had the skills, experience, and game knowledge to disrupt the play and gain the advantage. It's a game of inches, as they say, and Sherman manipulated about 36 of them to his advantage.
The only "easy" part of the play was catching the ball–because Lloyd was so badly out of position. Everything else that Sherman did was the result of hard work that started years ago, was honed during film study over the short practice week, and developed during the play itself. The way Sherman covered Lloyd's route was not "easy" at all. It was masterful.
What Crabtree ought to be talking about, though, is the 49ers' scheme on the play–and Kaepernick's inability to do anything but run with it. He reads zone initially, and sticks with the play call even though he should be able to read Sherman's coverage adjustment on Lloyd and throw the fade instead–just as Lloyd was expecting.
If Lloyd can read the play correctly, why can't Kaepernick?
Because Sherman makes it look too easy.
Yeah, the 'Hawks are big news. Expectations are high, and everyone's paying attention… including the national media. But every week it seems like there's some key issue that's getting glossed over–some topic that, for one reason or another, is being avoided. It's the elephant in the locker room, if you will, and gosh darn if I'll let that ride. Join us on Saturday mornings for a little closer look at our World Champions.
By Greg Wright
U scared, bro?
Let's just start with highlights from last season, shall we? Not only did the Seahawks win the Super Bowl, they did it in brash, trash-talking style… all season long. And front and center in that three-ring circus was Richard Sherman, providing highlight reels and headline fodder week in and week out.
Yeah. Richard Sherman. Finger-wagging, lip-shushing, crazy-people ear-circling, flamboyant, yawn-mocking, choke-signing, interception machine Richard Sherman.
This guy.
He and the Legion of Boom were rewarded not just with diamond-studded championship rings, but the cover of Madden NFL 15. Sweet.
Where, oh where, has that Richard Sherman gone?
Aside from an occasional comment about how Pierre Garcon doesn't matter, Sherman has gone awfully quiet… on and off the field. Even his response to being "exposed" by the Chargers' receivers was tame, and aside from his lone 2014 interception against Oakland (yes, Oakland… talk about yawn-inducing) I'm not really sure what you'd put in a Sherman highlight reel for this season.
Where's the finger-wagging now, Richard?
Instead, this is what we get after a loss in Kansas City:
Isn't that sweet? A mutual admiration society.
Conventional wisdom has it that this is what happens after a player "makes it." The chip falls off the shoulder, a big contract gets signed, endorsement deals roll in the door… and said star gets, well, downright nice and pleasant.
I don't think that's it. I don't think that's it at all. I don't think that success has spoiled Richard Sherman.
Here's another way to read it, in light of what Earl Thomas had to say about Jason Witten on Twitter after the loss to the Cowboys:
"He waited til the last kneel-down to open his mouth. … that just showed me who he is as a front-runner."
What Thomas was getting at is this: if you're going to talk, talk before the game and then back it up. Talking big after you've won a game you didn't expect to win is the same as being a fair-weather fan. It's far braver to talk big and then have to back it up.
And wasn't that exactly what the LOB did last season? They didn't just talk a good game, before the game, they played a good game as well. All 16 of them, plus a fantastic run in the post-season.
So why isn't Sherman talking this season?
Because he knows something. Something we don't really want to talk about.
He knows the LOB can't back up the chatter.
Coming into week 12 of the season and what is probably a make-or-break game for this year's campaign, Richard Sherman's quietness is probably the most concerning factor. The team's success hinges on the D, and Sherman has his doubts.
U scared, bro?
I am.
Act of Valor reviewed by Greg Wright
Have you ever been caught completely off guard by a movie and thought, "Wow! I don't think I've ever seen anything quite like that before!"?
Well, that was Act of Valor for me. And I felt compelled to write about it this week after having rather unwisely and insensitively talked trash about Saving Private Ryan on Veteran's Day!
The twist in this action picture about Navy SEALs tracking down globe-trotting badguys to prevent a terrorist bombing on U.S. soil is that the SEALs are played by… actual Navy SEALs. On active duty. Uncredited (at the time of release). Only a handful of professional actors appear in the film, and in supporting roles.
But this twist is not what makes the film unique. Instead, as the action unfolds, you never get the sense that something absolutely ridiculous (Mission: Impossible), leaden (The Expendables), or overly-kinetic (Bourne or anything Statham) is going to happen. If bad guys are gonna get taken out, it's going to happen quick, and the SEALs are going to move on, fast. If something blows up, it's going to happen… once, and the SEALs are going to move on, fast. If something technologically sophisticated is required, we're going to see bits of it—it won't be belabored and shown off—and the SEALs are going to move right along, fast. The amount of ground covered in Central America, the Ukraine, the South Pacific, and Mexico (among other places) is truly astonishing.
Yes, this film originated as a recruitment film sponsored by the Navy—and yes, it still has that flavor. (How could anybody NOT be impressed by what's demanded of these men, the stoicism and courage with which they carry out their missions, and the tools put at their disposal?) But collateral damage is not exactly glossed over here. Defenders and critics of military tactics alike can trot out this film as Proof Positive of whatever tenet-of-the-day is being touted. The film is simultaneously inspiring and disturbing, and greatly so.
Do we really understand the violent waves that crash upon our shores each day, but almost never wash over us thanks to the breakwaters built on the blood of our soldiers? Do we have any appreciation for the level of violence perpetrated on our behalf, and against us? Do we know what safety really means? How many SEALs do you think have died to protect this country over the last ten years?
What we see in Act of Valor is entirely credible, and gut-wrenching. Two major thoughts struck me as I was watching: First, if I don't express gratitude for the sacrifices that our service members make, there's something wrong with me. Second, if other countries did on our soil what we do on theirs, we'd consider it an act of war—and there'd be hell to pay.
And, well, any way you slice it, there is hell to pay. To a certain extent we have our own selfishness and safety-lust to blame for the situation. It's great to be an American—I don't think the vast majority of us really understand quite how good we've got it—but if you've spent much time abroad, it's also easy to see how many of the world's economic and political woes are collateral damage of American and Western policy. So the piper must be paid. And at the same time, hatred and retribution can never be blamed on someone else; they are always a choice for which every one of us is personally accountable.
The narrative and emotional tension in the film, however, arises from a narrative device in which one member of a particular squad of SEALs—we aren't quite sure initially which member—writes a letter to the son of one of his fallen comrades… and again, we aren't sure which of the squad is going to die. Is the device strained? Yes, but no much that I minded it. I think, in light of everything, the emotions and ideas expressed in those words are earned.
This isn't entertainment, per se. Consider it an education, and an eye opener. It should make you think, maybe cry a little, and maybe get a little sick to your stomach.
Act of Valor is available to stream online at Amazon, among many of other places. If you find someplace to rent the DVD or Blu-ray, the special features and commentary are well worth your time as well!
Check it out tonight, and don't forget to dine local first!
Yeah, the 'Hawks are big news. Expectations are high, and everyone's paying attention… including the national media. But every week it seems like there's some key issue that's getting glossed over–some topic that, for one reason or another, is being avoided. It's the elephant in the locker room, if you will, and gosh darn if I'll let that ride. Join us on Saturday mornings for a little closer look at our World Champions.
By Greg Wright
Marshawn Lynch broke into the national football psyche with the legendary Beastquake run in the fourth quarter of Pete Carroll's playoff debut against the New Orleans Saints at the Clink. I think we all remember that play, don't we?
And the climax of this iconic moment was Lynch diving backward into the endzone with an "in yo' face" hand-grab to the crotch. If it hadn't happened so quick, and been so astonishing, Lynch might have been flagged for taunting.
Well, the events of the last weekend in football have caused me to reflect on how things have changed since January 2011.
First, there was Utah's unbelievable, showboating, premature TD celebration against Oregon… which ended up being a celebration for Oregon: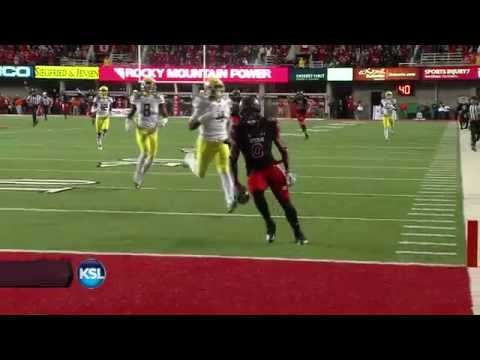 Kaelin Clay ironically provided his own color commentary with two thumbs down on his own nameplate.
Then on Sunday there was this:
Wow. Sometimes you just have to wonder what these guys are thinking.
Back in the day when a Seahawk named Steve Largent was setting records catching TD passes, he was famous for co-opting Vince Lombardi's words to counsel his teammates: "You know, you just did your job by making that catch. You did absolutely nothing special. When you do something special, then you can celebrate. Act like you've been there before." Largent's routine was to simply flip the ball to the ref.
Of course, it's hard to act like you've been there before when you haven't. So perhaps the Cardinals' John Brown can be forgiven his brash exuberance. He's still a rookie.
We can probably also be thankful that Lynch has been in the endzone often enough that he's not grabbing his crotch 20+ times each season. (Yes, act like you've been there before, too.)
What we may not have noticed is the very gentlemanly and old-fashioned routine into which Lynch has now settled when he scores. While we're doing the Icky Shuffle in our bathrobes 'round the coffee table or high-fivin' our white-and-otherwise-guys, Lynch goes about his business… shaking hands.
Yep. Have you noticed?
Shaking hands. No dances, no spikes, no chest-to-chest jumps, no Lambeau Leaps or close encounters with a Sharpie… even the fist-bumps generally wait until he's back on the sideline.
It kind of stood out on Sunday, when Lynch powered his way into the endzone four times as the Hawks racked up record chunks of yardage on the ground against the hapless Giants.
Early in the week, though, I became pretty convinced that this fact has been pretty much escaping the press. It's so much more fun to write about the John Browns of the NFL world.
Sure enough, as of Tuesday the only press outlet to have written about Lynch's handshakes this entire season was a regional newspaper down around Camas. On Sunday night, the Columbian's Micah Rice wrote, "There was no boastful celebration. There was no mugging for the camera or self-glorification. Right after scoring his fourth touchdown Sunday to clinch a game he almost single-handedly won, Marshawn Lynch made the rounds. To each teammate in the end zone, the Seattle Seahawks running back offered a simple, sincere handshake.
"No words were necessary; just a simple action, boss. He won't court his own attention, but there should be no limit to the praise given to what Lynch did Sunday. Cherish it. Play it again on the DVR. Toast it even if you're not a Seahawks fan but simply dig hard-nosed football."
Kudos, Mr. Rice. You scooped your big-city counterparts.
But when Mr. Rice went back to play it again on his TiVo he might have noticed that it wasn't just the 4th TD that generated this outpouring of glad-handing. He might in fact have seen this:

I can deal with more of that.
Oh, yes, Mr. Lynch. Please, more of that.
Especially this Sunday in K.C.
Saints and Soldiers reviewed by Greg Wright
So… I'm not a fan of Saving Private Ryan. One of its core messages was about the same as Peter Jackson's The Two Towers: "Show your enemies no mercy, for you will be shown none." And Spielberg really drives that mega-budget message home, you may recall, by having that dirty ex-prisoner kraut blast Tom Hanks to kingdom come in the final act… and by making sure the Good Guys are surrounded by nubile babes with perky breasts, even if those babes are the Good Guys' daughters.
Okay. That's just me.
Have you heard about the LDS film Saints and Soldiers? I stumbled across this 2003 flick on Netflix, and it is just about as polar opposite a war film as you can get from Ryan and Spielberg. It's micro-budget, the cast is filled with whoozits… and it has a decidedly different take on the whole mercy thing. But it tells a similar story, of a small unit of soldiers carrying out a dangerous Allied mission behind German lines during World War II in the wake of a POW massacre.
In his feature film debut, Canadian native Ryan Little pulls a cinematic rabbit out of his hat, taking advantage of every ounce of "re-enactor" muscle that Utah could muster, and tells a compelling story in fine, professional fashion. The film this most reminded my of is Rachid Bouchareb's Oscar-nominated Days of Glory. It's no surprise that this film won scads of awards on the festival circuit.
What's especially nice is that Little's Latter Day Saints background lends this production a moral dimension (amidst all the squibs and flashpots) that Spielberg has never come close to mustering. The central character of "Deacon" is highly convincing, given the LDS mission-field experiences of the director and several cast/crew members.
At the crux of the plot is that same dilemma as in Ryan: Do you show mercy to your enemies? Little's film doesn't treat that question in a perfunctory manner, on either end of the spectrum… though, naturally, it just isn't possible to read this as a "shoot the bastards" tract.
If Little represents the future of LDS filmmaking (two sequels to this film have already been shot), I'm all for it. (And just to be clear, I'm not LDS!) But this is real cinema with a clear spiritual dimension… and I'm all in favor of that.
I imagine that Saints and Soldiers is still available on Netflix. I've jumped to Amazon Instant, though, and you can find it there… free, for Prime members.
Check it out tonight, and don't forget to dine local first!
Yeah, the 'Hawks are big news. Expectations are high, and everyone's paying attention… including the national media. But every week it seems like there's some key issue that's getting glossed over–some topic that, for one reason or another, is being avoided. It's the elephant in the locker room, if you will, and gosh darn if I'll let that ride. Join us on Saturday mornings for a little closer look at our World Champions.
By Greg Wright
At the conclusion of the 2012 season, I remarked to my wife, "This offseason, the Hawks really need to find a decent nickelback and get better production at tight end. They do those two things, and they've got a real shot at a championship." The Seahawks did exactly those two things, and for the most part the ball bounced favorably. Say hello to a Super Bowl victory.
But when you fix your weakest areas, it's inevitable that another area becomes your greatest vulnerability.
After the Seahawks' loss in St. Louis, ESPN's Terry Blount wrote, "The offensive line was the weak link on a Super Bowl team last year. It still is, but it's worse now."
Let's take a look at why that is… as I don't see any point in debating whether Blount's statement is true. So without further ado, meet your Super Bowl offensive line and their pedigrees (courtesy ESPN):
Bear in mind that Giacomini and McQuistan were castoffs from other teams. And a year prior to the Super Bowl, Sweezy was playing on the other side of the ball in college. And remember that McQuistan didn't even get the start the previous week in the NFC Championship.
So McQuistan and Giacomini are gone. Our nominal starters are now Okung, Unger, Sweezy, and these guys:
Britt's a rookie, and for all intents and purposes Carpenter might as well be given his lack of production in previous seasons.
Yet this "starting unit" has only played one full game together. Here are other role players that have been plugged into the line this season in the absence, at times, of Unger, Okung, and Carpenter:
Notice anything in common in that group? All but one went undrafted. And let's throw into the mix the guy who was supposed to be Unger's backup at center this year, another undrafted free agent:
But Lem got injured before the season even started. This means that, with Unger out, the line has been featuring a third-string center with Schilling… and in the most recent week, a fourth-stringer in Lewis. (Remember how we thought the Hawks would eat Green Bay and San Diego alive this year because they were starting second-stringers at center? Turn that around, and Russell Wilson should be dead right now!)
Finally, throw in the pedigree of another key contributor last season on the O line:
So let's be perfectly clear. Since Pete Carroll arrived with the Seahawks, the team has spent exactly two high draft picks on the O line: Okung and Carpenter. Okung has been pro-bowl caliber, but is still generally perceived as underperforming (particular as a pass blocker, and because of his frequent false start penalties). Until this year, Carpenter has almost universally perceived as a bust.
This has left Assistant Head Coach and run-blocking genius Tom Cable to cobble things together with castoffs, no-names, and mini-projects. And frankly, Cable has done exceedingly well in that regard. While pass blocking continues to be a major problem at almost every position along the line, there's no question that Seattle's run game does better than it deserves given the players we've got.
But here's the thing: If a Pete Carroll team is successfully put together according to the Carroll design, the offensive line WILL be the weakest link.
Think about it. Where does Seattle expend most of its capital? On the defense first, then on the offensive skill positions, in order: running back, QB, tight end, and receiver. Heck, the O line even takes back seat to the kicking game.
Why is that? Why doesn't Carroll put more juice into the offensive line?
Because budgets are limited and you have to prioritize. And with a top-flight D and a strong emphasis on the running game, Carroll and Cable have simply concluded that "we can make this work" is a good enough formula for a championship.
So the next time you hear color commentators carping about poor offensive line play from the Seahawks, don't jump on the bandwagon and start badmouthing the players. Aside from Carpenter and possibly Okung (but he's a pro-bowler, remember?), these guys are really over-performing considering their pedigree.
Could the offensive line be better? Yes.
Is the O line the weak link? Yes.
But if you've got a problem with that, point the finger at Carroll, not the guys who wear the jerseys.
Sources tell the Waterland Blog that Landmark on the Sound has indeed been purchased, conditional on a City Council-authorized rezoning of the property for commercial uses.
Contrary to rumors circulating, however, the commercial uses in question do not relate to gambling activities. A proposed resort hotel is the focus of the rezoning on the table, with timeshare condos being built on the east side of the property, an area for events on the west edge of the property, a spa, and a small card room.
The Blog has been assured that the Council is not inclined to grant rezoning for a casino as that would be totally incompatible with the neighborhood.
What's unclear is the fate of the existing building–or the potential impact of the property being listed on the National Register of Historic Places or as a National Historic Landmark.
We'll post updates to this story as they come in.
UPDATE, 11/6/14 5:00 PM — The City has confirmed that the basic facts as we have them are correct. Additionally, the proposed architectural plans call for retaining the existing historical buildings on the grounds and refurbishing them. We'll attempt to get more details from the architect tomorrow.
Miss Representation reviewed by Greg Wright
Once I put on my "critic" hat for screening a film, I'm pretty hard to provoke. At the moment a movie starts, it's my job to evaluate it, not react to it. Even Michael Moore—at both his best and worst—provokes little emotional response in me.
The documentary Miss Representation royally pissed me off, and in the best possible way.
Bear in mind that I'm the lone audience member who walked out on a packed commercial screening of Risky Business because I was so incensed at that film's portrayal of women. From the first time I saw Joe Francis' ridiculous Girls Gone Wild commercials on cable, I've lamented how the misguided women who buy into Francis' fetish are traitors to their own gender. And no, Halle Berry's sex scene in Monster's Ball was not empowering; she merely sold her integrity for the sake of artistic "respect."
I'm also the guy who was addicted to porn for twenty years, so I'm definitely no holier-than-thou prig. I've rolled in the dirt with the best of them.
Miss Representation riled me because it lays out, it spectacular and infuriating form, the ways in which our entire culture—men and women alike—tends to unthinkingly consume whatever advertisers fork over… or blithely assume "it doesn't affect me." Well, it does.
As reported in the film, young people today spend 31 hours a week watching TV, 17 hours listening to music, three hours watching movies, four hours reading magazines, and 10 hours online—and the vast majority of all that media is being coordinated and produced by a monolithic industry with a fairly coherent message. As the film's director, Jennifer Siebel Newsom, reports, five—count 'em, five—media conglomerates have almost exclusive control over the messages packaged for our consumption. And the general tone of it all? "We are a nation of teenaged boys."
Now, I've got nothing against teenaged boys. Seriously. I used to be one. But I also understand how they think.
Let's consider Risky Business once again. The film's teenaged hero is hounded by his self-absorbed shrewish mother. He's of near-genius intellect. He believes his libido is repressed (and, in the context of what may be the movie's most shrewdly deceptive appeal to the audience's sympathies, he is awfully, um, pure for his age group). And he's got, indirectly, money to burn. So it's only natural that the apex of his romantic aspirations would be… a high-priced call girl (of the, naturally, sexpot-with-a-heart-of-gold variety).
At the risk of sounding like a moralist (which I am not), there is not a positive male or female role model in the film—which would be fine if the film were countercultural, or even possible to take seriously as a black comedy… which it never was, and can't be, respectively. When the film was released, any cultural prognosticator could have predicted that the public's embrace of Risky Business was only affirming what our culture wanted to believe about itself—that good intentions and a bagful of cash do a mighty fine job of paving the road to heaven, or hell, or wherever you want to go—and that something like Girls Gone Wild would certainly materialize. It was only just a matter of time.
Well, dammit, why is that the case? In part because our educators themselves buy into this Superbowl Halftime way of life, and because most of us just don't have an interest in educating ourselves.
Personally, I'm intensely grateful for the 8th-grade English teacher (whose name I can no longer recall) who, in 1975, led my class through the U.S. code of advertising to show us how our government was letting advertisers lie to us… legally. It's an industry built on deception, and the way laws are written (no doubt with the aid of lobbyists) only the most egregious of deceptions can possibly be prosecuted. So, to a degree, my eyes have been relatively open all of my adult life.
I sincerely hope that plenty of people—and women in particular, as this game is largely in their hands—get out to see this movie, and get riled up about it… and conclude, to steal a line from Serenity, "I aim to misbehave."
It's about time that women, as a whole, check out of this system. While this may seem an unfair assessment, particularly given that the boards of the media conglomerates are really just glorified boys clubs, I don't hold out any great hope that men have it within themselves to change any of this. Boys, after all, will be boys. Why must women play the game like boys, too?
Take the $10,000 or so that you would normally spend on clothes, makeup, and hair care products in the next year and use that money instead to back female candidates for congress, the Senate, and President. Now, that would shake things up a bit.
If there's a downside to the film, it's that Newsom (who also narrates) is not the most magnetic of personalities. However, she wisely puts most of the film's words in the mouths of powerhouses like Katie Couric, Condoleeza Rice, Margaret Cho, Geena Davis, Rosario Dawson, and Rachel Maddow.
But in the end, Newsom's voice is the right one for the material. What, after all, was I expecting? A kickboxing sex kitten?
Miss Representation is available to stream on Amazon Instant Video as well as Google Play.
Check it out tonight, and don't forget to dine local first!
Yeah, the 'Hawks are big news. Expectations are high, and everyone's paying attention… including the national media. But every week it seems like there's some key issue that's getting glossed over–some topic that, for one reason or another, is being avoided. It's the elephant in the locker room, if you will, and gosh darn if I'll let that ride. Join us on Saturday mornings for a little closer look at our World Champions.
By Greg Wright
In the wake of last week's come-from-behind victory over Carolina, countless journalists declared that the foreseeable future of the Seahawks–and not just this season, mind you–now rides squarely on the shoulders of third-year QB Russell Wilson.
The logic goes this way: The Seahawks offense never begins to click until the Hawks are behind by a touchdown or two (or three) and the clock is winding down. The ball gets in Wilson's hands, and lickety-split! the team marches down the field and scores almost at will.
Like the 80-yard drive to end Sunday's game. Like the 80-yard drive to beat Denver in overtime. Like the drives of 82, 91, and 80 yards on the last three possessions of the losing effort against St. Louis.
And the logic goes further: Wilson could be doing this all the time; he just hasn't had to during most of his 2.5 seasons because the defense has made such heroics unnecessary.
But that's not all. The diagnosers are almost declaring the defense defunct, as if the Legion of Boom is on the verge of becoming a Lesion of Gloom. Further, it's apparent that such is the lot of a team with a superstar QB like Wilson. Get used to it. This is Wilson's team, and he's gonna have to carry it. He will, in fact, and everything else will become irrelevant.
Buried in Danny O'Neil's "Hawk Talk" column this week was a comment from listener Tom Page: "Tom Brady began his career in a run-first offense before eventually throwing more over time," a suggestion that this is what we can expect from Wilson and Seattle's offense.
This isn't a new comparison. Back in April, ESPN's Jeffri Chadiha wrote extensively about the Brady-Wilson comparison. One of his better notes (and he made a lot of good points) was the following:
In the first two years of [Wilson's] career, the Seahawks ranked 27th (2012) and 26th (2013) in the NFL in passing yards per game.

Don't be surprised if those numbers change in the coming years. Brady averaged only 189.5 passing yards per game in his first full season as a starter. But he also displayed more potential with each year that went by. He grew because he knew the offense better, trusted his talent more and found the coaching staff more willing to put him in positions to take chances. The chief luxury Belichick always had with Brady back then was the ability to fall back on the same conservative formula that had aided the Patriots in the first place.

Carroll has the same advantage with Wilson. The Seahawks still know that Pro Bowl running back Marshawn Lynch is the key cog in their offensive success and the face of the team's smashmouth personality.
At the same time, Chadiha asserts that "it's becoming more apparent that Seattle coach Pete Carroll would be wise to allow Wilson to follow the same road Brady traveled to success."
Uh, I don't think so.
Skill sets and capabilities aside, Pete Carroll won't "fall back" on a conservative formula. The formula is the engine that drives his machine. If anything, Carroll will jettison the parts that don't fit. We've seen that plenty in Carroll's tenure, with highly-talented players sent packing and having productive careers elsewhere.
Heck, Carroll doesn't even like acquiring fancy parts that don't fit in the first place, eschewing common wisdom about drafting the best available athlete. Carroll likes finding the best parts for the strategy, not designing a strategy around the best available parts. After all, you wouldn't build a performance vehicle that way, would you?
So, yes–Chadiha is right that the Seahawks will be confronting the Brady Problem next year when payday comes due. And Wilson will get a big contract. This will put a strain on budgets and strategies that emphasize defense first.
But here's the elephant in the locker room, folks. Don't expect Carroll to sacrifice the future of the team in order to build around a superstar QB. If Carroll continues to guide the team over the next decade, we've probably only got another five years or so of watching Wilson play for the home team.
After that… expect a blockbuster trade that keeps the Seahawks defense stacked for years to come.
As the Hawks proved in February, who needs a Peyton Manning (or the Next Tom Brady) when you've got The Legion of Boom: The Next Generation?
And do you really want the Next Tom Brady when the Original Tom Brady hasn't won a Superbowl since 2004?
Those QB salaries are a killer. When the time comes to invest in rebuilding the defense, Carroll won't flinch. Wilson is not the long-term future of the franchise. It's still the D.