Serenity reviewed by Greg Wright
Firefly fans were pretty pleased with Serenity. Plenty of ordinary people were, too. Writer-director Joss Whedon directed this film adaptation of his own sci-fi TV series with confidence and style, giving audiences more to cheer about in space since long, long ago in a galaxy far, far away. A really good thing even today, when "reboots" of the Star Trek and Star Wars franchises leave folk like me crying, "No mas! No mas!"
Can it really have been almost ten years since this film's theatrical release?
For those who don't recall Firefly, Whedon's genre-busting space dramedy, which blended Sci-Fi with a Western ethos, didn't even survive a single season on Fox. But the radical fan base never gave up hope that the show would return. It didn't, of course… but Whedon eventually convinced the studio to give his story the big-screen treatment.
The movie Serenity is not, however, just a retread of Firefly. In fact, many of the signature elements of the TV series have disappeared: the cowpies and cattle, for instance, and those mysterious men with the blue gloves. More importantly,Serenity fleshes out the universe and storyline of Firefly—and takes its characters to places the series has never gone before.
Castle's Nathan Fillion plays Malcolm Reynolds, owner and captain of the Firefly-class smuggling ship Serenity. Mal is on a journey of faith. He used to believe in a cause—until the leaders of the rebellion for which he volunteered abandoned his battalion to slaughter. Now that the Alliance has its boots firmly on the necks of the once-independent terraformed "border planets," a burned-out rebel like Reynolds is left rudderless. He goes where the wind takes him, as he remarks to Inara Serra, the professional escort once based onSerenity. And when his crew members tell him to have faith, he replies, "Not today." He has no use for the "fuzzy God" of Christians or the Buddha to whom Inara prays.
But when a trusted friend tells him, "I don't care what you believe; just believe in it," he steers a course directly into the wind that would sweep him away. At first, we wonder if he will merely become a cheap version of what he wants to destroy; but when he learns the truth, the truth sets him—and a whole host of others—free.
The Alliance Operative who hunts Serenity and its passenger, River Tam, is also on a journey of faith. In contrast to Reynolds, though, he starts as a True Believer—and as Shepherd Book tells Reynolds, believers of any sort are dangerous.
And there are different sorts of believers. Book believes in Christ. Dr. Simon Tam believes in his sister. River believes in God. Inara believes in Buddha.
The Operative, though, believes in engineered human potential, in building "better worlds"—even if it means slaughtering innocent children. And as his and Reynold's paths cross, we see that the two men are not so dissimilar. But the Operative doesn't need to learn the intrinsic value of belief; rather, he must learn that there are better things to believe in than human potential. And the truth of this new belief frees him from his dogged pursuit of Reynolds, his search for River Tam, and from the evil he does in service of the Alliance.
River Tam is also on a journey of faith; but she does not move toward faith, nor from one faith to another. Instead, she moves in faith. A literally tortured soul, she longs for deliverance from the damned voices that the Alliance has forced upon her memory. At the apogee of her journey, she nearly loses all hope and cries out, "Please, God, make me a stone!" But when River Tam learns the truth, the truth literally sets her free, too. When the time comes, she is no longer the protected but the protector.
Faith is dangerous, Serenity says, because True Believers of any sort—hijackers, abortion clinic bombers, Mother Teresa, Malcolm Reynolds—are those who change the world. The rest are just along for the ride.
But make no mistake. Serenity does not suggest that one belief is just as good another. It does, however, make a strong case for believing in something as the first step toward finding truth. Hope will sustain the journey, the film says. "I know," says River Tam. "We're going for a ride." And what a ride!
But this film is not ultimately about faith. It's about the end goal of faith. It's about love. The film begins there and ends there. The Operative can see it in the eyes of Simon Tam to begin with; and whether Reynolds admits it or not, a love of Serenity has always driven him.
And now these three remain: faith, hope and love. But the greatest of these is love. (1 Corinthians 13:13)
If you haven't seen it yet, the odds are you will love Serenity.
Serenity is available this week on Comcast's XFinity On Demand. It's also available to stream at Amazon.
Check it out tonight, and don't forget to dine local first!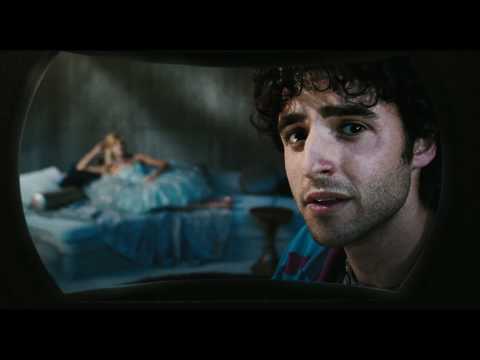 The Bulldog community will honor the past, present, and future with a dance- and music-filled evening on Saturday, March 21.
In 1915, the United States was on the brink of entering World War I, the 47th and 48th states had just been admitted to the Union, and automobiles were slowly becoming available for wealthier citizens.
In Tukwila, something just as groundbreaking occurred: Foster High School issued its first-ever diploma to student Ava Sophia Adams (right), setting in motion 100 years of exceptional Bulldog graduates following in her footsteps.
Many of those alumni—spanning almost every decade, including two from the Class of 1937—as well as current and former staff and community members will gather at the school this Saturday for a centennial celebration featuring food, dancing, socializing, and plenty of good memories.
Anyone with an interest or affiliation with Foster High—past, present, or future—is enthusiastically invited!
Members of the centennial planning committee last summer tracked down
Ms. Adams' family in Montana and brought back her original diploma (pictured at right); that artifact will be on display, and a reenactment of the first commencement ceremony will kick off the official ceremony.
The rest will be a musical tribute to the past, present, and future of the school, including a rollicking dancing-through-the-decades look back at the school's seminal events featuring alumni musicians.
Current students will take the stage for vibrant cultural performances, including singing and dancing from Foster's Pacific Islander, Burmese, and Hip Hop Clubs.
Over the past century, Foster has transitioned from a simple building in a Northwest settlement area to the sole high school in the nation's most diverse school district. Throughout these significant changes, the most important character of Foster has never wavered: This school remains the heart of the Tukwila community.
"We are all proud Bulldogs, and that's what matters," said Ron Lamb, class of 1966, member of the planning committee. "We are coming together to celebrate the story of Foster High School and what we have accomplished—past, present, and future."
Foster High School Community Centennial Celebration details:
Saturday, March 21, at Foster High School, 4242 S. 144th St., Tukwila
Doors open at 3 p.m. with an open house featuring tours, an ongoing historical slideshow, a display of artifacts, and socializing. Dinner and refreshments will be available at about 3:30 p.m. The official program will begin at 6 p.m. Following, the gym will open for a sock hop ending at 10 p.m.
Foster centennial spirit wear will be available for purchase.
Lawrence of Arabia reviewed by Greg Wright
When the restored "Director's Cut" of Lawrence of Arabia played at Seattle's legendary Cinerama theater in 1989, I was naturally at the first showing… even though it meant cutting work that afternoon. (My office was, at that time, just seven convenient blocks down the street!)
As the overture began playing to a fairly crowded house, the lights failed to come down… and the projectionist opened the curtain and unblocked the projection aperture. As the dumbfounded and confused audience looked on, timing marks on the 70mm print were projected onto the screen… and then the curtain closed. And then the projection aperture was closed. The overture continued to play, and a great many members of the audience quickly became convinced that something had gone awry with the print. Several began hooting and hollering, berating the projectionist for having flubbed the premiere screening of the restored David Lean classic.
So much for the intended effect of the overture.
Obviously, the projectionist was as young as many members of the audience, and had never before experienced a film with an overture, intermission, and entr' acte music.
Lawrence of Arabia is so famous and so lauded as to need very little in the way of a "review." It's classic, it's brilliant, it is storied and legendary. About the most one needs to say of it is that it represents the apotheosis of everything the art form is supposed to be. Every aspect—cinematography, script, acting, direction, music—is executed with the utmost attention to detail, effect, and style. It's three-hours-plus of cinirvana.
Oh… and it tells a very specific story of a very specific man who inserted himself into the tumultuous history of the region that we call the Middle East. Realistically, it's safe to say that if it weren't for T.E. Lawrence, the United States probably would not be embroiled in the Middle East today. Lawrence's legacy is that significant as a key player in simultaneously Westernizing Arab nations and liberating them from European imperialism. Extraordinary.
One of the central themes of the film, appropriately, is the nature of genius: Are extraordinary people aware that they are extraordinary? And if they are, how driven are they to fulfill their potential? How much do they fear it?
Not coincidentally, it's the same theme that Martin Scorsese would explore in The Last Temptation of Christ—another film I cut work to see at the Cinerama, in 1988. In that film, as in Lawrence of Arabia, the hero (Jesus) is sorely tempted to leave his calling behind… and simply live the life of an ordinary man: settle down in the country with a wife and child, and a white picket fence. Leave the pain and sacrifice to someone else.
At some level, aren't we all extraordinary? And yet, don't we all find ourselves telling the "better angels of our nature" to just quit yammering? Isn't the path of least resistance awfully appealing at times?
Lawrence of Arabia certainly makes the struggle between calling and the commonplace compelling. And on such an epic scale!
Lawrence of Arabia streams for free in HD on Amazon Prime. How can you lose?
Check it out tonight, and don't forget to dine local first!
By Greg Wright
This is a team that never quits, that never gives in. That epitomizes a never-say-die, take-no-prisoners approach to every minute in every game. 
That's what I wrote the day before the Super Bowl. How ironic.
Sad to say it, folks, but the elephant in the locker room — the fact which no one in football is talking about except RantSports.com (ever heard of them?) — is that the Seahawks did not lose the game on the interception Russell Wilson threw in the closing seconds.
The Seahawks lost because they ultimately squandered the opportunity to score another 5 points immediately afterward.
Here's where they stood with 20 seconds left on the clock:
With the ball on the 1-yard line, the Seahawks have the chance to score a safety — and then with 18 seconds on the clock and one time out remaining, get the ball back with the free kick following… time enough to move downfield and get in field goal range.
What — I'm crazy, you say? What are the odds of that happening, you ask?
Slim to none, of course.
But the odds were slim to none in the NFC Championship against Green Bay when they needed a TD, a successful onside kick, a second TD, a two-point conversion, a coin toss, and an OT TD. But they got all that… and it was beautiful to watch the absolute determination, confidence, and discipline with which the Seahawks executed all the plays necessary to make that happen.
So it was with pure dismay that I watched, with absolutely everything the Hawks had played for the entire season on the line, this happen on Sunday:
Of all the times for a senseless, undisciplined pre-snap penalty. Neutral zone infraction on Michael Bennett for a five-yard encroachment penalty. Totally taking the bait of Brady's hard-count and the center's head-bob, precisely intended to draw the Seahawks offside.
Grade-school stuff.
So just as a refresher, this is how things work in the NFL: If Tom Brady fails to get the ball entirely out of the end zone before he's down, that's called a "safety." The defense scores two points.
Following a safety, the team trapped in their own endzone is then required to free-kick the ball back to their opponent, which very often results in a field goal for the opponent because of the excellent field position that a free kick typically yields.
So this game was definitely not over when Wilson's pass was intercepted.
And with all the accountability this week over that pass call on second down from the 1 yard line, which has been admirable, where's the accountability been for the Seahawks' dismal failure on their final defensive stand of the season? How about a few words of explanation or apology from the ever-chatty Bennett?
Mind you, now, I'm not a fair-weather Seahawks fan, and I think they played a marvelous game in which the attrition of injuries, the game of inches, and a style of officiating which oddly favored Patriot aggression barely did them in. They truly showed they can go toe-to-toe with the greatest in the game, and that they are no fluke or flash in the pan.
But someone's gotta say it.
The Seahawks hurt themselves with pre-snap penalties all season long, and none was worse than the one that wrapped the Super Bowl.
Kudos to the Patriots for exploiting the Hawks' weakness when it mattered most.
And thanks to the Pete Carroll and his team for another terrific season of football. For my money, the 2012 season has been the most thrilling of this run so far, and the 2013 season yielded the coveted ring.
But 2014 was pretty dang good, too.
It's relatively no hardship to be quibbling about one play in a Super Bowl loss. We could, after all, live in Cleveland.
Go Hawks!
Expectations are high, and everyone's paying attention… But every week it seems like there's some key issue that's getting glossed over. It's the elephant in the locker room, if you will, and gosh darn if I'll let that ride. Join us on Saturday mornings for a little closer look at our World Champions.
By Greg Wright
No lie. Until I heard a random remark from some analyst in the pre-game chatter of the NFC Championship game, it had never dawned on me that the Seahawks have a key player whose name is a homonym for "curse." Just before the game started, I called out to my wife, "Hey, Jenn. I wonder if the Packers are Kearsed?"
I guess we all know how that played out.
Kearse cradled the redemptive ball and refused to let Green Bay cornerback Tramon Williams wrestle it from him as they fell onto the "W" of "SEAHAWKS" painted in the blue, south end zone. That, and two improbable touchdowns in the final 2:09 of regulation, sent the defending-champion Seahawks back from five turnovers and into the Super Bowl with an unfathomable, 28-22 victory in overtime over some stunned Packers at a completely off-the-hook CenturyLink Field.
Yes, Jermaine Kearse got the W two Sundays ago. Boy, did he. Off the hook, indeed.
Of course, that was just the latest in a string of big plays for Kearse going back four playoff games. The string started in last year's NFC Championship game against San Francisco. Trailing their nemeses at the beginning of the fourth quarter, Russell Wilson convinces the coaching staff to go for it on 4th and 7 with a "hard count" to get the Niners to jump offsides. They do, so Wilson and Kearse break off the called play for the "free shot" down the field. Touchdown, Kearse.
It was just the game-winning touchdown.
During the third quarter of the Super Bowl two weeks later, Kearse pulled off what has been described by some analysts as one of the best TD catches in the history of the Super Bowl. With the Hawks already up 29-0 at the end of the 3rd quarter, Wilson found Kearse for a 23-yard pinball-play of a TD in which 4 different Broncos bounced off Kearse on his way to the endzone.
Broncos busted, bro.
In the second quarter of this year's playoff game against the Panthers, Wilson and Kearse connected for the longest scoring pass in Seahawk playoff history, a beauty of a one-handed 63-yard bomb.
And then, as we all well remember, Wilson and Kearse link up on a checkdown play for 35 yards, a miracle comeback, and a ticket-punching TD to the Super Bowl.
I've got a sneaky feeling that the Patriots are Kearsed, too. Do you?
---
It wouldn't feel right to me to conclude my season of pre-game analyses without going over the details of one of the most mystifying events of the season: Clay Matthews' disappearing act in the 4th quarter of one of the most legendary games in NFC Championship history.
When the going gets tough, they say, the tough get going. By the beginning of the 4th quarter, both Richard Sherman and Earl Thomas were playing hurt. With a Super Bowl on the line, they weren't about to come out of the game–and I doubt they would have even if the Hawks had had a lead. They'd have way too much respect for the Packers, and for themselves.
But let's go over the fourth quarter in detail.
14:35 – Sherman takes a shot from Kam Chancellor in the elbow; Matthews is of course on the sideline celebrating because he doesn't play offense. But this is important. The Packers are driving, so Matthews is resting, aside from flexing his biceps and facial muscles.
10:46 – The Hawks' O takes the field; the last fifteen minutes standing on the sideline must have been tiring for Matthews. After one play, and after missing a shot on Luke Willson on a dropped pass, Matthews jogs quickly off the field after clutching himself briefly while lying on the turf. Another important point here: Matthews didn't break up this pass; it had bounced away from Willson well before Matthews attempted to launch himself through Willson's ribcage and yet bounced harmlessly away.
On 3rd and 7 at 10:00, Matthews remains on the sidelines. First down, Seattle (Lockette).
At 9:30, CM is back on the field, and Lynch powers for a 12-yard first down, CM playing like a safety rather than a LB. On the ensuing 1st down, CM chases down RW after a gain of 4. CM again leaves the field.
3rd down at 8:22. After an incomplete pass to Baldwin on 2nd down, CM is back in and is caught flat-footed as Lynch powers right into him and through him for 12 more yards and a 1st. On first down, CM drops into coverage as RW is sacked.
On 2nd and long, CM is again mysteriously off the field. Back in on 3rd and 14 at 7:07 — CM rushes the QB, and fails to get by Okung; the pass is incomplete. On the ensuing punt, CM lazily jogs by the end of the line.
At 5:13, the Hawks have the ball back and the game is in the balance. Wilson is intercepted on the first play of the possession… but CM is on the sidelines, not on the field, and celebrating with Brandon Bostick. Huh? And how's that for irony? This is one screen shot the Packers would probably like to forget.

At 5:04, with the Packers trying to mount a game-clinching drive, the celebration continues.
At 4:50, with the Packers attempting to get a 1st down, CM hasn't a care in the world.

3:52 – Clutch time… The Hawks have the ball back again, and have to score. CM has to sit. Lynch for 12.
3:32 – Baldwin for 20. CM sits.
3:02 – Incompletion to Kearse on 1st down. On 2nd down, Lynch for another 24. Where's CM?
2:57 – 1st and Goal for the Hawks… CM settles in for a long winter's nap.
Lynch for 5. Wilson for 3. Wilson for 1 and a TD. 2:09 left.

2:07, and an onside kick later… CM is still not on the field. Wilson runs a keeper for 14. At 2:01, CM still shows no sign of getting on the field. Lynch for 3. Get a helmet on, warrior!

2:00 – Luke Willson for a 1st Down. Lynch for TD at 1:26. CM? Still sitting, even for goal-line D on the 2-point conversion.
1:25 left. Still no sign of stirring.
CM finally appears at 0:11 for a meaningless snap.
In OT, the Hawks have the ball at the 13… CM is finally back in, and Lynch runs for 3. On 2nd down, Baldwin goes for a first down after being pushed out of bounds by CM. At the 27, Lynch runs for three. On 2nd down, Wilson carries for no gain. On 3rd down, it's Wilson to Baldwin for 35. CM gets no pressure on the play. On the TD to Kearse, CM is rushing against Okung. No contest. Game over.
I've included a screen shot above from every look in the broadcast of Matthews on the sideline, looking for some clue as to why he was not playing. Visually, there's nothing. He's not getting treatment, he's not talking to staffers, he's not stretching or taping or in any visible pain, disorientation, or distress. In all honesty, it looks like he's saving himself for the Super Bowl.
Packers fans are naturally extremely put out by Matthews' disappearing act. Even when he was on the field in the 4th quarter and OT, he was glaringly ineffective.
Following the game, a radio journalist referenced a locker-room quote from Matthews that he was "physically, emotionally and mentally exhausted." It's unclear whether he was talking about his own condition in the fourth quarter, or the team's condition following the game.
Mike McCarthy, the Packers' head coach, however, was asked about Matthews' condition after the game:
Q: Why wasn't Clay in the game at that time and how was he able to come back for the overtime? Did he get hurt?

COACH MCCARTHY: Not that I'm aware of.
ESPN's Green Bay blog remarked the following:
I remember looking across the field from the press box during the last drive and in my binoculars, I could see Matthews trying to get his legs loose. However, there was no injury announcement made, either in the press box or by the team after the game, and Matthews returned to play the only possession of overtime. After the game, Matthews was asked if his leg was bothering him, and he told reporters: "Yeah, it was a medley of things just catching up to me. Fortunately, I worked with the trainers a little bit during that last drive and was able to get back out there for overtime."
Matthews, of course, played in the Pro Bowl the following week and had no trouble celebrating. And in the lead-up, he gave this mystifying interview in which the Big Question was completely avoided, and Matthews looked like he couldn't have cared less about missing out on the Super Bowl.

Earlier this week, reporters finally got a chance for official comment from McCarthy about Matthews' condition in the fourth quarter of the NFC Championship:
McCarthy didn't indicate Matthews' absence was a coach's decision.

"I talked to Clay. He said he needed a minute. Looking him in the eye, I didn't see any reason for his concern. Unless it impacts a game, I'm not going to be notified," McCarthy said.

While that may not make a lot of sense, the question was posed as one about whether Matthews had suffered a concussion. Because, for some reason, all the bozos who cover the Packers are unable to state the obvious question in a straight-forward manner.

Why wasn't Clay Matthews on the field?

So McCarthy said Matthews didn't have a concussion and then tried to cover for him a little bit by saying the training staff was looking at his knee. He also mentioned that Jordy Nelson waved him over, presumably to take a look at Matthews and see if he was injured.

But the statement is definitive. There is no evidence that Matthews was injured. Nor was there mention that someone decided to take Matthews out of the game.

"He said he needed a minute."

Matthews took himself out.
The potential "injury" referenced above was that missed shot on Willson at the top of the fourth quarter.
The bottom line is this: If I were the Packers' GM, I'd consider sending Matthews to the Jets to be with Percy Harvin. I can't imagine Matthews surviving on the Seahawks. This is a team that never quits, that never gives in. That epitomizes a never-say-die, take-no-prisoners approach to every minute in every game. Go Hawks!
Expectations are high, and everyone's paying attention… But every week it seems like there's some key issue that's getting glossed over. It's the elephant in the locker room, if you will, and gosh darn if I'll let that ride. Join us on Saturday mornings for a little closer look at our World Champions.
By Greg Wright
Kind of lost in the ballyhoo over the Hawks miracle win against the Packers on Sunday was a rather stunning first-down completion from Wilson to Baldwin on 3rd and 19 (remember those numbers, Cowboy fans?) with 6:30 left in the third quarter.
And that play illustrated another fact about Sunday's game that was kind of lost. Take a look at where Wilson took the snap from Max Unger on that play:
I know I wasn't the only one who noticed the trouble Unger was having getting the ball to Wilson on shotgun snaps. With the rain and the wetness, Unger often shot the ball out to Wilson's right on Sunday.
Sure would have been nice to get a better grip on the ball, wouldn't it?
If you're quick on the uptake, you should be thinking what I'm thinking.
Another team was playing in the wet and rain on Sunday, and somehow somebody got to at least 11 out of 12 footballs and took significant amounts of air out of them–presumably to be able to get a better grip on them.
Bill Belichick's been accused of cheating already and, I think, plausibly denied knowledge of tampering… though I do agree that he threw Brady under the bus in passing the buck.
Tom Brady's story about having no idea the pressure was off frankly doesn't wash. Why is he so particular about 12.5 psi if he can't tell the difference when he's handling the ball during a game?
But it doesn't make sense to think that Brady has anything to gain by taking chances with tampering, even if he could tell something was off. And it did feel to me like Brady was passing the buck as well, taking a cue from his coach.
So who might have something to gain by risking such tampering?
How about Ryan Wendell, who hadn't played center all season until Sunday, when injury forced rookie starter Bryan Stork to sit out? Wendell's relationship with the Patriots, after all, has been on-again-off-again after the team initially declined to re-up Wendell as a free agent in the offseason. When Wendell didn't get a free-agent offer from another team, the Patriots re-signed him. But not as a center. Instead they drafted Stork as their center of the future.
So how many more games as a Patriot–or a professional–do you think Wendell has in him? With the AFC Championship on the line, how many more chances do you think Wendell has at a Super Bowl ring?
How badly do think Wendell might want to have an edge when snapping the ball to Brady 78 times in the driving rain during a championship game, knowing how important Belichick finds the center-QB exchange?
The Worcester Telegram & Gazette ran the following two years and three weeks ago about Wendell:
"The center-to-quarterback exchange is just the most critical part to any play," coach Bill Belichick said recently. "You can't have a good play without that. But that's been a great strength of Wendy's throughout his career here. Shotgun snaps, under-center snaps, wet games, snow, whatever it is, he's been very dependable there. It all starts with that."

The potential pitfalls are many. Sometimes Wendell has to execute a traditional snap and then reach block. Other times, it's a shotgun snap and then immediately trying to tie up a pass rusher.

"He does a good job of that," Belichick said, citing Wendell's discipline and concentration. "You can't underestimate that part of the center's job. You take it for granted until you have a bad one, and it's all bad after that."
Emphasis mine.
But that was two years and three weeks ago. Belichick's obviously not so hot on Wendell at center these days, having moved him over to guard at the beginning of the season. I wonder why. Actually, no I don't. It's pretty clear why. As far as handling the ball goes, Wendell has clearly been in Belichick's doghouse.
Already on the hot seat, you wouldn't want to blow your chance on Sunday with off-target snaps, now would you?
So what did Wendell have to say about handling those deflated balls on Sunday? According to the Tampa Bay Times, "Just felt like any other game," Wendell said. "Felt the same throughout the game. So I don't know what the difference would be."
Yep, just felt like any other game… playing guard, handling the ball not at all, much less 78 times.
If it's not plausible that Brady wouldn't notice a difference in pressure, how less plausible is it that Wendell wouldn't? After all, who squeezes the pigskin more regularly than the center?
Now, listen to me clearly on this topic.
Given the not-so-distant chronic history of Seahawks being suspended for the use of various performance-enhancing drugs, no Seahawk or Seahawk fan has any room to be casting stones at the Patriots for being "cheaters." Seriously.
But if the NFL finds that something fishy did happen, and deliberately so, with those footballs on Sunday, it won't be Belichick or Brady on the hook.
It will be somebody who had a lot more riding on a single game's performance.
Somebody like Wendell… or LeGarrette Blount.
You heard it here first.
Expectations are high, and everyone's paying attention… But every week it seems like there's some key issue that's getting glossed over. It's the elephant in the locker room, if you will, and gosh darn if I'll let that ride. Join us on Saturday mornings for a little closer look at our World Champions.
By Greg Wright
So before I talk about the Elephant in Seattle's locker room, how about a few words about the whopper in Denver's?
If you were like me on Sunday, at some point in the second half of the Broncos' loss to Indianapolis you were thinking, "This is probably the last time I'll ever see Peyton Manning play." And it might have been precisely at this moment:
As Manning lofted this pass toward the sideline (almost to the outstretched hands of the receiver in the upper right corner of the above screen grab)—with the Broncos needing just six yards to avoid a punt—over sixty feet of green stretched before Manning's eyes. And his best option for the first down was… throwing at the sideline into double coverage. Yup. Incompletion. Punt.
Game over, really, even though it was their first possession of the second half. The moment felt so much like last year's Super Bowl.
But let's be generous. Let's assume that Manning saw something we didn't. Like hordes of linebackers and tackles bearing down on him from his left, just out of view of the television audience.
Uh, nope. Here's the "all-22" coaches' view, and it looks even worse from there. This is what the field of play looked like just when Manning released the ball:
I'm sorry, but this isn't a coaching problem. This is some combination of piss-poor play and waning physical prowess. And yet John Fox is the one without a job this week. Go figure. Glad I'm not in THAT locker room.
Which brings us to Seattle.
So many, so very many amazing things to be said this week as we head into the NFC Championship, about both the defense and the offense—and everybody else is saying them. So I won't bother, and won't recap either.
Instead I'd just like to point out one thing: If the Hawks have a vulnerability during their run to this year's Super Bowl—if I were a coach looking for a weakness to exploit—I'd be looking at Special Teams.
Even before the Legion of Boom was famous, and when Russell Wilson was still wet behind the ears, Pete Carroll's Special Teams were awesome. Remember Red Bryant's perennial kick-blocking skills? Remember Leon Washington's phenomenal kickoff returns? Remember, just as recently as last season, Golden Tate being a threat to return a punt for a score just about any time he fielded one?
Remember last year's punt coverage team threatening to set a record for the fewest return yards allowed
ever
? Remember Steven Hauschka becoming the most accurate kicker in the history of the league?
Well, I hope those are good memories—because they don't represent what we've seen this season. Kam Chancellor's back-to-back line-leaps aside, only one other special-teams moment this season gave us thrills: Doug Baldwin's blocked punt, which turned into a TD for the Hawks… in a losing effort against the Cowboys at the Clink. And I bet you've almost forgotten about that one.
But who can forget the Rams' fake field goal, or their "fake" punt return for a touchdown in the same Hawk loss on the road?
Who can forget Hauschka missing three field goals in one game?
Would you be surprised to learn that Seattle's opponents had a higher field goal percentage than the Hawks did this year?
Can you name Seattle's leading punt returner? Did you even know there is a player on the home team named Bryan Walters? Many fans don't. But that's your guy, fans.
Are you shocked that opponents returned kickoffs an average of 24 yards, while the Hawks averaged only 21?
Are you bummed that the only player to return a kick for a score in the last two years isn't even a Seahawk any more?
That opponents have blocked nine kicks over the last three seasons while the Hawks have blocked only five?
The only Special Teams category that the Seahawks have outdone their opponents in this season is percentage of punts downed inside the 20 yard line. Field position is important, yes… but when that's your sole claim to Special Teams fame, there's something awry.
Our hometown Special Teams aren't awful… but if there's any facet of the Hawks' game that's pedestrian, Special Teams is it.
So here's my prediction: if the Hawks lose either of the next two possible games–and I don't think they will, mind you–it will be because they lose the Special Teams battle.
Undefeated reviewed by Greg Wright
This is football, and this is life. Both are games of inches.
And if you don't believe the fate of men and nations alike turn on the simplest of choices and miscues, just take a gander at this Oscar-winning documentary that's a cross between The Blind Side and Friday Night Lights.
This is Tennessee, though, not Texas—and the setting is a less-than-dirt-poor public school, not a private Christian school. But as in The Blind Side, the heroes of this story are fatherless black kids… and white coaches and mentors.
Another big difference here, though. Like Blind Side's Sean Tuohy, coach Bill Courtney is a self-made man from the wrong side of the Deep-Southern tracks. He owns a specialty hardwoods factory, and knows what it means to suck it up when misfortune strikes and rise above it. But the coaching… well, he volunteers at Memphis' Manassas High, and over the course of six years takes the Tigers from scoring maybe 36 points in an entire winless schedule to a shot at the division title, the playoffs… and maybe, even, an undefeated season.
How? As Courtney says, not because he builds character into these kids through football, but that football reveals character in them. And as Courtney also tells his players, because players win games—not coaches. What Courtney and his volunteer staff do very effectively, though, is invest in these boys as people, as young men with potential—and build character in them before and between every snap of the ball through sound teaching, mentoring, and a lot of prayer, faith, and hope.
In addition to Courtney, the camera follows three players in particular: O.C. Brown, a massive left tackle who instantly evokes Michael Oher… and, uncannily, might have a shot at a college scholarship if tutors can help him raise his grades and test scores (!); Money, the team's scrappy right tackle who will beyond a doubt play his last organized football during this, his senior season; and Chavis, who fits in the most-likely-to-be-dead-by-twenty category. The ups and downs of these three young men are alternately infuriating, heartbreaking, and breathtaking, and Courtney's right in the thick of it all along the way.
And then there's the football.
While experienced documentarians Daniel Lindsay and T.J. Martin won't exactly be inspiring generations of filmmakers with their compositions or camera work, they have here stumbled on narrative gold—and manage would could have been, in other hands, a by-the-numbers gridiron travelogue in a way that truly dramatizes what's at stake and wisely whittles away extraneous footage in favor of roughly 120 minutes of real drama.
This film goes straight into my keep-it-forever catalog of great sports documentaries like When We Were Kings, Touching the Void, The King of Kong, Hoop Dreams, More Than A Game, Deep Water, and Surfwise.
Amazing and inspiring stuff. Oscars? Whatever.
Undefeated is available to stream at Amazon Instant Video.
Check it out tonight, and don't forget to dine local first!
Expectations are high, and everyone's paying attention… But every week it seems like there's some key issue that's getting glossed over. It's the elephant in the locker room, if you will, and gosh darn if I'll let that ride. Join us on Saturday mornings for a little closer look at our World Champions.
By Greg Wright
Every action has an equal and opposite reaction.
Objects in motion tend to stay in motion.
In a collision between two objects, the object with greater momentum wins.
A few weeks ago, I wrote about the collateral damage other teams suffer when meeting the Seahawks over the last two seasons. Roughly 75% of the time you are going to lose… and roughly 75% of the time, you will also lose the following week.
I didn't discover this trend; it was first talked about last year by ESPN. But since I resurrected the topic this season, it's become talked about quite a bit more. (And not because any of the Real Sports Journalists pay attention to me; it's just become so hard to miss.)
The thing that's still not really being talked about, though, is that this punishment is by design. It's the result of coaching. The Seahawks simply hit harder than other teams. And they do it within the rules.
Here's the principle: You're either going to be the one who dishes out the punishment, or you're going to get punished. Go faster, and go harder, and physics says you'll be the former.
So for your visual enjoyment on this Seahawks Playoff Day, take a look at some of my favorite moments from the recent past…
Editorial note: I've long lost track of the source of most of these photos, so I can't give proper credit. If the owners browse through here and can help me out (or want me to take these down) I'll be happy to oblige! Fair use principles generally apply, however.
Expectations are high, and everyone's paying attention… But every week it seems like there's some key issue that's getting glossed over. It's the elephant in the locker room, if you will, and gosh darn if I'll let that ride. Join us on Saturday mornings for a little closer look at our World Champions.
By Greg Wright
On Christmas Eve, my brother Bob and I talked football. It was fun, because Bob and I played together for one year in high school. (Actually, we practiced together. He was a senior on the varsity team for Mike Huard's Foster High School Bulldogs, while I wouldn't crack the starting varsity lineup until midway through my own senior year under Huard, thanks to Bob Pesicka's broken arm.) And it was fun because we were talking about the Seahawks.
We were talking about the remarkable run of defensive performances to finish the season when Bob asked, "Is this by design? What is it that Pete Carroll does differently than other coaches?"
Well, the Seahawks D has been a tremendous topic of conversation in the press this week. Let's review what key journalists have to say about some truly remarkable numbers and connections.
Clare Farnsworth, Seahawks.com:
The defense did not allow a point in the fourth quarter of the last six games, and yielded only 13 in the second halves during the six-game winning streak. And that included the Cardinals, who outscored their other opponents 102-64 in the fourth quarter this season.
John McGrath at the Tacoma News Tribune:
The athleticism [Jordan] Hill showed [on his interception] didn't surprise Seahawks head coach Pete Carroll.

"Everybody in the program has to have good hands," he said, "and it showed up right there why that's so important."

Developing and maintaining dexterity, Carroll explained, "is something we always preach. We throw the ball every day. Everybody has to catch the ball every day in practice."

Carroll's belief in a good-hands policy would seem to be another example of his cutting edge coaching principles, but he was taught that 30 years ago as a defensive backs coach on Bud Grant's Minnesota Vikings staff.

"I give that one totally to Bud Grant," Carroll said of his close friend and professional mentor. "That was Coach Grant's deal, and I just swiped it."
Colin & Brad: Two Man Group reviewed by Greg Wright
What do you get when two stalwarts from the long-running Improv Comedy TV show Whose Line Is It Anyway? take to the road for a two-man Improv Comedy stage show?
Well, what were you expecting?
Not surprisingly—especially considering that Colin Mochrie, the co-star of this road show, is also one of the Executive Producers of Whose Line—Mochrie's and Brad Sherwood's live show bears a lot of resemblance to the TV show.  Fans will know that Sherwood has been one of the bright spots of the stateside version, and will in no way be disappointed in what they find in this 67-minute program.
Personally, I've always preferred the original UK version of Whose Line.  It also starred Mochrie and Ryan Stiles (the US version's other Exec Prod) as part of the more-or-less rotating four-comic panel, but it was less concerned with sexual innuendo.  I of course find myself laughing at crotch jokes and other suggestive humor—but I also know it's terribly juvenile and an easy mark for stand-up comedy.  The bar could easily be set higher by reaching for a more mature style of humor.
That being said, I imagine you get the picture.  Included in the routines here is a good bit of raunch, though nothing you wouldn't expect from the latest editions of the broadcast-TV Whose Line.
What's missing?  Musical numbers.  Fans of Whose Line know that neither Sherwood nor Mochrie are particularly adept at musical improv, so don't plan on finding any Wayne Brady show-stoppers on this set.
On the plus side, Mochrie and Sherwood incorporate a couple of new routines into the standard parade of Questions, Sound Effects, and so on.
The first of these is a unique improv they call Sideways Scene, in which the audience calls out a motivation for neighborly conflict—and the two comics play out a spat while lying on their sides against a backdrop that lies flat on the floor.  The audience looks on by watching a screen onto which is projected an image from a camera which hangs over the backdrop.  The effect has to be seen to be truly appreciated, and it is quite amusing.
The second twist is the final bit on this collection, what the comics call The Most Dangerous Game.  The two play out an operatic scene on a topic of the audience's choice… while blindfolded… barefoot… on a stage covered with 280 set mousetraps.  Completely ridiculous. Hysterical.
If you're a fan of mainstream improv, or of Whose Line in particular, you won't be disappointed with this show.  Just don't expect anything wildly innovative… or deep. But who's looking for that on New Year's Eve?
Colin & Brad: Two Man Group is available to stream online at Amazon.
Check it out tonight, and don't forget to dine local first!
Expectations are high, and everyone's paying attention… But every week it seems like there's some key issue that's getting glossed over. It's the elephant in the locker room, if you will, and gosh darn if I'll let that ride. Join us on Saturday mornings for a little closer look at our World Champions.
By Greg Wright
'Twas four days 'fore Christmas, and all through the house
The Hawk fans were cheering — yes, even my spouse.
The Cardinals were trailing; they needed a score:
Like, maybe a pick-six — plus one touchdown more!
The Seahawks deployed in a one-wideout set,
One back in the backfield — 'twas Lynch, sure. You bet!
They've got a first down at their own twentyone;
They lead by fifteen, and are set for more fun.
With the snap of the ball there's now such a clatter
It's really quite plain that some Cards they will splatter.
Out on the right end, in Foote flies with a crash
But Lynch takes the ball to the left through a gash.
The light on the field, all natural-grass turfed,
Gives luster to 'backers about to be Smurfed.
Yes, what to 'Shawn's wondering eyes should appear
But a lane to the right, which he takes with a veer.
And now it's the cornerbacks Lynch aims to beat,
Shifts his low c of gravity over his feet.
More rapid than coursers his blocker does come —
You don't know his name? Then you're dumber than dumb.
It's Lockette the Rocket, and he'll take out four!
First Johnson, and Patrick, and Johnson once more!
From the thirty, past midfield, to the sideline with glee
Did Marshawn outrun them through crimson debris.
As dry leaves that through the wild hurricane fly,
And meeting with obstacles, mount to the sky
So Lynch approached Patrick — who went for the ball —
Then slapped him away like a impotent doll.
And in came the Rocket to knock Johnson down
And help Patrick Peterson look like a clown.
So Lynch turned to sprint toward the Cardinals' goal,
A scant forty yards, a mere beast-quaking stroll.
He was dressed all in blue from his helmet to shoe
('Cept his jersey was white, since that's how Hawks do).
A bundle of Cardinals he left behind
As helpless as toys — and that's being kind.
His eyes — how they twinkled! His dreadlocks how flowing!
His biceps were bulging, his lungs all a-blowing,
In hard-pumping Beast Mode still up on his toes
In search of the endzone, as everyone knows.
Approaching the goal line, Lynch needed relief
And wind flew at his back — yes, beyond all belief
Ricardo the Rocket was still not quite done.
He boxed out Cromartie while on a dead run.
And reaching the end zone Lynch turned and he leapt
And I laughed when I saw him while the Cardinals wept.
With a wink of his eye and twist of his wrist
He grabbed his own… well, you get the gist.
Lynch fell to his back and then sprang to his feet.
I doubt if that touchdown will ever be beat.
With Lockette before him, behind, and beside
His run is now legend — the dude will abide.
The Hawks trounced the Cards the division to lead
And now through the Clink will the playoffs proceed.
And to all the media did Lynch these words toss:
It's all about action — yes, that action, boss.
Copyright 2014 (c) Greg Wright
With no apologies whatsoever to Clement Clarke Moore
Elf reviewed by Greg Wright
Once long ago, Ethics Daily culture editor Cliff Vaughn and I were sitting in a movie theatre debating radical goodness. I have long believed that love professed but undemonstrated is meaningless. But to what extent must one go to demonstrate genuine love toward a fellow human? Personally, my wife Jenn and I have tweaked our own lifestyles to be less concerned about ourselves and more focused on others; but I am yet unsettled in my mind about taking any truly radical steps toward change.
Cliff and I certainly agreed, in any event, that when goodness is radical, there's no mistaking it.
Perhaps ironically, the screening which Cliff and I were attending in Manhattan was the holiday feature, Elf. At its most elemental level, the story is a retelling of Rudolph the Red-nosed Reindeer. For high-concept pitch purposes, it might also be described as a Christmas fish-out-of-water story: what would a human child raised as one of Santa's elves do when first exposed to human culture, courtesy of New York City?
If you're a holiday film buff, there's plenty to like about Elf. First, there are engaging performances by Will Farrell as Buddy the Elf, and Zooey Deschanel, who brings cabaret experience to bear on her character, Jovie. There's also the happy casting of Edward Asner as Santa Claus and Bob Newhart as Papa Elf. And last, but not least, the movie also pays visual tribute to a host of holiday classics.
Elf invokes Miracle on 34th Street, Frosty the Snowman, Rudolph the Red-nosed Reindeer, and It's a Wonderful Life, among many others. So this clean, amusing, good-natured light comedy has turned out to be not just one more entry in the holiday film sweepstakes, it's the continuation of a long and honorable tradition of films about "saving Christmas" — and, indirectly, about the saving power of Christmas.
Because the thing that makes Buddy the adult "elf" stand out in New York City is his radical goodness. He is variously described by the movie's characters, actors and makers as "pure as the driven snow," "child-like," "innocent," "naive," and "magical." In many ways, star Will Farrell told me in pre-release interviews, Buddy demonstrates that ignorance (of the ways of the world) can truly be bliss.
Mary Steenburgen, who plays Buddy's step-mother, put it another way: Buddy shows us that we "are all capable of being magical."
So why aren't we magical? Steenburgen offered an answer: natural human cynicism and the everyday cares of life drag us down.
But if we are all capable of being magical, where do we start? Radical, elf-like goodness may be a distant goal; but maybe we can start — as Buddy's young half-brother Michael tells their naughty-listed father — by really singing, and not just moving our lips. If we stop going through the motions and do the right thing when we see it, that may be radical enough for today.
Strident voices have their place, and we've certainly seen plenty of cause for protest in recent weeks.
But there is another path to change. It starts with you and me, and it starts with being radically nice. Give it a try this holiday season… and the rest of the year, too.
Merry Christmas!
Elf is available to stream online at Amazon.
Check it out tonight, and don't forget to dine local first!
Expectations are high, and everyone's paying attention… But every week it seems like there's some key issue that's getting glossed over. It's the elephant in the locker room, if you will, and gosh darn if I'll let that ride. Join us on Saturday mornings for a little closer look at our World Champions.
By Greg Wright
It started on a brisk December evening almost exactly two years ago.
A couple of days before Christmas in 2012, the Seahawks hosted San Francisco in a nationally televised game. Playoff berths were on the line for both teams. With the Seahawks already leading 14-0, the Niners were driving… and this happened: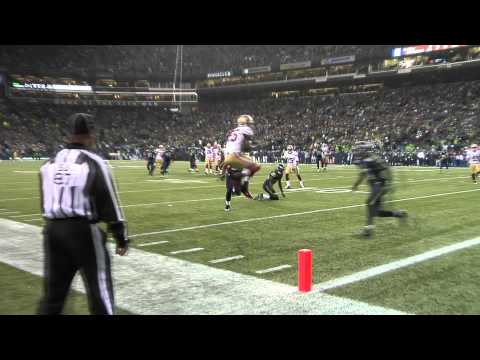 Kam Chancellor was flagged for a personal foul on the play, and Vernon Davis left the game with a concussion. The league declined to fine Chancellor for the hit since, as you can see in slow-motion replays, Chancellor led with his shoulder. Davis just happened to be on the receiving end of devastating technique in a violent game.
Vernon Davis has all but disappeared in subsequent matchups with the Seahawks.
You may have also noticed since that day that, generally speaking, all-pro tight ends regularly disappear when playing the Hawks.
You may have also noticed since then that (Philip Rivers aside) all-world QBs look more like Joe Blow than Joe Namath against the Seahawks. At least until garbage time in the fourth quarter, when "prevent defense" allows QBs to accumulate meaningless yardage with throws underneath the coverage.
Something changed that wonderful December evening.
Yes, the Seahawks won a lot of games against very good teams during Russell Wilson's rookie season in 2012. But a lot of those wins looked like the miracle come-from-behinds against Green Bay, New England, and Chicago. They weren't forged from purely punishing encounters. Losing teams walked away thinking, "We should have won that game. We handled the Seahawks, and somehow they won anyway."
That changed in 2013.
In 2013, the Legion of Boom grew up, matured into the brutal style of Kam Chancellor, and when opposing teams limped away–win or lose–they were done. Simply done. Mentally, and physically. Now teams crawl away thinking, "We just got our ass handed to us. Glad we don't have to do that next week!" Think of that Super Bowl.
Think also, for instance, of Seattle's early-season encounter with Houston last year. The Texans were hyped as a Super Bowl hopeful after their surprising and dominating season in 2012. They opened their season at 3-1… and then the Seahawks came to town.
Three lasting visions still resonate from that game: blood streaming down megastar J.J. Watt's face from a nose bloodied by an encounter with, yes, Russell Wilson; Richard Sherman moving so fast he left a shoe behind on the way to the endzone with a pick six; Houston QB Matt Schaub pounding on the turf with his fist in frustration.
The Texans did not win another game all season.
Matt Schaub was effectively done for the year after having thrown pick-sixes in four consecutive games.
It was a pattern that would repeat itself throughout the 2013 season as the Hawks went 13-3. 16 times the Seahawks outmuscled their opponents en route to a Super Bowl victory–and in the first fifteen encounters, an interesting thing happened. Not only did they win the vast majority of those matchups, they left opposing teams in shambles afterward.
In 2013, 10 out 15 teams who played the Seahawks also lost the following week.
Think about that.
Not only do you have to face the Seahawks and a very probable loss, you also have to face the fact that you're likely looking at two losses, not just one. And if you play in the NFC West, the odds are that means four potential losses each season.
Facing the Seahawks is just brutal.
Let's see what that means for the 49ers this week.
In last week's loss to the Hawks, the Niners lost Frank Gore on this play:
Early in the third quarter, Kaepernick completed a pass to fullback Miller. As Bruce Irvin chases Miller down from behind, Frank Gore comes in to lay a blindside block on Bobby Wagner.
Gore left the game after a concussion that left him flopping helplessly on the field while Wagner walked away looking like he was thinking, "What just bounced off of me? A gnat?"
Not long after, Wagner encountered Gore's backup, Carlos Hyde:
After this seemingly routine tackle, Hyde left the game with a leg injury.
Now, how do you suppose the 49ers are going to do this week, with the stuffing having been knocked out of them along with their playoff hopes, and their workhorses out to pasture for rest and rehab?
The trend has continued this season, to the point of predictability. After the first  13 matchups, 9 of the Seahawks opponents have gone on to lose the following week. It's now happened 8 weeks in row.
Brutal.
What's the implication?
If the Seahawks can pull out a win at Arizona this week, it probably means the Cardinals will not only lose their shot at the NFC West title; it probably also means they'll end the season with two losses to finish at 11-5.
Meaningless?
Perhaps.
But just talk to Vernon Davis or Colin Kaepernick or Jim Harbaugh about the ongoing psychological toll of facing the Seahawks.
And reflect that Cliff Avril and K.J. Wright are now locked up long-term with Kam and Richard and Earl and Michael–and Bobby Wagner waiting in the wings.
The Seahawks do not just beat other teams. They effectively end careers, and change the destinies of entire franchises.
I like the Cardinals and Bruce Arians. I really do.
But I also feel sorry for them.
Merry Christmas, Seahawks fans!
The 12 Dates of Christmas reviewed by Greg Wright
I first saw Amy Smart in The Butterfly Effect and was blown away by her performance as a young woman traumatized by sexual abuse. With Effect's revisionist-history storyline (perversely reminiscent of Groundhog Day), Smart portrayed several different alternative futures for Kayleigh–all of them believable, most of them quite moving. I didn't think Smart got nearly enough attention for that supporting role.
So I've always been pleased to run across Smart in other offerings–and particularly so when Jenn and I stumbled across The 12 Dates of Christmas on Netflix several years ago. It's now one of our holiday staples.
The blurb for this made-for-TV movie runs as follows: "Kate (Amy Smart) ruins her Christmas Eve date with Miles (Mark-Paul Gosselaar). Each night at the stroke of midnight she begins to re-live the day and date."
Yes, once again Amy Smart plays a character in a Groundhog Day-themed movie.
What the blurb doesn't tell you is that Kate's rendezvous with Miles is a blind date–and the reason she keeps ruining the blind date is that she's so self-absorbed in the life crashing down around her ears that she can't see what's really sitting across the table from her.
Like Bill Murray's character in Groundhog Day, Kate requires a little divine intervention in order to appreciate the complexity and richness of the ordinary things she passes by each day. And it's particularly fitting, in this version of the now-common morality tale, that this divine intervention happens at Christmas. Because that's sort of the point of the Christmas story, isn't it?
Needless to say, this ABC Family movie is a feel-good romance with a holiday twist–and veteran award-winning TV director and producer James Hayman serves it all up with a style and pacing commensurate with the story's theme. He takes time with supporting characters like Jayne Eastwood's Margine Frumkin and Benjamin Ayres' Jack, the man with whom Kate believes she belongs, all while giving his lead actors room to breathe. It's really masterful work.
The 12 Dates of Christmas has developed something of a cult following over the last three years, and it's easy to see why. This is exactly what a Christmas movie should feel like.
The 12 Dates of Christmas is available to stream online at Netflix. (It also airs at 11 AM on Thursday, Dec. 18 on ABC Family.)
Check it out tonight, and don't forget to dine local first!
Expectations are high, and everyone's paying attention… But every week it seems like there's some key issue that's getting glossed over. It's the elephant in the locker room, if you will, and gosh darn if I'll let that ride. Join us on Saturday mornings for a little closer look at our World Champions.
By Greg Wright
In an email I received from a reader this week, I noted the following observation:
I was scared when I saw the Hawks first game, and even their wins when I saw that they are (apparently anyway) getting touchdowns primarily from a running game which is an iffy proposition given the fact that Lynch is (1) often injured (2) thinking of retiring (3) often used up by half-time, etc.
This concerned fan is not alone in speculating about Marshawn Lynch's durability. As the Tribune and other papers have noted, Lynch has missed at least one practice each week since the beginning of October. I also read the following from various columnists this week:
Rob Rang at SeahawkFootball.com: "Lynch has struggled with back issues. … He has fought through various injuries this season, including pain in his ankle, knee, ribs and back and famously remained on the sideline in frigid Kansas City during halftime to receive treatment on his back."

John Boyle, Everett Herald: "Phrases like 'wear and tear' and 'able to endure it' are pretty big red flags for an aging running back, especially one with Lynch's career workload and physical style. … What used to be 'back' or 'not injury related' on the injury report is now a combination of injuries — calf and rib last week — and shots of Lynch wincing in pain while being poked and prodded by trainers have become an increasingly regular part of the television broadcast."

Garrett Imeson, Oregon Sports News: "Even for the optimistic, there is a harsh reality coming on: Father Time. 2015 will be Lynch's last season before turning 30. There seems to be a pretty severe downturn when backs hit the mythical three-decade mark. As well as Marshawn has been running this season, the dropoff for backs seemingly comes out of nowhere. Even if Lynch plays for Seattle in 2015, his performance will have to begin dwindling shortly after. That leaves Seahawks fans forced to confront a harsh reality: the team's identity will have to change or at least find a new face."
But it's not all gloom and doom out there in Sports Journalism Land. It's pretty widely acknowledged that Seattle's favorite Beastquake-maker is among the most durable running backs in the league. Gregg Bell at the Tribune notes that Lynch has "missed just one game since Seattle acquired him in 2010. That was in October 2011 at Cleveland, when his back tightened during pregame warmups and never loosened."
And prior to the game with the Eagles last Sunday, Geoff Mosher of CNN Philly noted that since Lynch's first full season with the Seahawks, his "5,007 rushing yards and 44 rushing TDs are the most in the NFL. His 1,113 carries in that span are also the league's most, 84 ahead of second-ranked McCoy, and Lynch is tops among all running backs with 23 100-yard efforts." Opposing players regularly note that Lynch concludes plays not with a grunt or groan, but with a giggle and a grin. As much as Lynch might hurt during the week, on Sundays he's in the hunt for fun. "It's all about the action, boss."
And this is what that action has looked like over his career, courtesy of ESPN player stats:
So Lynch is on course for his second-best season ever… and is also having his best receiving year.
But where's the elephant in the locker room? you ask. It's nothing new, after all, to talk about Lynch's durability, nor about his physical woes.
Well, this is what's been missing in discussions of Lynch this week: not only are Lynch's stats not in decline, his numbers are by design.
In other words, Pete Carroll is not to Marshawn Lynch what Bum Phillips was to Earl Campbell. Carroll is not going to ride his work horse until it flops down dead. Lynch is not going to carry the ball 40 times a game… because Carroll wants Lynch fresh in December, and fresh in the second half of those divisional December matchups.
And why?
Because that's the best path to playing into February, that's why.
You may note that Lynch had his most carries and yards in 2012, the year that the 'Hawks were chasing San Francisco for the division title and a playoff berth… and came up short on the former while squeaking into the playoffs as a Wild Card. There was no clear vision for an extended season that year. It was now or never, every week.
So if you're concerned about the level of work that Lynch is getting, or why he's being treated with kids gloves, be not afraid: Carroll knows his Super Bowl hopes rest on Lynch's tender back, and he just wants to make sure he makes the best use of it… and for as long as possible.
What's up with Lynch is good news this year for Seahawks fans… and, if Lynch is interested in continuing after this season, probably good news for next year, too.
This Christmas reviewed by Greg Wright
I will confess that I am an opening-credits junkie. I was raised in an era when audiences knew that the actual content of a film started as soon as the overture was concluded—and the title sequence began. It wasn't like today, when audiences chatter and fiddle with their cell phones, missing (in admittedly now-rare cases) key aspects of a film because they're not yet ready for "what happens first."
This is significant, because a good opening sequence can really set the tone for a film. Think of Unforgiven, Silverado, DOA, Dances With Wolves, Raiders of the Lost Ark, Star Wars, and The Untouchables. Some effective openings use action; some use animation; some just use text and music. But they all grab you right from the film's first frame—at least, the first frame after all the co-producing corporate logos—and immerse you into the feel of what follows.
Add This Christmas to my list of favorite openings.
The titles are jazzy, languid, lush, and sensuous, overlaid by a complementary score. They take their time, savoring each note from the sax and each phrase from the singer. They let you know that you're not going to feel rushed over the next two hours—as you might in a Ferrell, Vaughn, or Allen holiday offering. Instead, you're going to be immersed in something more free-flowing, more improvisational—and yet controlled. Something with strong female voices.
The strongest female voice at the center of this story is Ma'Dere, the (secretly) divorced (if openly separated) matriarch of a clan of twenty- and thirty-something children. Some are married (some more happily—and some more secretly—than others), some have sparkling careers, some are struggling to make ends meet off the street. Some aspire to things of which Ma'Dere would not approve.
And Ma'Dere aspires to a marriage of which some of her children would not approve, for years pretending that she is not shacking up with her loving and loyal lover, Joe.
All of these familial dynamics collide when the clan convenes at the old family residence for Christmas. On top of it all, the story's central conflict revolves around Lisa and Malcom's plan to persuade Ma'Dere to sell the family business and home. Lisa's siblings are none too wild about Malcom's rather devious (and obvious) attempts to steer the family mini-mini-fortune into bigger real estate profits.
Also contributing a major plot complication is the arrival of Ma'Dere's eldest child, Quentin, who's been following in his daddy's wayward tracks for years, following his musical muse over Ma'Dere's very vocal objections. On the run from some bad debt in Chicago, he heads back to the family's California digs seeking refuge, but his pursuers track him down (and stay for Christmas!)—and Quentin butts heads with Joe.
What this jazz-inspired mélange is about is pretty simple: the idea that you don't get to choose family, and that blood is thicker than a lot of things.
What might make This Christmas enjoyable, if you're in the mood, is the time that director Preston A. Whitmore II takes in letting us visit with the Whitfield family. This movie is not so much concerned with what happens next as it is with what's happening onscreen at any given moment—and Whitmore's camera spends a lot more time in every scene than we are accustomed to.
Whitmore's aimless-feeling approach didn't work too well for me in another of his features, Crossover. But it works well here, given that the focus is on family—and holidays—and not sports. Besides, there are a lot of appealing actors and characters here, particularly Delroy Lindo as Joe, the always-compelling Idris Elba as Quentin, Loretta Devine as Ma'Dere, and Regina King as Lisa.
I particularly enjoyed spending time with this family, and being around their dinner table. And the fact that they all looked different from me was a bonus. (See the movie; you'll get the reference.)
This Christmas is available to stream online at Amazon.
Check it out tonight, and don't forget to dine local first!
Yeah, the 'Hawks are big news. Expectations are high, and everyone's paying attention… including the national media. But every week it seems like there's some key issue that's getting glossed over–some topic that, for one reason or another, is being avoided. It's the elephant in the locker room, if you will, and gosh darn if I'll let that ride. Join us on Saturday mornings for a little closer look at our World Champions.
By Greg Wright
On October 18 I observed that the Seahawks' passing game was struggling, with the wide receivers in particular looking worse than pedestrian (to use the word that Doug Baldwin hates). "Only Baldwin is keeping up a 65-70% pace" on completions, I wrote. "For the rest of corps, downfield completions are hovering at around just 50%. And it's not just catching the ball that's the problem. One-on-one battles are just not being won, across the board."
What's happened in the intervening weeks?
Well, the next day the Seahawks put up their best passing performance of the season in a loss to St. Louis, with Wilson tossing for 313 yards while running for another hundred.
Kearse's percentage of catches against targets has increased slightly (29 of 53), but overall, wide receivers have caught about 75% of passes thrown their way. Wilson's passing efficiency is now on a pace to outdo his Super Bowl season, and if he continues at the pace of the last few weeks he'll probably outdo his rookie season numbers.
On October 25, while cautioning that "the Seahawks aren't broken" and that "this is just what things look like when the ball bounces the wrong way," I wrote that "the Seahawks are a .500 ballclub. They've played like it." I was optimistic, of course, that the Hawks could easily be "just a half-step away from a Super Bowl trip," but I was equally prepared for them to be "average."
Since then? The Hawks have gone 5-1, the lone loss coming at Kansas City.
On November 8 I wrote extensively about the offensive line, singling out their play as the "weak link" on the team (despite praising them as mostly over-achievers).
The next day, Marshawn Lynch scored four TDs against the Giants, and Lynch was pumping the fist of every weak-linker. The O line has been pretty hot since then. All I could do on November 15 was pretty much eat crow, and beg for more.
So on November 22, I was indeed preparing some more crow for Thanksgiving, or at the very least coming up with prognostications that smelt like turkey. "Why isn't Sherman talking this season?" I asked.
Because he knows something. Something we don't really want to talk about.

He knows the LOB can't back up the chatter.

Coming into week 12 of the season and what is probably a make-or-break game for this year's campaign, Richard Sherman's quietness is probably the most concerning factor. The team's success hinges on the D, and Sherman has his doubts.

U scared, bro?

I am.
And, of course, over the span of five days the Seahawks D put the beat-down on the Cardinals and the 49ers–and the pundits are all in agreement that the Seahawks are back in Super Bowl form. Sherman is yakking it up again, intercepting passes, and twirling his fingers around his ears. (Of course, how was I to know that healthy Chancellors and Wagners make that much of a difference?)
So… I guess I love being wrong.
Shall I tell you, then, what I think will happen tomorrow in Philadelphia?
Naw… I don't want to be wrong this time.